With government working steadfast to secure additional and larger markets for Guyana's produce, the Guyana Marketing Corporation (GMC) recorded a 25% increase in non-traditional exports for 2017.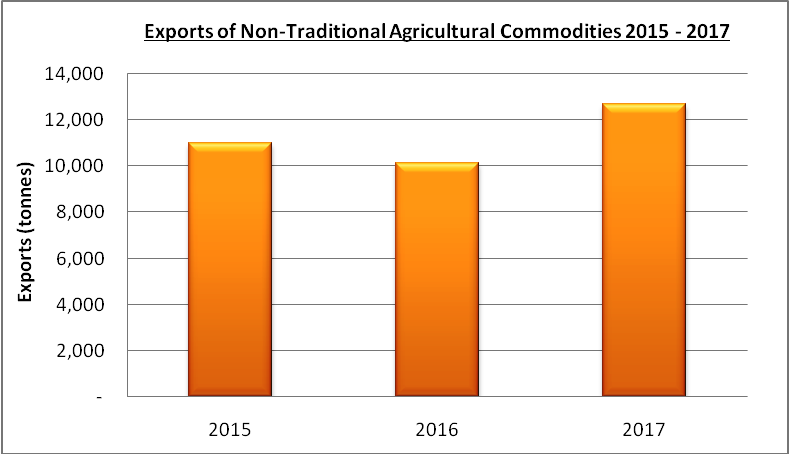 This was announced by GMC's General Manager, Mrs. Ida Sealey-Adams, who stated that the non-traditional exports which totaled 12, 684 metric tonnes, valued US$17 million.
According to figures provided by GMC, 12,018 metric tonnes of both fresh and agro-processed agricultural commodities were exported via sea shipment in 2017 as opposed to 2016 when 9,538 metric tonnes were recorded. Additionally, 666 metric tonnes of commodities were exported via air shipment in 2017 as compared to 584 metric tonnes in 2016.
The Guyana Marketing Corporation (GMC) has over the last year been actively developing new and improved initiatives geared at strengthening its capability to facilitate constant increases in export. Recently, the Corporation through its packing facility resuscitated the Export Association.
According to the General Manager, "This is intended to build a closer network linking our farmers and exporter to markets, while at the same time, building security with buyers allowing for more confidence in our produce," she said.
In an invited comment, Agriculture Minister, Noel Holder, said that while the non-traditional agricultural sector is yet to reach its full potential, efforts are apace to ensure that this becomes a reality.
Already investment at the governmental levels are in place and has seen the incorporation of machinery and support services given to the GMC to ensure its mandate services are carried out.
"We are continuously looking to increase investments in inputs to improve the competitiveness of domestic production, increase farmers' profits and make food more affordable for all classes of people." Minister Holder said.
GMC's Regional exports increased by 22% from 1,779 in 2016 to 2,179 metric tonnes in 2017 with countries like Barbados, Trinidad & Tobago, Suriname, St. Kitts and Antigua being the major regional export destinations.
In addition, Extra Regional exports to countries like the United States of America, Canada, France and the Dominican Republic also increased significantly with a total of 10,506 metric tonnes being recorded for 2017 when compared to 2016 figures which stood at 8,344 metric tonnes.
 "In 2017, a total of 34 metric tonnes of bora were exported mainly to Canada. Boulanger exports increased 89% – from 18 to 34 metric tonnes. Pepper exports have increased by 117% in 2017 when compared to 2016. Plantain exports increased by 133% when compared to 2016. Pumpkin exports in 2017 were 36% higher than the 342 metric tonnes that were exported in 2016." Mrs. Sealey-Adams said.
The GM also stated that 2017 was recorded as the highest year for pumpkin export over the past three years with 465 metric tonnes exported mainly to Barbados and Antigua.