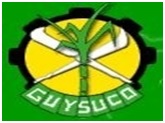 The Guyana Sugar Corporation is the home of the renowned Genuine Demerara Sugar. The Corporation owns eight cultivations on which it grows canes and produces sugar from those canes in seven factories which are located from the extreme east of the country to the west. A small amount of canes are bought from private farmers but it is anticipated that private farmers' canes will increase in the coming years. In addition to sugar, the Corporation molasses is produced as a byproduct which is sold to distilleries who produce some world-famous rums using the molasses as a feedstock.
It is fully owned by the Government of Guyana and currently contributes about 9.5% to the country's GDP. It is a major foreign exchange earner for the country. It plays a major role in the sugar communities around the plantations providing sporting facilities, medical facilities, and also the drainage of those communities.
GUYSUCO employs around 18,000 persons and currently the average annual production is 250,000 sugar but it is looking to grow this production level to at least 400,000 sugar.
The main export market is in the United Kingdom where there is an agreement to sell 195,000 sugar annually. It also exports to the Caribbean and the United States. GUYSUCO is also able to satisfy the local demand for brown sugar.