The Cuban rice market has now been made available to Guyana after a series of negotiations over the past months. As a result, the first shipment of rice to Cuba is expected to be exported during the latter part of September.
General Manager of the Guyana Rice Development Board (GRDB), Allison Peters told Department of Public Information (DPI) that this is just one of the new export markets which adds to the list of Guyana's growing export markets.
"There is also a shipment off to Cuba and we are going to start that off in the third week of September." Peters explained. She added that, "We have started sending paddy to Panama for this year; we have started in … early July."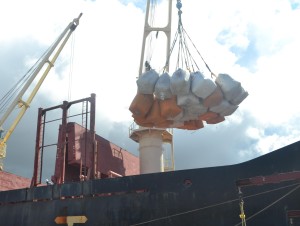 The disclosure comes after Guyana had recently commenced exports of paddy to Mexico. A US$17.7 million (GYD$3.8 billion) worth of paddy is to be exported to Mexico. "Well so far to Mexico more than one shipment has been sent, I think three shipments have been sent so far totaling over 35,000 tonnes and more shipments are expected to go." The General Manager disclosed.
Peters added that another contract is expected to be signed within the next few weeks for the exportation of paddy to Panama. She said, since the country is now securing more rice markets, the product must be increased to meet these new demands.
Paddy production for the first crop of 2017 was recorded at 518,667 metric tonnes. It was projected that rice production will increase by 1.3 percent in 2017 at the beginning of the year.