The Caribbean Agriculture Research and Development Institute (CARDI) has recently approved a proposal for an Integrated Pest Management (IPM) Strategy to commence works to increase the level of productivity in Guyana's coconut industry. The project is scheduled to commence in July, 2017 and will see improved practices and strategic measures being introduced to tackle coconut pests and diseases plaguing the sector.
Chief Executive Officer of NAREI, Dr. Oudho Homenauth indicated that in order for the coconut industry to maximize coconut production, special emphasis must be placed on the methods used from inception of planting.
"In order to maximize coconut production, special emphasis should be place on the methods used from inception of planting to production stage. One such method is the control of pests and diseases. The coconut palm is subjected to various attack of pests and diseases including Red Palm mite, Red palm weevil, Scale insects, whiteflies, coconut Rhinoceros beetle, Coconut eriophyid mite, Coconut mealy bug and Coconut Red Ring just to mention a few. The effects of these pests and diseases on the coconut palms vary and may result in narcosis, defoliation and in severe infestations; reduction in nut size and malformation of nuts. This further hampers the development of the nuts as they would be unable to reach its fullest potential. This strategy that was developed specifically for Guyana's situation, is expected to demonstrate a complete reduction in the instances of pests and disease outbreaks which usually result in millions of dollars in damages to these farms." Dr. Homenauth said.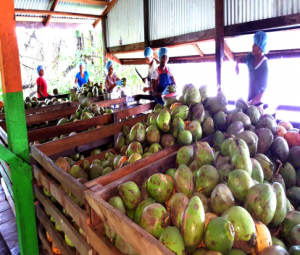 Guyana is home to over 25,000 hectares of coconut palms grown in regions 1, 2, 3, 4, 5, 6 and 10 regions with an average annual production of 92 million nuts. The coconut industry remains an important source of livelihood for farmers and is ranked as the third most economic crop in the sector.
The project is expected to cost approximately GY $7.5M and will see initial trials being conducted on established farms in the coconut producing regions.
NAREI has developed the IPM strategy to directly address the issues faced by farmers in the sector. It focuses on several key stages such as sanitation and monitoring of the plants. Additionally, intercropping will be practiced on established plantations using crops such as pumpkin, beans, cucumber, and other cash crops. Field trials will be conducted at Mahaica, Wakenaam, and Pomeroon and will be arranged in a Randomized Complete Block Design (RCBD) design with three treatments.
Since taking office in 2015, Agriculture Minister Noel Holder conducted several outreaches to coconut producing regions and met with coconut farmers to discuss their issues while enquiring about what more can be done to boost the sector. In November 2015, there was an outbreak of Red Palm Mite in many coconut plantations in Region 2 which resulted in Minister Holder leading a team to assess the damages suffered. He subsequently deployed a team of specialists to assist farmers with the infestation. Since then, farmers have reported less instances of Red Palm Mite infestation and significant improvements in their yields.