–To boost local industry
Production of coconuts in Guyana is expected to double as the government through the Ministry of Agriculture is looking to cultivate this crop along the banks of major rivers across Guyana.

Minister of Agriculture, Zulfikar Mustapha made the disclosure on Friday during a public engagement with residents of Mocha/Arcadia on the East Bank of Demerara.
 
"That will help us to also stop erosion of those areas but at the same time, those lands will be productive. So, we have a specialist coming into the country shortly to help us in the coconut industry," Minister Mustapha disclosed.
This initiative aligns with the government's vision of developing this lucrative industry as the agriculture minister said this crop has a lot of potential. Minister Mustapha informed residents that since August 2, 2020, 12 coconut nurseries have been constructed to date. This has decentralised the availability of seed nuts from Hope Industries Limited (Hope Estate) to other parts of the country.
"That means people from the East Bank or people from West Coast or Berbice don't have to come to Hope Coconut Estate or NAREI to buy these plants. We have it across this country now," he stated.
In addition, all farmers involved in this industry will be receiving the new Brazilian Green Dwarf Coconut variety, which is intended to further boost the local coconut industry,
The Brazilian Green Dwarf variety is best known for its high-yielding properties, as well as its high tolerance to attacks from common pests and diseases that usually affect other varieties of coconut.
Its most outstanding characteristic, however, is its ability to produce a higher volume of water than other varieties commonly grown in Guyana. This variety is also said to produce water that has a high sucrose level, making it sweeter than others.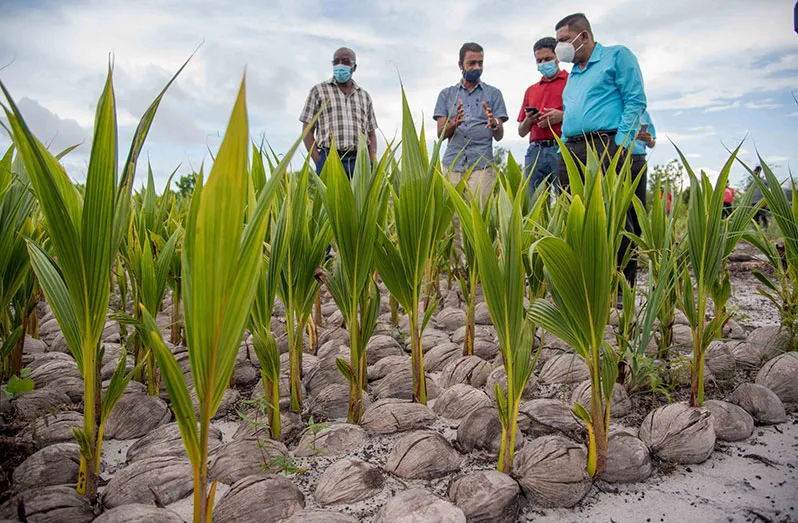 Some 1,000 seed nuts arrived in Guyana last year and additional seed nuts are expected to arrive.
"The Brazilian Green Dwarf Coconut has potential … so, we are looking to build on that and all farmers eventually, who are producing coconuts or who are planting coconuts will receive that variety from us because we want to develop it," the agriculture minister posited.
Guyana is leading the way in agriculture as CARICOM aims to lessen the almost $5 billion food import bill by 25 per cent by the year 2025.