(Guyana Times)
The magnitude of Guyana's booming oil industry is garnering more attention and investment opportunities each day, but agriculture is also stepping up as another industry of interest in the region.
Agriculture Minister Zulfikar Mustapha met with residents of Crabwood Creek, Region Six (East Berbice-Corentyne), on Saturday where he shared that this sector is beginning to make waves again, with potential for continued economic growth even after oil resources are depleted.
"We have seen a renewed interest in our agriculture sector. We are an oil and gas producing country. Oil and gas is taking the attention in the country and investors. I think agriculture is also taking the attention and making waves in this part of the world. This shows our Government's commitment towards this sector because we recognise its importance to our country's development," the Minister asserted.
Cash crops have been expanded in recent months but non-traditional crops were also undertaken. High-value crops like broccoli, cauliflower and carrot are to be cultivated this year with the construction of 300 shade houses.
For corn and soya cultivation, the Agriculture Ministry had set out an aim to expand to 3000 acres this year and 25,000 within three years. The intention is to create a domino effect of benefits in livestock and other branches.
"Then we can be self-sufficient to produce our own feed because we want to develop the livestock sector too. As a country, we are looking at different ways to reduce the food import bill and you in the agriculture sector, have that important role to play to help us to develop this sector and have food security," he told the farmers.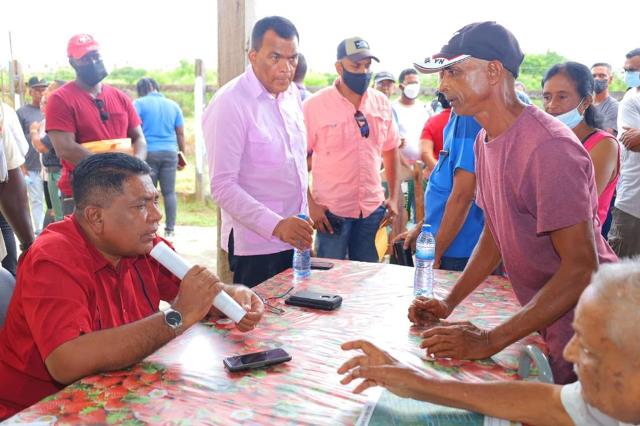 He added, "We are moving on. We are not only stagnated in one type of crops. We are consolidating, expanding and ensuring that there is more yield per acre in the crops that are planted."
In Region Six, yield for rice has increased to 6.5 tonnes per acre from 2.6 tonnes per acre. Some 65,000 acres are cultivated but authorities are actively seeking to open more lands.
Addressing farmers who were affected by the mass flooding last year but did not receive Government's relief monies, Mustapha said a second tranche will be delivered.
He said they are still investigating issues where some persons collected the relief despite being unaffected by the floods, and hinted at consequences for those culpable. When the next delivery is made, names of eligible persons will be published for scrutiny, so as to ensure transparency. The Ministry is also looking into cases where officers were involved in such practices.
"I'll be investigating that and consequences will come. Some of them have already parted company with us because of the dishonesty. That must not happen again…Before we share the next tranches, we'll publish the names so that we can have people come and look at it. Let us identify those persons that does not deserve it," he relayed.
Government had rolled out the $7.8 billion flood relief compensation package for ordinary citizens who lost crops and livestock after the countrywide inundation in mid-2021. Approximately 52,000 households were affected in categories of homestead farmers, kitchen gardens, and households exclusive of farms/gardens.
Infrastructure needs of Crabwood Creek farmers were brought under focus, and met with commitment from the Agriculture Minister to improve these areas. Those who are finding difficulties in accessing markets for their produce will also be assisted. (G12)
(Guyana Times)