Today, General Equipment Guyana Limited (GENEQUIP) handed over a Whaly 435R polyethylene boat to Agriculture Minister Zulfikar Mustapha, to be used by the Ministry for the execution of agriculture development services.
The donation, which also included an engine was valued at GY $2.4M.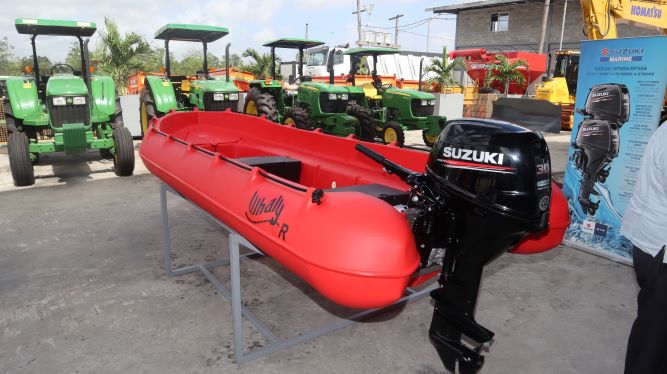 Managing Director of GENEQUIP, Renger van Dijk while noting the boat's high level of durability, said that he was happy to make the donation on behalf of the company.
Minister Mustapha said that with Guyana's agriculture sector moving ahead with ensuring sustainable development is achieved at all levels, the Ministry was grateful for the timely donation by the company. He also said that the boat will be used correctly and maintained, and all efforts will be made to ensure it is utilized for the benefit of the sector.
The Whaly brand of boats was specially designed with an emphasis on strength and stability. The 435R model is known for being extremely robust, manufactured from high-grade polyethylene.
The boat will be added to the National Drainage and Irrigation Authority's (NDIA) fleet of equipment to further assist with the agency's operations.