Agri. Minister says effective execution of sectoral budgets will strengthen sector
Earlier today, as part of Agriculture Month 2020, the Ministry of Agriculture hosted a webinar under the 'Investing in Agriculture for Poverty Reduction and Sustainable Development'.
The webinar saw participants from the Ministry of Agriculture, the Food and Agriculture Organization of the United Nations (FAO), the Small Business Bureau (SBB), the National Agriculture Research and Extension Institute (NAREI), the Guyana Marketing Corporation (GMC), and the Guyana Manufacturing and Services Association.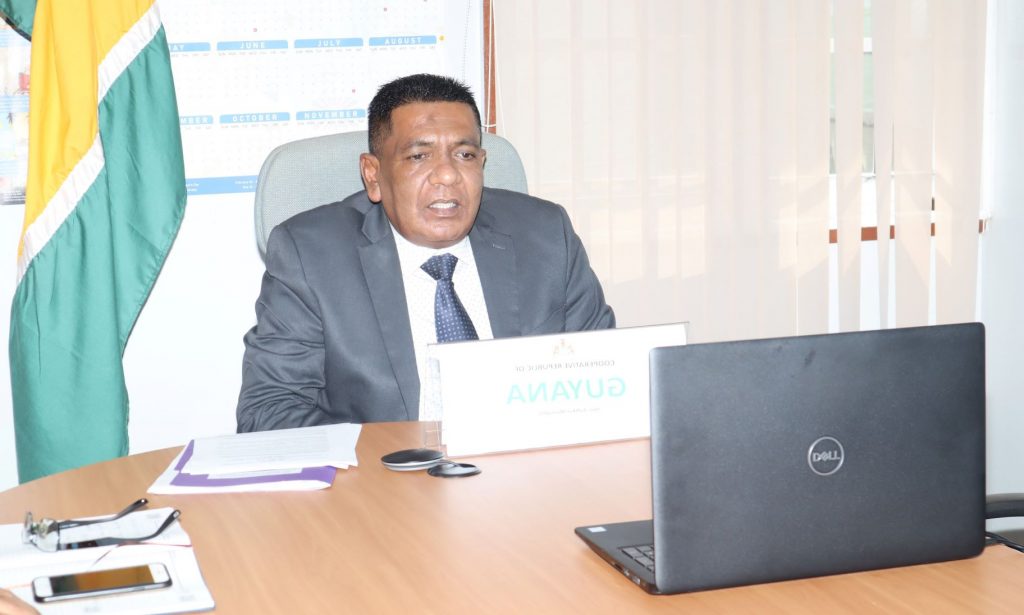 Agriculture Minister, Zulfikar Mustapha, while making his presentation, said that with the passage of Budget 2020, Government is now in the position to implement its plans of strengthening the agriculture sector.
"This year, G$18.5 Billion was allocated to the agriculture sector. This is Government's investment in the development of livelihoods and necessary public goods for development, such as agricultural research, extension services, climate and price information, drainage and irrigation infrastructure, technical assistance, and farm to markets access roads," Minister Mustapha said.
He further stated that while Government expenditure is necessary, it cannot finance all the projects necessary for development.
"Therefore, increased investments through enhanced international cooperation, private investments, both foreign and local, and public-private partnerships are encouraged to increase the coverage of public goods and services, particularly in rural communities. Only recently, The Guyana Sugar Corporation (GuySuCo), has published expressions of interest for public/private partnership in running the sugar industry in our country," Minister Mustapha said.
With a large number of persons residing on the Coast, which is below sea level, Government has signaled its preparedness to invest in improving the country's drainage and irrigation capacities.
The Ministry's Chief Technical Officer, Mr. George Jervis, in making his presentation said, proper Flood Risk Management is critical for continued agricultural activities on the Coast, which in turn, can help reduce poverty.
"The Flood Risk Management Programme is one that is operationalizing the issues that came out from the Conservancy Adaption Programme, which is simply a programme that looked at all that needs to be done to ensure proper drainage and irrigation on the Coast, with special reference to the East Demerara Water Conservancy (EDWC). There was about $150M, at the time, worth in projects and we have been working consistently in trying to have them done so that we can ensure we have sufficient water for agricultural crops, we have sufficient drainage and irrigation for the entire activity and also to make sure residents are not affected by flooding," Mr. Jervis said.
Another key component to the development of agriculture in Guyana is Government's continued collaborations with its international partners like the FAO.
Dr. Gillian Smith, FAO Resident Representative in Guyana while making her presentation, touched on agri-food systems and the importance of each step of the supply chain.
"Looking at the entire supply chain gives you the understanding of how important each step of the chain is. Farmers cannot produce without the inputs. Farmers' produce gets nowhere without the consumers or without the distributors so it is extremely important when we are thinking about agriculture and rural poverty and reducing it. The importance of our agri-food systems is that they don't just feed us or provide us with a livelihood. They are also connected and incredibly interwoven. With the global agriculture food systems, COVID-19 has shown us how the global agri-food system is extremely vulnerable. It has given us a new understanding of the need for resilience," Dr. Smith said
Expounding on the Importance of Research and Development within the agro-processing sector, General Manager of the Guyana Marketing (GMC), Ida Sealey-Adams said that it is time of investments to be made in this area.
"Research and development is critical, not only from the Corporation's end but in terms of the development of innovative products, but in terms of extending and expanding the reach of the local products that we already have. This is where heavy reliance will have to be on sourcing technical assistance from our partners. The time has come for us to have an enhanced partnership to prioritize areas of research and development that we need to focus on and charter the way forward," Ms. Sealey-Adams said.
She added that, often times, agro-processors simply do not know how to produce a product, and that's where, she said, the research and development comes in.