1500 more hampers, other items for vulnerable groups
Earlier today, the Central Islamic Organization of Guyana (CIOG) handed over 1,500 food hampers to the Government of Guyana to assist with its relief efforts in light of the ongoing COVID-19 pandemic.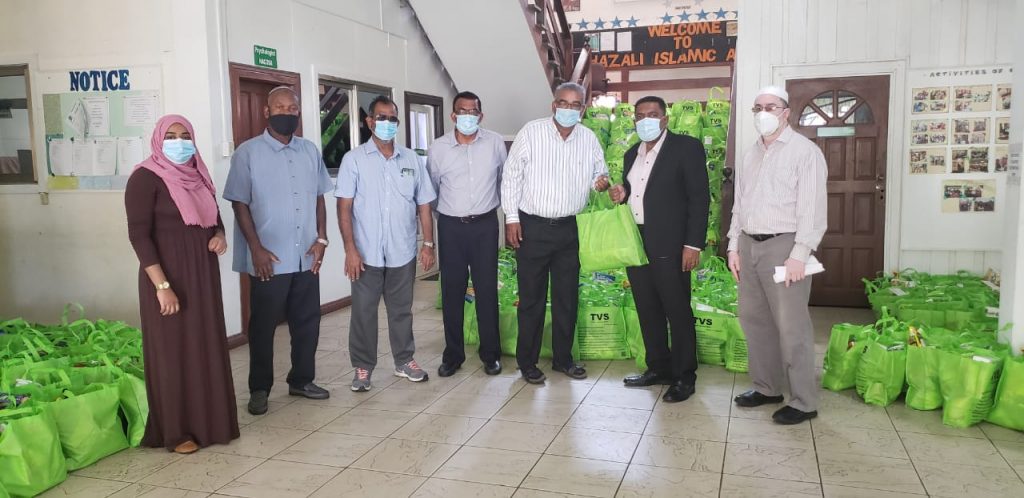 The donation was made to Agriculture Minister, Zulfikar Mustapha, who accepted the hampers on behalf of the Government.
In a statement reassuring CIOG's commitment to support government's initiatives to combat the fight against the pandemic and the alleviation of poverty, Deputy President of the organization, Goolzar Namdar stated that several programs have already been executed in this regard.
"In addition to what we are donating today, we've already distributed more than 6,000 food hampers to less fortunate citizens in Berbice, Demerara, Essequibo and Linden. We've also distributed over 3,000 face masks to organizations such as the Georgetown Hospital Corporation, 250 medical ventilator humidifiers to three hospitals in Georgetown, a number clothing and footwear to over 1,500 families and sponsored 40 less fortunate children whose parents lost their income as a result of the closure of the sugar estates," the statement said.
It further went on to mention that the donations were made possible through charitable donations from the Islamic Development Relief Foundation (IDRF), the Muslim Welfare Center of Canada, CIOG's Canadian Support Group, the Muslim Youth Organization of Guyana (MYO) and other members of the business community.
Agriculture Minister, Zulfikar Mustapha, while receiving the donations, expressed his gratitude to the CIOG for its timely and much needed support.
"These food hampers will go to those most in need. On behalf of His Excellency, Dr. Irfaan Ali and other members of the Government, I'd like to express heartfelt gratitude for your organization's continued support for our efforts to ensure our citizens are taken care of during these troubling times. I must say that I am very happy to hear some of your donations targeted families affected by the closure of the estates. It hasn't been easy for those families since those estates were closed under the previous administration and the pandemic definitely added to their troubles," Minister Mustapha said.
The officials also took the opportunity to encourage citizens to stay safe and observe all protocols and guidelines given by the Ministry of Health and the World Health Organization.