― donates medicinal plants to patients of the Guyana Cancer Institute
― Part of GRAIN-H initiative
With its focus on promoting healthy living and the preservation of lives, the Ministry of Agriculture, on Tuesday, distributed medicinal plants to 100 patients attending the clinic at the Guyana Cancer Institute.
The initiative forms part of the ministry's Re-aligning Agriculture for Improved Nutrition and Health (GRAIN-H) programme and the observance of Agriculture and Cancer Awareness months.
Deputy Chief Executive Officer of the Georgetown Public Hospital Corporation (GPHC), Elizabeth Gonsalves, described the move by the Agriculture Ministry as "very unique," noting that it is the first time such activity has occurred at the institution. "I want to encourage you that whatever you go through, just remember good nutritional plants and vegetables were intended to be the original food for man…"
Speaking about healthy diets during a small ceremony, former Minister within the Ministry of Agriculture, Dr. Simpson Dasilva noted that every citizen should be aware that the healthy lifestyle practices begin at home. He underscored the fact that the government must continue its mission to make sure that healthy foods are available, accessible and affordable.
Explaining the benefits of the Soursop and Moringa plants that were distributed, Dr. Dasilva said these natural herbs could help to mitigate cancer significantly. "Soursop, but most importantly the leaf, is a superfood to help control and help with the treatment of cancer," he explained.
Minister within the Ministry of Agriculture, with responsibility for Rural Affairs, Hon. Valerie Adams-Yearwood urged the patients to adopt the habit of planting kitchen gardens while stressing the importance of consuming healthy foods.
"We are helping you the citizens, as we help ourselves realign our nutrition and the foods, we eat… I want you to take what you have learnt today, to your various homes and make good use of it."
One of the recipients, Rohanie Sarran-Mohan expressed her gratitude towards Minister Adams-Yearwood for the donations. The 54-year-old woman said living with cancer is challenging. "I feel the donation was good. For the first time, we every had something like this, and I believe this should be a yearly project where they come and encourage the patients," said Sarran-Mohan.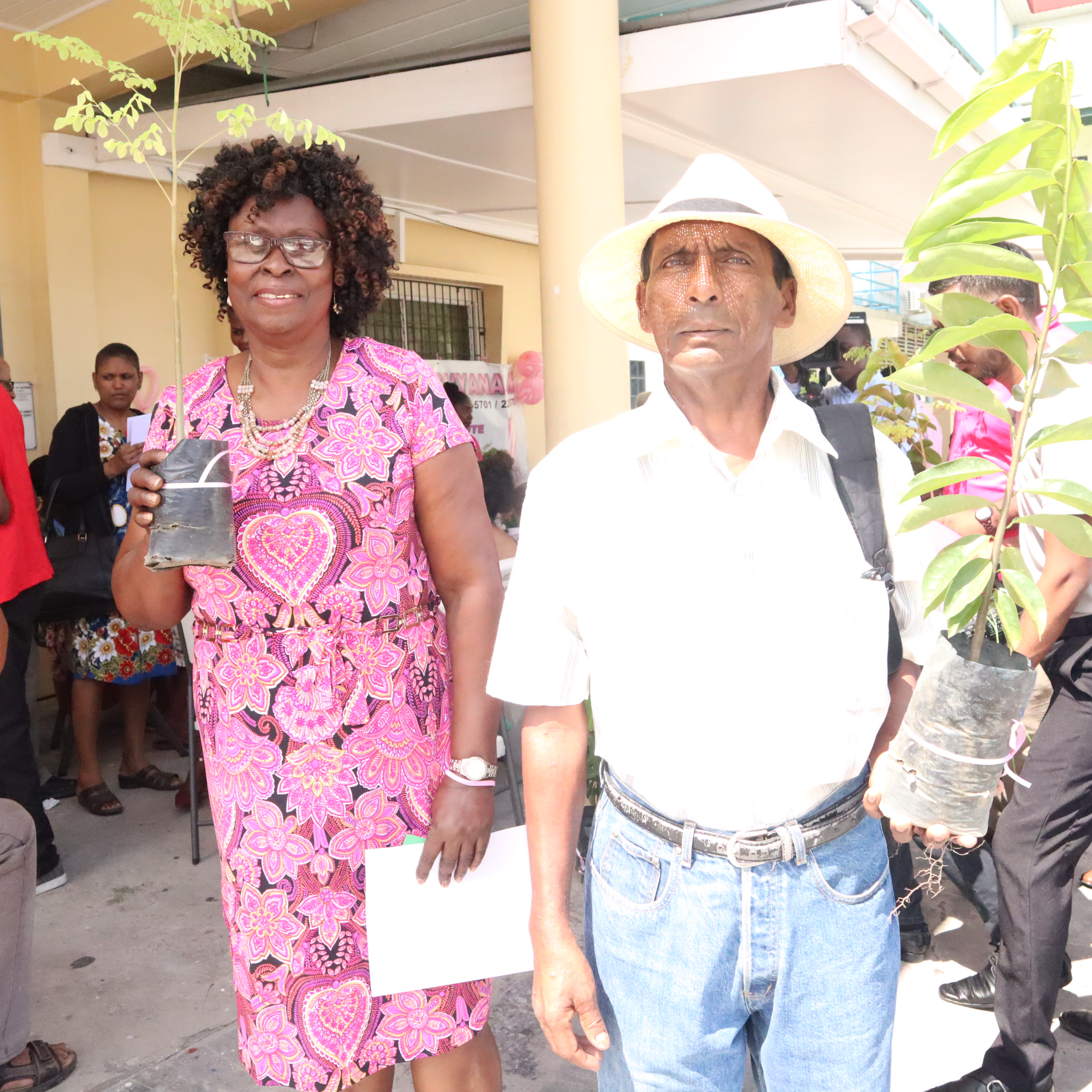 Meanwhile, on Monday, Minister Adams-Yearwood delivered tools to health centres within the Demerara-Mahaica domain; to boost their kitchen garden efforts. The various health outposts received forks, spades, hoes, pick-axes and cutlasses.
The Agriculture and Public Health Ministries established the GRAIN-H initiative. It is aimed at ensuring that all Guyanese have access to harmless and nutritious food, and live a physical, psychosocial, and cultural health status.
(DPI)