Thailand is looking to have closer relations with Guyana by forging a partnership in sectors which during the 30 years of bilateral relations, they have not collaborated. Top of its agenda is the Agricultural Sector.
Today, the team headed by its Chargé ď Affairs, Mr. Teerapong Vanichanon paid a courtesy call on Agriculture Minister, Hon. Noel Holder, at his Regent and Shiv Chanderpaul Drive office, where a number of possible collaborations were discussed. The team which will be in Guyana from April 22-25, 2017 had a specific interest in the livestock, crop research and development and fisheries sectors.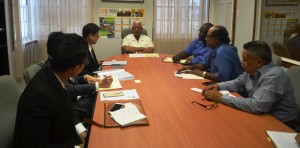 "This year marks 30 years since Thailand and Guyana established diplomatic relations. As we observe our 30th anniversary, we would like to see our countries sharing closer relations through investment and expertise sharing, "  the Chargé ď Affairs said.
Thailand is self-sufficient in its dairy industry and could offer Guyana technical support in this regard. Guyana's aim is to have a reduction in its import bill for dairy products which stands at about US27M.
Thailand is also successful in its value-added industry and has been touted as second largest producer of tuna and sardines worldwide.
"Our country has also been successful in sugar- which is a major contributor to Thailand's GDP along with rice, palm oil, and shrimp, " he said.
The offer of future collaboration was well received by the Agriculture Minister who shared some of Guyana's plans to develop the agriculture industry, with dairy development being a priority on its agenda.
"In the past, we produced 50 percent of domestic consumption. The acquisition of a milk processing plant will catalyze Guyana's journey to being self-sufficient," Minister Holder said.
Cooperation with Thailand, the Minister said, is something to look forward to in strengthening key sectors of our economy.  Guyana and Thailand established bilateral relations in 1987.
The Chargé ď Affairs was accompanied by Mr. Kosin Phonmang and Mr. Paween Buskornreungrat, first and second secretaries, respectively.