Effective drainage is critical for development to take place and cognizant of the fact, the Ministry of Agriculture has embarked on a rigorous farmers outreach exercise programme aimed at addressing some of the ills affecting farmers livelihood.
Today, Agriculture Minister, Hon. Noel Holder accompanied by a team of technical officers conducted successful outreach exercise in the Mahaica, Mahaicony and Abary areas to have dialogue with farmers to bring much needed relief to those affected.
The first meeting which was held at Biaboo Bridge, Branch Road Mahaica and which attracted a number of farmers, saw several issues relating the drainage and construction of access dams at critical located to enable farmers not only access to lands, but to ensure water from the canals do not affect their livelihood being addressed.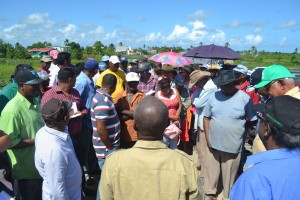 Despite the recently heavy downpour experienced over the past weeks farmers have not complaint of major losses in the region as result of prior work done by the Ministry of Agriculture's National Drainage and Irrigation Authority (NDIA). However, additional request were made to the Agriculture Minister to have a dam at Davis rehabilitated, as there are oftentimes overflow when there are high tide, causing farmlands to be inundated.  Drainage tubes will also have to be installed at the said location.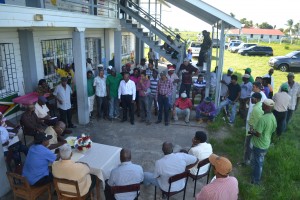 General Manager, Mahaica Mahaicony and Abary/ Agricultural Development Authority (MMA/ADA), Mr. Aubrey Charles was instructed by the Minister to have a cost analysis done, subsequently after which works will commence to have the situation rectified. This is based on the cost of the works to be done as presently the MMA/ADA is in a cash strap position due to farmers not paying land lease.
The Ministry of Agriculture has since proposed an increase in land rate fee which presently stands at $2500 per acre annually for the last 18 years.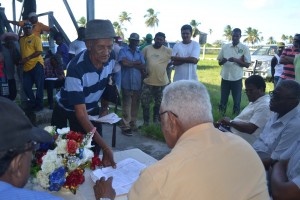 Another issue which took center stage was the rehabilitation of a koker door at Riverdam. Minister Holder committed to ensuring not only that the koker will be fixed, but that the Mahaica, Mahaicony and Abary rivers will be dredged to avoid siltation.
"Dialogue such as these are important if agriculture is to thrive….we are here to listen to your concerns and to have them addressed by implementing short and long term initiatives," the Minister said.
Interest in the establishment of a milk plant was also made by cattle farmers, who noted that such a move augurs well for the livestock industry and the advancement of value added production.
As such, the Agriculture Minister informed the farmers that a team of officials are expected in February to have the proposal finalized. Once this stage is completed, the Ministry of Agriculture will move to have consultation with farmers  to have the plant operationalized.
Similar issues were raised at the meetings held at StrathCampbell Primary School, Mahaicony and Hopetown Flat School, Abary respectively.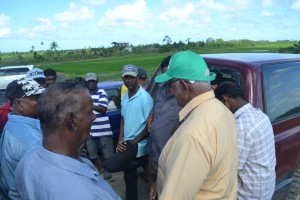 The Agriculture Minister used the opportunity to highlight additional programmes which will be implemented by the Ministry this year, to deliver the much needed support to farmers.
The Minister was accompanied by Permanent Secretary, Minister of Agriculture, Mr. George Jervis, General Manager, MMA/ADA, Mr. Aubrey Charles, Chief Executive Officer of the Guyana Livestock Development Authority (GLDA), Mr. Nigel Cumberbadge, Chief Executive Officer of the NDIA, Mr. Fredrick Flatts and Chief Executive Officer of the National Agricultural Research and Extension Institute, Dr. Oudho Homenauth. Member of Parliament, Mrs, Jennifer Wade and officers of the Regional Democratic Council were also in attendance.