The Inter-American Institute for Cooperation on Agriculture (IICA) today facilitated a CODEX Cooperation Project workshop at the Cara Lodge with the aim of further sensitizing persons on the international standards, guidelines and recommendations for food trade.
This initiative is being funded by the Chilean Agency for International Cooperation for Development and the United States of America Department of Agriculture.
Delivering the feature address, Minister of Agriculture Hon. Noel Holder welcomed the workshop alluding that it acts as a stepping stone to ensuring that food is not only safer for consumption, but also makes it easier for trade.
 Minister Holder spoke of the importance of CODEX in Guyana's bid to providing safe food locally and enable exports in its drive to expand Agriculture. Such move                                                                 has always been in the forefront of Government's plan for national development.
 "We have recently prepared Food Safety and Animal Welfare Bills which have been presented to cabinet for consideration and approval prior to tabling in the National Assembly…..agriculture in Guyana, is replete with opportunities and, as such, we must view it as a profitable business rather than purely for subsistence" Minister Holder said.
With CODEX standards and regulations in place, consumers can trust the safety and quality of the food products they buy and importers can trust that the food they ordered will be in accordance with their specifications.
IICA's Representative to Guyana, Mr Wilmot Garnett pointed to that fact that the workshop remains essential as it is being undertaken within the broader framework of a Technical Cooperation Project entitled "Strengthening the functioning of the National Codex structure in Jamaica, Guyana, Trinidad and Tobago, Saint Lucia and Suriname".
He also stressed the importance of an active and efficient participation of Guyana in CODEX which will ultimately provide opportunities for the country to raise awareness and place specific food safety and food quality concerns on the agenda.
"This 2 year project will therefore contribute towards the establishment of a sound National Codex Committee that will enable Guyana to improve its participation as well as the capacity to discuss topics of interest to the sub-region in this international standard setting body." Mr Garnett said.
Also offering brief remarks at the opening of the workshop was the Ambassador for the Republic of Chile, H.E. Claudio Rojas Rachel.
Ambassador Rachel in stressing the importance of CODEX stated that once adopted countries can safely benefit from new knowledge on international food standards.
"This effort is part of a series of efforts as Chile is committed to Guyana, to CARICOM and to countries aiming to build social and economic partnerships." he said.
Meanwhile, United States Ambassador to the Guyana, H.E. Perry Holloway in echoing similar sentiments stated that "CODEX is the way to go if countries are to ensure that food meets the highest standards for consumption."
In addition, he said that such standards and guidelines are crucial for the Caribbean as it is the largest importer of food products.
 CODEX enables its member countries to produce and consume food products that meet global standards. The United States continues to have close partnerships with Chile, IICA and CARICOM to promote CODEX and to help promote the use of science in decision making that is more conscious of global trade and consumer spending.
The Codex Alimentarius or "Food Code" was established by FAO and the World Health Organization in 1963 to develop harmonised international food standards. Guyana became a part of CODEX in 1970 and today, the CAC is comprised of 188 member countries, 1 Member Organization (EU), and over 200 intergovernmental and international non-governmental organizations. Codex members cover 99% of the world's population as it is the international food standards, guidelines and codes of practice that contribute to the safety, quality and fairness of this international food trade.
United States Ambassador, H. E Perry Holloway while delivering remarks at the CODEX Cooperation Project Workshop.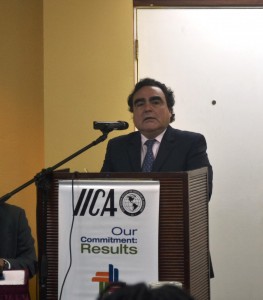 Republic of  Chile's Ambassador to Guyana H.E. Claudio Rojas Rachel delivering remarks at the CODEX Cooperation Project Workshop