April 18, 2016
Hydrometeorological Service
Seasonal Outlook/El Nino Advisory # 6
El Niño Advisory */ La Niña Watch **
A transition to ENSO-neutral conditions is likely during late Northern Hemisphere spring or early summer 2016 (between mid-May and mid-July), with an increasing chance of La Niña during the second half of the year.
During the month of March 2016, all parameters showed that El Niño continued to weaken. This weakening was evident in the Sea Surface temperature (SST) anomalies which were between 1.0° C and 1.5°C across most of the central and eastern equatorial Pacific Ocean during early April. In addition to the SSTs, the weakening of El Niño was also shown by the observed weakening in the low-level westerly wind anomalies and upper-level easterly wind anomalies when compared to February, 2016. The atmospheric component of the El Niño phenomenon also corroborated the weakening of El Niño.
Most models predict further weakening of El Niño, with a transition to ENSO-neutral likely during May to mid-June or mid-June to mid-July, 2016. Thereafter, the likelihood of La Niña (50% – 60% probability) increases towards year end (Figures 1 and 2). This may tilt the odds towards increased potential for flooding and flash floods.
*El Niño or La Niña Advisory: Issued when El Niño or La Niña conditions are observed and expected to continue.

** El Niño or La Niña Watch: Issued when conditions are favorable for the development of El Niño or La Niña conditions within the next six months.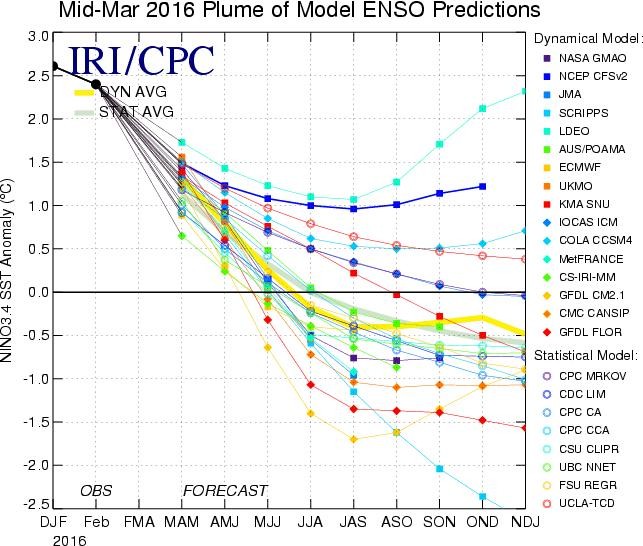 Figure 2. An Ensemble Prediction for ENSO until January, 2017. The spread of the ensemble is a reasonable indicator of the uncertainty associated with the forecast. Zero represents ENSO neutral (normal) conditions, while values below or above zero represents a tendency towards La Nina and El Nino conditions, respectively (Source: Climate Prediction Centre/NCEP/NWS, 2016).
Guyana's Outlook
The Caribbean Climate Outlook Forum (CARICOF) precipitation outlook, for the period April-May-June (Figure 3) indicates that Guyana can expect above normal (45 % probability) to normal (35 % probability) rainfall.
Historically, weak El Niño conditions have had very little effect on Guyana´s weather. Therefore, with the anticipated weak El Niño conditions forecasted for the end of April, 2016 northern Guyana can expect a return to normal weather conditions as early as late April. In addition, the upcoming rainy season is likely to bring above average to average rainfall amounts; that is, referenced to the 30-year climatological average. With respect to southern Guyana, the Inter-tropical Convergence Zone (ITCZ) is currently meandering between northern Brazil and Guyana's southern border. This system is expected to begin affecting southern Guyana by the end of April, 2016. However, even before the arrival of the ITCZ, periods of heavy rains will be experienced due to the passage of low-level troughs and confluencing in the trade winds. Concerned parties are advised to take the necessary steps in anticipation of the forecasted weather conditions.