Press Release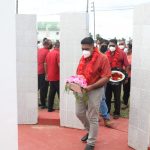 Agriculture Minister Zulfikar Mustapha, along with several officials from the Regional Executive Office in Region Six, the Guyana Sugar Corporation (GuySuCo), and the Guyana Agriculture Workers Union (GAWU) on Saturday last paid homage to the fifteen (15) sugar workers who are referred to as the Rose Hall Martyrs, after they were slain by their colonial masters on March 13, 1913, at Rose Hall Estate.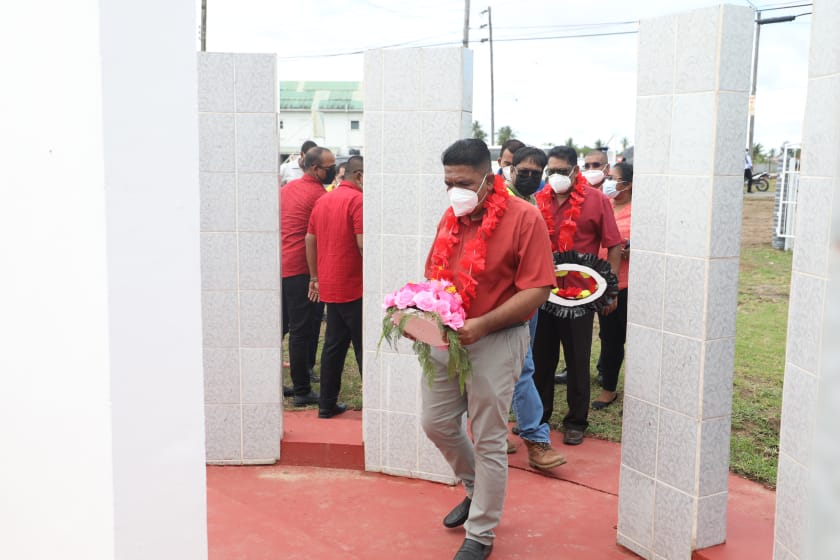 The horrific incident is said to be one of the most unpleasant reminders of British colonialism and another manifestation of the brutal conditions our forefathers had to contend with in colonial times.
While offering remarks at a simple wreath-laying exercise, Minister Mustapha said
"These workers stood up to the plantocracy at that time. Four holidays were given to them and the plantocracy wanted to take those days back. We saw what took place after they stood their ground. Today as we mark 108 years since the sacrifice of these fallen heroes, I want to encourage you to rededicate your energies to ensure that the sacrifices of those who perished in 1913 and the additional 41 workers who were injured that day were not in vain. Last year, after the General and Regional Elections, we witnessed persons trying to steal our democracy. There was fear and serious conflict in our land but like any other peace-loving people we fought to ensure that the party that won the election was there to take up its position in government and Dr. Irfaan Ali was sworn in as President," Minister Mustapha said.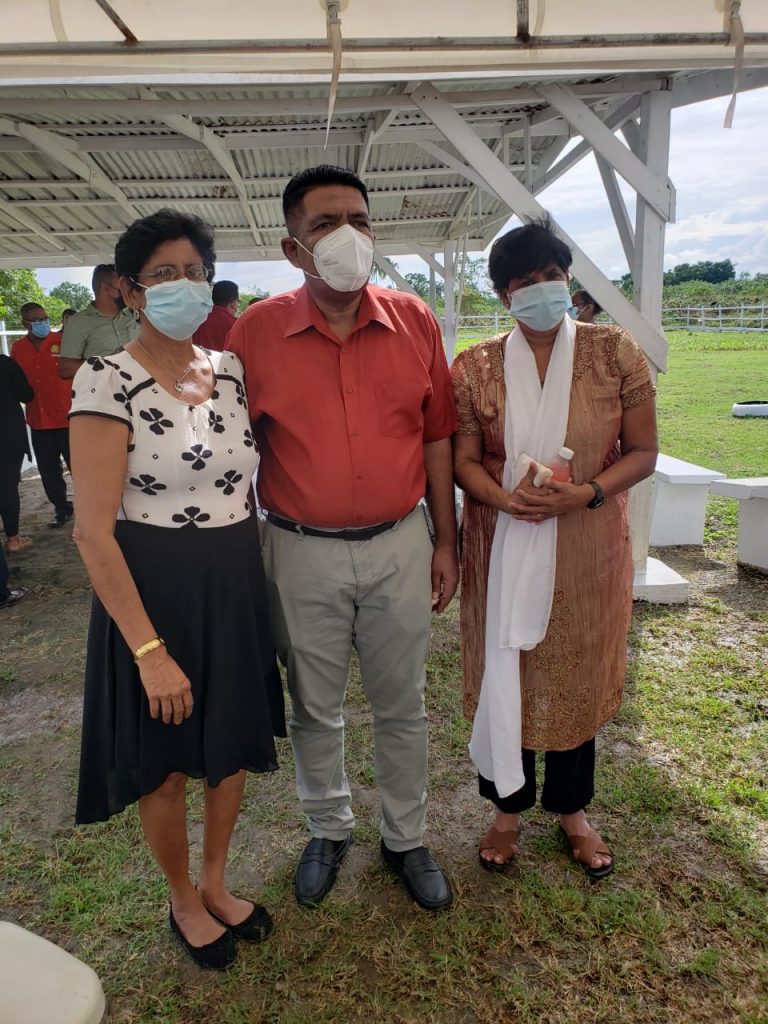 The ordeal which resulted in the death of fifteen (15) persons, including a woman, Gobindei, and a Police Corporal, notably brought to an end the hated system of indentureship.
Two remaining granddaughters of one of the sugar workers also attended the ceremony. They both expressed thanks to the Minister and those in attendance for acknowledging the sacrifices made by their relatives all those years ago.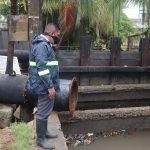 The National Drainage and Irrigation Authority (NDIA) is currently executing rehabilitation works on the main drainage sluice in South Ruimveldt, Georgetown. These works are expected to be completed before the end of April this year.
This was disclosed by Agriculture Minister Zulfikar Mustapha while making his presentation on behalf of the Ministry of Agriculture as part of the 2021 National Budget.
Minister Mustapha said that because maintenance works to the sluice had not been done in a number of years, it contributed to most of the flooding issues faced in community when there are instances of rainfall.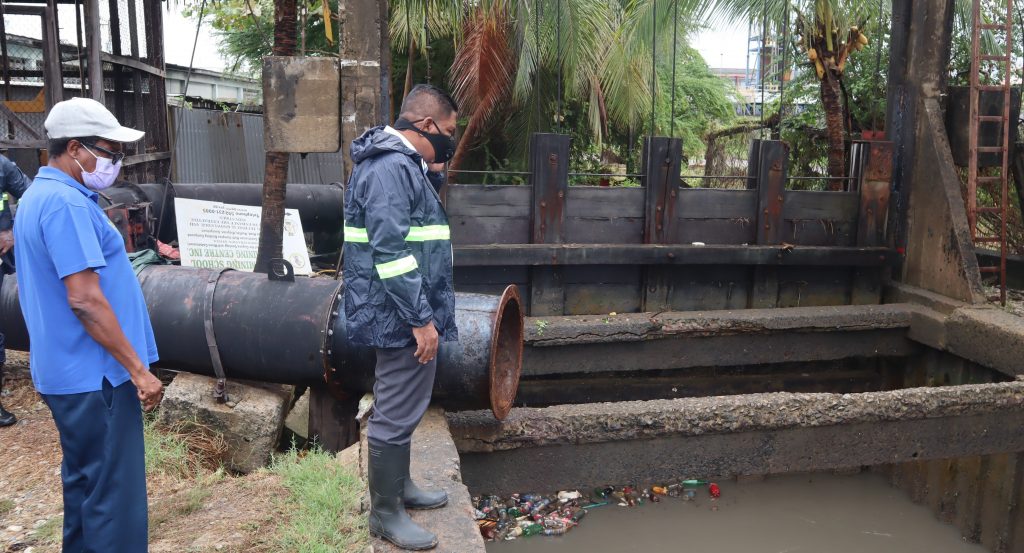 "South Ruimveldt is one of the areas in Georgetown that floods quickly when the rain falls. Last November, when we had some amount of flash flooding in Region Four and the residents in that area were affected. This cannot continue to be the norm. What we're doing, through the NDIA, is rehabilitating the main drainage sluice there to improve the drainage capacity of the area. These works are expected to be finished by the end of next month. We've also included maintenance to this structure in our overall drainage improvement program, which includes scheduled maintenance to a number of other structures that fall under the control of the NDIA," Minister Mustapha said.
The contract sum for the project is approximately GY $27.8M. Once completed, residents from South Ruimveldt and other neighboring communities will see improvements in the drainage capabilities of their communities.
Since taking office, government has been looking at a holistic approach to dealing with flooding in vulnerable areas across the country.
The subject Minister maintained that, in the past, programmes had been implemented to assist with flooding in the area but no maintenance efforts were seen.
"The efforts made in the past five years to bring flooding in this and several other vulnerable areas on the Coast under control, were not properly conceptualized. If you are going to execute a program to clean drains and canals in the area, which was attempted but never completed by the City Council and then Ministry of Public Infrastructure back in 2017, you have to have a long term plan in place. There needs to be some amount of scheduled maintenance work for the drains and critical drainage structures to compliment the initial cleaning," Minister Mustapha said.
A number of other rehabilitation works to critical drainage and irrigation structures across the country were also catered for in the Ministry's 2021 Budget.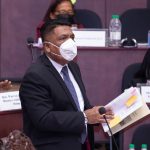 Presented in Parliament on February 24, 2021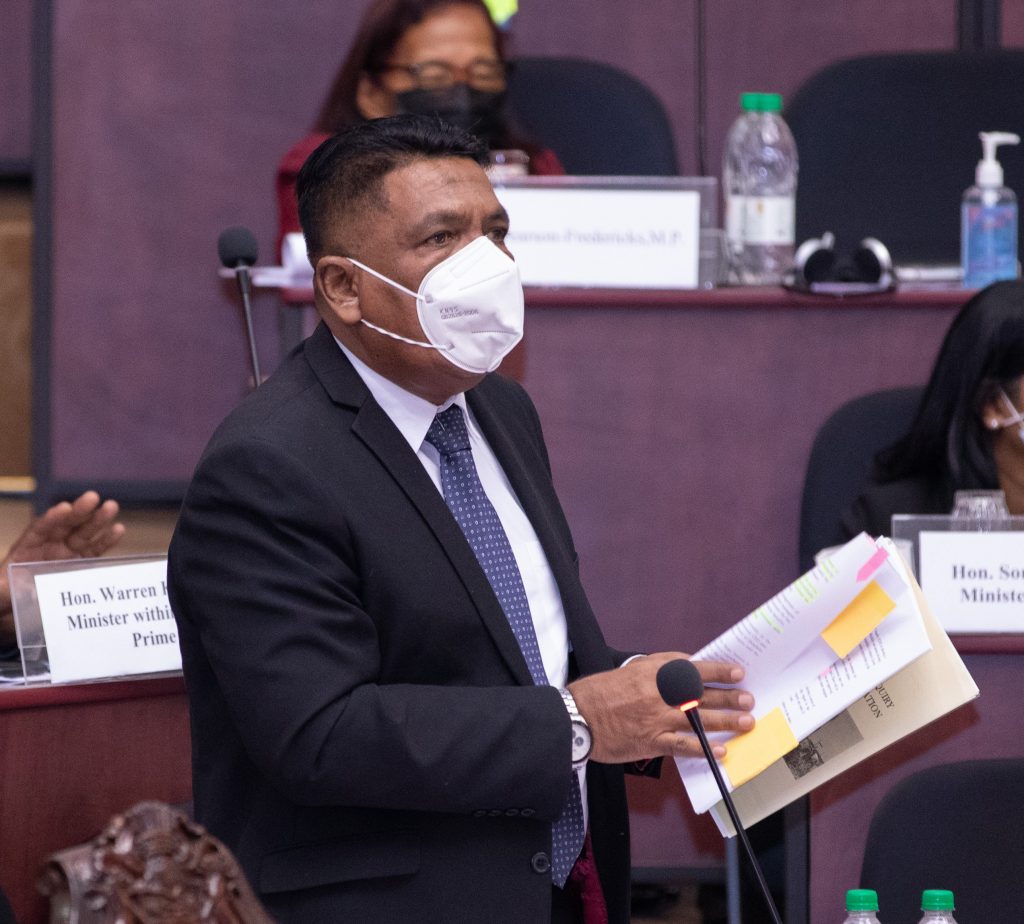 Thank you very much, Mr. Speaker.
I wish to commend my colleague the Honourable Dr. Ashni Singh and his team for a comprehensive, a visionary and a transformative budget to this National Assembly. A budget that will be touching the lives of every single citizen, every single sector in a positive way. Mr. Speaker, listening to my colleague over there, Mr. Khemraj Ramjattan, if one was here for the first time, listening to his speech just now they would think that this man was full of virtue and honesty but they must remember that right here in this hollow hall not so long ago, this building had become a monument to the preservation to our democracy and freedom.
Mr. Speaker, our freedom and democracy that the Honourable Member and his party was trying to steal from the Guyanese people. Mr. Speaker, to come here and ask for a 10% wage increase for public servants when they dismissed over 35,000. How ironic is that Mr. Speaker? The Minister of Public Service would've already indicated while speaking at various forums that there are provisions in the Budget for wage increases. For the Honourable Member to come here and try to play on the emotions of people displays very cheap politics.
Mr. Speaker, as I said, just over six months ago, we were here in this National Assembly to prevail attempts by the Honourable Member and his party from trampling on our constitution and I was here, Mr. Speaker, proudly standing – just over six months right here in this building – to support a Budget that would improve the lives of all Guyanese and every sector in our country. Mr. Speaker, the Honourable Member spoke about debt and said that they didn't borrow when they were in government. They received a healthy treasury and the economy was healthy when the PPP left office in 2015 so there was no need to borrow. On the other hand, what we received in August last year, the Honourable Minister of Finance will tell you, he already answered the question. The treasury was in a deficit and bankrupt and as a result there was no money in the country Mr. Speaker. That was the reality. The Minister of Finance aptly described the period in his Budget speech. Speaking about from 1966 to 1992 and 1992 to 2015 when there was economic renewal and the country saw progress. He then spoke about 2015 to 2020 when Guyana experiences regression, economic collapse and person's rights were denied by the APNU/AFC government. And then Mr. Speaker, the other period, and I hope when the Minister responds he will speak about the next period, from 2020 and way beyond into the future where we'll move this country and make it the envy in the Caribbean and hemisphere.
So Mr. Speaker, come here after they were rejected less than seven months ago by the electorate to speak about cheap politics, misinformation and half-truths in the Budget, Mr. Speaker, we heard a lot of half-truths and misinformation from the Honourable Member. They have come to a position where they have boxed themselves into a corner. They are being isolated today in this country because everywhere you go Mr. Speaker, in every corner of the country people are talking about the positive programmes in our 2021 Budget. And Mr. Speaker I just want to quote a few.
"The $383.1B budget has no new taxes, taken with the reversal of key taxes in the 2020 budget, the 2021 Budget will once again, incentivize the private sector, motivate the general populace and bring relief to the ordinary man." The Central Corentyne Chamber of Commerce
"The Budget is transformational," the Women Chamber of Commerce
"We wish to congratulate the Government of Guyana for compressively addressing the needs of the disabled community in Budget 2021." the Guyana Council of Organization for Persons Living with Disabilities.
Mr. Speaker, FITUG, the Trade Union with the largest block of workers in the country said "the Federation of Independent Trade Union of Guyana, having considered the 2021 National Budget is most pleased with several measured proposed. We believe that the policies and programmes outlined by the government will result in the benefit of Guyanese from all walks of life. FITUG has taken note of several initiatives to put more money in the hands of our people and ease the burden places on the backs of our people by the former Collation Government. Mr, Speaker, small political parties have also complimented the Budget. I can go on and on. The AmCham Guyana, The Georgetown Chamber of Commerce and the Guyana Manufactures and Services Association have all complimented this Budget except APNU.
Mr. Speaker, I want to say, just now the Honourable Member said that the Minister of Finance would've said that there is no tax or that there were no taxes in their programme and that we made claims that there were taxing the Guyanese people. Mr. Speaker, we came here in October 2020 to reverse increases on D&I charges, land rentals and VAT on a number of commodities in this country so what was the Honourable Member really saying?
I don't want to take up too much time rebutting the Honourable Member but he came here speaking a lot of misinformation. For a moment it felt as though I was in a 'gaff' shop or on a street corner. You must come here with facts. Then, Mr. Speaker, the Honourable Member bare-facedly referred to the COI. He never quoted, he just referred and said the COI said to 'right size' the sugar industry. Well let me tell you what the COI said. Mr. Speaker, the COI clearly said "The way forward – the sugar industry remains vital and important to the economy of Guyana and its people, many of whom have their lives touched by the sugar industry. The sugar industry must be given an opportunity to not just survive, but revitalize and become a vibrant, efficient and profitable business where employees have a sense of security and optimal use remaining resources,". Mr. Speaker, it went on to say that "GuySuCo need a significant injection of funds combined with competent management teams and leaders to go forward,".
I am still looking for the words 'right size', words of the Honourable Member, Mr. Ramjattan. Mr. Speaker, it went on to say "Role of the Government – Every government has an obligation and commitment to all the people of the country,". That is what we are doing. We have a commitment to the people of this country Mr. Speaker. It also says, the COI, listen to this Honourable Member Mr. Ramjattan, "the COI does not recommend the closure of any estate at this time," This is the COI Mr. Speaker.
Mr. Speaker, the Honourable Member came to this house speaking on the performance of the sugar industry. I'd mentioned it before and I'll mention it again, in 2015 when we left government, GuySuCo was on the path of recovery because of the work we would've done. In 2015 when we left government, because of the work we did in the industry, the production was 231,071 tons of sugar and in 2017 after the Collation took over, 2016 – 183,000 tons, 2017 – 137,000 tons, 2018 – 104,000 tons, 2019 – 92,000 tons and last year, the lowest ever in the history of GuySuCo, 88,000 tons. That's what they did with the sugar industry Mr. Speaker. They set up a Commission of Inquiry hoping that the COI would justify them closing down the entire industry. When the COI said don't close any estate, they said that was not gospel. The Honourable Member, Mr. Ramjattan, he was leading the then government's team when they had the consultation. They didn't ask the subject Minister at that time to head the team or the then Minister of Finance. Mr. Ramjattan, who was normally used by the Collation, went and led the then government delegation. When the Trade Unions and the Opposition said "Since you're closing down the factories in these areas, let us do an economic impact study." The gentleman said that will not be doing one and if we wanted one we should do it. Honourable Member, Seepaul Narine was there and he can testify to that discussion.
Mr. Speaker, I was not in the National Assembly last Monday for some parts of the debate but Mr. Speaker, when I was made aware of what was said and what took place, I was very disappointed because, you have an Honourable Member or a member who calls himself honourable who is supposed to set the example as the Chief Whip of the Opposition calling GuySuCo a blood sucker on the back of the taxpayers. Mr. Speaker, I am asking the Honourable Member to apologize to the workers of that entity. Anyone with any amount of decency supporting the workers must condemn that blatant and wicked statement. Mr. Speaker, that's the way they treated workers and that is why they are over there. They tried their best to rig the elections because they know people would not vote for them so now they've started to use all kinds of derogatory statements and words to describe the sugar workers. And the Honourable Member, Mr. Ramjattan had the audacity to come and support that. Today he had the opportunity to condemn his fellow member but he did not. He supported them because he was used a pond by the Collation Government to close the sugar industry.
Mr. Speaker, if I didn't know better, that people from all walks of life were employed at GuySuCo, I would've said that the Honourable Member's statement was racist. But Mr. Speaker, I wouldn't say that, I'll say that they 'took they eyes and pass' the sugar workers in this country. When their party, who is now under the mask of the APNU and the other dead-meat parties, that was the only rightful prediction ever made in the history of this country by the Honourable Member, Mr. Ramjattan, that the AFC would be a dead-meat party and today your prediction is true. Mr. Speaker, when the PNC was sucking the life out of GuySuCo in the sugar levy, wasn't that sucking activity? When they rented a small house as a drugs bond, wasn't that a blood sucking activity? Mr. Speaker, I think every right-minded Guyanese, every decent person must call on the Honourable Member to retract his statement and make a public apology to the workers of this country.
Mr. Speaker, I will turn to the agriculture sector.
This $383.1 billion budget will bring economic prosperity and lead us on the development path as reflected in our manifesto.
Mr. Speaker, Budget 2021 paves the way for the recovery of Guyana's economy and gives a stimulus for it to be dynamic. The budgetary allocation of G$ 22.6 Billion in 2021 will provide that much-needed impetus to make the agriculture sector diversified, resilient, and competitive.
Agriculture currently contributes 27.1 percent of non-oil GDP and 21.3 percent of non-oil exports.
Employment in the agriculture sector reduced from 17.5% in 2012 to 12.1% by the first quarter of 2020 primarily due to the callous actions of the APNU/AFC government and the closure of the sugar estates putting approximately 7,000 persons out of a job.
Mr. Speaker, let us investigate the allocation of the APNU-AFC government into the Ministry of Agriculture, specifically, agriculture diversification, non-rice, non-sugar allocation, and let us look at the years 2016 (APNU-AFC first full budget after taking office) and 2021 (our first full budget)

2016 allocation – $8.6 Billion

2021 allocation – $17.4 Billion

that is more than $8.7 Billion or 100% increase in allocation. That shows the PPPC's commitment to the sector.

If you compare their 2019 to our 2021, our 2021 is still $4.3 Billion more than APNU-AFC placed into the sector.

Therefore, APNU/AFC saying that they closed Sugar Estates to focus on Agricultural Diversification, is just storytelling!
Budget 2021 builds on what was put forward in the 2020 Emergency Budget and provides the catalyst for the revitalization of the agriculture sector and the reclamation of Guyana as the breadbasket of the Caribbean and agriculture powerhouse of the hemisphere.
Under the leadership of His Excellency, our President, the agriculture sector will no longer suffer from poor management as it did under the APNU/AFC leadership, rather we will once again become the leader in agriculture in the Region.
The PPP/C government is committed to ensuring that Guyana achieves its true agriculture potential.
Mr. Speaker it has been said by Former Finance Minister, Mr. Winston Jordan that budget 2021 "appeared weighty," it was not comprehensive and failed to provide the nation with a medium-term strategy that would "(a) bring us out of COVID-19 and (b) return the economy to some semblance of normalcy."
However, the business community and civil society including the average man in the street have been saying:
Mr. Speaker, the Guyanese populace have recognized the many benefits that they will gain from this budget which will enhance their livelihoods and further develop the country.
Agriculture Vision 2025:
The Government of Guyana will move our agriculture sector to measurable heights, We want to see:
An agriculture sector that encourages investment, and where agricultural producers operate profitable businesses
An agriculture sector that is, market-driven, with a clear focus on the transformation of raw materials to healthy processed products
An agriculture sector that consistently contributes to national food security and nutrition.
An agriculture sector that enhances rural communities, through employment and livelihood generation.
An agriculture sector that builds resilience to vulnerabilities, shocks, and stress, with emphasis on, adaptation to climate change.
Mr. Speaker, I have met with over 2,500 farmers, processors, and private sector persons at open days, meetings, and farmers outreaches across the country, some of the issues raised are:
1. High cost of planting materials and farm inputs
2. Limited and unreliable market and market linkages
3. Underdeveloped agro-processing
4. Inadequate drainage and irrigation
Let me now explain how budget 2021 will fulfil our vision for agriculture and address the challenges that our farmers are facing.
SUGAR
Gov't has injected seven (7) billion dollars in 2020 towards commencing the process of rehabilitating the fields, cane transport route and the factories.
more than 60% of the all-weather roads in the corporation are nearly impassable – this will be fixed within the next 5 years
More than 50 percent of the cane transport fleet, especially the punts were left to deteriorate to the point of disuse. We have to expend monies to add new punts to the fleet
7,000 sugar workers were pushed into poverty by the APNU/AFC regime. The ILO study confirmed that in some areas of the sugar belt, poverty increased by some 60%.
we have already rehired 1,000 of those that were retrenched by the APNU
In 2020, some 29% of sales were from the higher value packaged sugar. In 2021, we anticipate this will grow to some 39%.
By 2025 the plan is to have a minimum of 61% of sales coming from the value-added packaged sugar line. To realize this potential, significant investments have been planned to expand the Blairmont packaging plant, quadrupling its current capacity. Moreover, we will be re-tooling the Enmore Packaging Plant, to support the paradigm shift to packaged sugar. As a result of these strategic actions, the sugar industry will be less dependent on the treasury.
the strategic plan developed by the board and management is designed to return the industry to cash neutrality by 2026.
In 2021 the plan is to expand and further develop feasibility studies which support GuySuCo's value added potentials including but not limited to ethanol and agro-energy.
RICE
Mr. Speaker, during the Budget 2020 presentation I stated that "rice is the government's business and we will work to see the industry flourish". We assessed the rice industry and found that our rice farmers were enduring many challenges. We have brought solutions!
Mr. Speaker, farmers were required to pay increased land and drainage and irrigation (D&I) fees, especially the Region 5 farmers. Region 5 is one of the most productive agricultural region in Guyana, producing 43% of national rice production. This has placed the farmers, especially the rice farmers, under severe duress over the past years.
As of 1st October 2020, the D&I charges have been reversed to their original rates. The MMA-ADA rates were decreased from $15,000 per acre to $3500 per acre. This single measure placed an average of $1.3 billion dollars immediately into the hands of farmers in region 5.
Even though APNU-AFC placed high increases (some being over 600%) in the fees, the D&I structures and access dams were not maintained. The neglect of infrastructure by the APNU/AFC administration was unconscionable and caused the farmers, especially the rice farmers, unnecessary hardships
Since August 2020, the MMA-ADA was able to repair 6 bridges and 3 sluices. saving 96,000 acres of rice from being left in the field to rot because of a lack of farm-to-market access roads which were neglected.
MMA-ADA was able to grade and maintain 200 miles of dams and access since this Government took office. In 2015 the APNU/AFC did annually less than 90 miles of roads with farmers having to help themselves.
Mr. Speaker, the MMA-ADA since the passage of the budget 2020 was able to clean over 60 miles of secondary drainage. Coming from a position of ZERO since 2019.
Also, cleaning and maintenance of 608 miles canals were done per month. Primary drains were not cleaned since March 2020.
Further, rice farmers suffered from the high cost of production due to the burden of the high cost of inputs, such as fertilizer, chemical, machinery and equipment. Farmers are now benefitted from the removal of VAT on machinery, equipment, fertilizers, and pesticides, thereby reducing the high production cost.
Mr. Speaker, the Guyana Rice Development Board has been providing necessary support to rice farmers,
by producing and making accessible 25,902 bags of seeds to farmers.
providing 5 Mechanical Sprayer to bring some relief to the rice farmers facing the paddy bug
In 2021 we will procure 5 long reach sprayers to aid paddy bug control for $7M, which will reduce the damage caused by the paddy bug and reduce the high cost of spraying the paddy bug by 60%.

In region 2 alone, for the second crop 2020, the damage at the mills was as high as 75%, this intervention will reduce the reoccurrence of the high losses.
Nationally there is a lack of capacity to dry paddy during the peak season of harvesting. Accessibility is a challenge due to the limited number within each region. And the cost to transport paddy is high due to the distance of the farm to the drying floor. This facility is not present in Wakenaam.

Budget 2021 will see the construction of 6 drying floors, in Regions 2, 3, 4 and 6 at the cost of $80M. With this, an additional 50,000 bags of paddy will be dried per crop and spoilage and cost to transport paddy will be reduced.
We will rehabilitate the cleaning and drying facility at Lesbeholden substation, BBP at the cost of $20M. An estimated total of 6,300 bags of seed is expected to be dried and cleaned per crop and prevented from spoilage.

In the thrust to increase productivity, the Burma Rice Research Station in Mahaicony in October 2020 launched Guyana's newest rice variety, GRDB 16. The new variety of rice has the potential to produce up to 60 bags per acre, when in 2019 we recorded 38 bags per acre. May I add this variety has been worked on since 2014
In 2021, our rice farmers will benefit from the construction of a state-of-the-art Soil Laboratory at Burma, an investment of $40M a now be able to access soil testing at affordable cost and in a timely manner.
Mr. Speaker to reduce the contamination and spillage of high-quality seed due to threshing being done manually, we will procure 1 motorised thresher to aid plant breeding experiments at a cost of $600,000.
Early in 2021 I commissioned a $60.4 million Fertilizer Testing Laboratory, to test the quality of fertilisers imported and distributed in Guyana, this will ensure farmers get value for their money when purchasing fertilizers, prior there was no analytical capacity for fertilizers management in Guyana.
Mr. Speaker, in 2020 two (2) new markets were secured and we began exporting rice and paddy to Hungary and Latvia.

Additionally, Guyana will soon be exporting an additional 24,000 tons of rice to Brazil, taking the total to 34,000 tons.

Mr. Speaker, with regards to value-added rice products, no new experimental trials were conducted prior to August 2020. There was a value added department operating without a laboratory.

Mr. Speaker, with the construction of the Value-Added Laboratory at a cost of $9M, product development and testing will commence and research will be done to develop new rice products.
Mr. Speaker, this government has been working to ensure that the rice industry remains an economic pillar in the agriculture sector while providing Guyanese with the important staple in their diet. In the short time that this government has been in office, we have been able to achieve that, imagine the possibilities for the next 4 years! The rice industry will prosper.
OTHER CROPS (NON-TRADITIONAL CROPS)
Mr. Speaker, during 2020 the majority of our farmers experienced a significant decline in income of approximately 20-50%.
COVID-19 added to the multiple challenges faced by the farmers such as flooding and the outbreak of disease and pests.
Despite these challenges, the other crops sector grew by 6.4% in 2020 over 2019 as a direct result of the interventions put forward in the 2020 emergency budget. These brought much needed relief to the farmers, and value chain actors.
Mr. Speaker, NAREI was allocated $1.24 Billion in Budget 2021 ($33 Million increase from 2020) to further diversify our production base and ensure Guyana's food security especially since 2021 has been declared by the United Nations as the International Year of Fruits and Vegetables.
Mr. Speaker, all agriculture distribution programmes to rural and hinterland communities were halted by the previous government, this significantly affected agricultural development in this country. Since taking office in 2020, we have not only re-started these programmes but we have also revamped them and introduced new ones to ensure that everyone benefits.
Seed Distribution Programme: Over 5000 packets of seeds were distributed to small scale farmers after restarting the Seed Distribution Programme in 2020 and we plan to double this in 2021 to benefit over 2,000 farmers.
Acoushi Ants Baits: NAREI also produced and distributed 5,125 packs of Acoushi Ants Baits in 2020 and over 20,000 packs of these will be distributed to over 1000 farmers in 2021.
Fogging Programme: We have resuscitated the National Fogging Programme and the first areas to benefit included the Canals Polder, Laluni, Linden/Soesdyke Highway, Pauruni, and the Berbice area. In 2021, we will improve this programme by purchasing 10 new fogging machines.
Mr. Speaker, we have also restarted the Fertilizer Distribution programme
In 2021, $335 million will be invested to develop the Farm Implement Programme in Regions 1, 8 and 9 valued at $335 Million. We will be purchasing agricultural equipment inclusive of 25 tractors and trailers and 5 tractors with Disc ploughs, Roam Ploughs and Seed Planters, among others.
In 2021, the Production Support Initiative worth $51 Million under ASDU (RAID -$45M and SADP-$6M) will see over 450 farmers in Regions 2,3,4,5,6 and 10 benefitting from non-cash assistance for planting materials, breeding stock and technical assistance.
While the previous government was promoting "Green State Development", they did little to nothing to promote the use of 'climate smart' production. In 2020 NAREI invested $15 Million in shade-house materials and sprinkler irrigation, which will soon be available for farmers to purchase at a subsidized cost. This will result in the construction of over 100 shade houses in 2021.
Further, $139 Million Investment Fund under the HESADP Project to 175 investment opportunities in regions 1 and 9.
Coconuts
Mr. Speaker, this government has given prominence to the coconut industry by allocating G$70 million to Hope Coconut Industry Limited, an increase of $40 Million over 2020, to boost resources to promote expansion, inter-cropping, utilization of coconut by-products, and increased production and productivity.
a. In addition to the 2 coconut nurseries established in Karuni and Charity in 2020, 4 new nurseries will be constructed at Wakenaam, Leguan, Canal No. 2 and No. 63 Village in 2021. Resulting in an additional 48,000 seedlings per annum or an overall 172,000 seedlings of national production per year. With this intervention, farmers are now able to have easier access to adequate amounts of high-quality coconut seedlings at a reduced cost;
b. Coconut acreage was increased by 500 acres in Laluni and Pomeroon in 2020, with an expected 1000 acres in the near future.
c. Coconut intercropping systems inclusive of shade house cultivation were established at Dalgin, Victoria, Buxton, and Mahaica. In 2021 these will be established on Soesdyke Highway with red peas and peanuts, and on the East Coast Demerara with hot peppers and bora.
d. NAREI will continue research and development by upgrading the Bio-Technology Laboratory to be able to generate coconut planting materials.
Extension Support
Following numerous outreaches and interactions with farming communities, I have recognized that the last government failed our farmers when it came to extension services, farmers were not accessing the service, they were not satisfied with the service and this meant they could not increase production or productivity. Our farmers are in dire need for the delivery of crucial extension services, therefore, 2021 will see a drastic change in the provision of extension support services.
• Our Extension Officers will benefit from access to better transportation in order to improve their coverage. NAREI will invest $4 million for the procurement of ATVs 4 for the Regions 5 and 8 while GMC will, for the first time, have ATVs for Regions 1 and 7, and motorcycles for Regions 2, 3, 4, 5, 6 and 10 at a value of $13 Million.
• GLDA and NAREI will also improve their advisory and traceability system through the purchase of about 255 tablets which will allow for proper monitoring, more efficient data collection, provision of extension services and farm traceability.
• The MOA will also implement a new extension programme based on the recommendations from a "Institutional Analysis of the Agricultural Extension Systems in Guyana" done in 2020.
• Investment of $10.9M in improving the Extension of the Regional Agricultural Department and Fisheries Dept. in Regions 1 and 9 through HESAD Project
Intermediate Savannah Development Initiative – G$500 Million
Over the past five years, there has been no focus on the development of the corn and soybean industries. Though these two commodities account for over 25% of our import bill or $10 Billion. However, this Government understands the potential of these two commodities and as such Budget 2020 provided "Special Incentives to be made available for planting corn and soybean."
Budget 2021 will see investment of G$500 Million in supportive infrastructure to catalyze private investment in the production of corn and soya, such as roads, irrigation solutions, farm implements, etc.
This will be the first year of this programme to support agriculture development in the Intermediate Savannah. This will see job creation and income generation for our people.
Corn and soybean are the major ingredients in poultry and fish feed which the Intermediate Savannah has the land potential to produce, however, accessibility has been the main hindrance. Therefore, with the development of critical infrastructure such as farm to market access roads and enhanced water transportation services, production can be realized.
This investment will see a substantial increase in the development of the ruminant sectors (beef, mutton, chevron), corn and soya are inevitable, resulting in high-quality grass-fed meat products being available to satisfy the growing demand and better and cheaper crop and soya be available, thereby reducing the importation of key feed materials.
As a result of this investment, we will see 400 tonnes of corn produced, about 2,500kg of organic beef. While this is only 0.5% of the corn imported and 3% of the livestock produced in the Intermediate Savannah, it is a start!
AGRO-PROCESSING
Mr. Speaker, total non-traditional crop exports declined by 10% from 11,000MT in 2015 to 9,907MT in 2020. More specifically, the agro-processing sector took a severe hit as not only did production decline but exports also significantly declined by 45% from 2015 to 2020. However, as a result of the many efforts made by this Government in 2020, the industry recorded a 9% increase in non-traditional exports in 2020 over 2019.
According to the President, GMSA "The challenges faced in the agro-processing sector are cost of production, financing, legislation, marketing as well as market access, technology and technical knowledge and enabling agencies in ease of doing business." (Meeting with Minister Mustapha on September 8, 2020). The previous government only increased the burden to do business by heavy taxation and no substantial investment in processing.
Mr. Speaker, understanding these challenges, our Government will take a more proactive role in the development of the local agro-processing sector by investing $158 million to ensure that our agro-processors have easy and affordable access to certified processing facilities in Regions 3,6,9 and 10 inclusive of Lesbeholden, Parika, Linden (Kara Kara), St. Ignatius and Aranaputa.
The agro-processing facilities will function both for commercial production and product development for small and medium agro-processors. This will ensure that consumers have access to high quality, high value and innovative local products that are internationally competitive.
GMC will also be focusing on subsidizing raw materials for agro-processors, these include packaging materials and preservatives, which will allow our agro-processors easier access and at the same time reduce their production costs.
Further, the gas-to-shore project will reduce the cost of energy by almost 50 to 60 percent, making Guyana's manufacturing industry competitive.
Mr. Speaker, the Plantain Chip Facility that was commissioned in early 2020, is currently non-operational. Further, the entire Parika Cold Storage Facility has been underutilized. This facility was established under the People's Progressive Party/Civic (PPP/C) prior to 2015, but it has been dormant under APNU-AFC government. The operations of this entire facility will be revamped through Public-Private Partnerships. We understand the potential of this facility and we will make the necessary investments and develop the much-needed partnerships to ensure that it is a success
Mr. Speaker, our small agro-processors have always complained of access to a certified laboratory. To this end, $10 million will be invested in ensuring that our agro-processors have access to a certified laboratory for the analysis and testing of their products, especially when targeting international markets. Our agro-processors would now be able attain the necessary standards and certifications in a timely manner at an affordable cost.
Mr. Speaker, as we work towards the achievement of the Sustainable Development Goals, SDG Target 12.3 focuses on halving per capita global food waste at the retail and consumer levels and reducing food losses along production and supply chains, including post-harvest losses by 2030. Thus, we understand the importance of maintaining the cold chain in order to reduce losses and extend the shelf-life of produce. As such we will be investing $85.5 million in the improvement of our Cold Storage Facilities at GMC inclusive of the acquisition of 2 refrigerated trucks, 2 refrigerated containers, construction of a permanent cold storage facility and upgrade of the existing facilities.
MARKETING
Understanding that agro-processed production is expected to increase through the above initiatives, a robust marketing strategy will be developed to ensure that farmers and agro-processors are linked to the most lucrative markets, locally and internationally. This will also entail conducting extensive market research, participation in trade fairs and exhibitions and the use of e-marketing/e-commerce platforms through Public-Private Partnerships.
Emphasis will be placed on finding long-term market opportunities for our agro-producers. GMC will facilitate institutional buying by linking farmers and agro-processors with Public and Private Institutions such as the Ministry of Health – Hospitals, Oil Companies – ExxonMobil, Hotels and Restaurants Ministry of Education-School Feeding Program (GMC will work towards facilitating the supply of at least 10% of the dietary requirements for the program).
GUYANA LIVESTOCK DEVELOPMENT AUTHORITY
Mr. Speaker, Guyana Livestock Development Authority plays an important role in the food and nutrition security of the country. However, when we took office in 2020 the Livestock Industry was facing many challenges such as:
The Veterinary Services Laboratory, Semen Production Laboratory and Nutritional Laboratory were not fully operational and addressing the needs of the farming communities.
Production of proven breeding stock was problematic.
The Hatchery struggled to return to maximum fertility and hatchability just at 50 hatchlings from 100 eggs.
Visibility and recognition of GLDA was weak. Extension officers were not equipped with vehicles to access farmers
Applied research was lacking and limited or practically non-existent
Farmers' training not organized to meet the needs of the farmers
Mr. Speaker, the measures implemented in budget 2020 started to reverse this and focused on reducing the cost of production for livestock farmers, improving the quality of the livestock products, and reducing domestic market prices to meet the needs of the most vulnerable.
The removal of VAT on key inputs in the poultry industry and zero-rating the poultry industry was done as promised and has benefited an estimated 3,000-5,000 small farmers and broiler producers.
Farmers in both the Hinterland communities and coastal regions have benefited from access to appropriate breeding stock.
Budget 2021 allocates G$806 million to the Guyana Livestock Development Authority, an increase of $46 million. With the intervention of Budget 2021 we will create an environment for our local producers to benefit from the increasing demand for meat coming from the thriving oil and gas companies, as well of other local businesses. Meat import in 2019 was G$20 M even though Guyana is self-sufficient in meat.
Plans for 2021 and beyond
Mr. Speaker, to be able to access the emerging markets, especially the high-end supermarkets, hotels, mining sector and foreign oil companies, a certified production chain is required. GLDA has begun to design and develop an animal traceability system, budget 2021 will provide G$14M for its operationalization and implementation. The system is fundamental to meeting food safety standards and farm certification and will help to promote exports.
Mr. Speaker, we will ensure all laboratories are certified and fully operational to address the needs in the livestock farming communities. In 2020, one division of the laboratory was certified and other areas and laboratories putting systems in place for certification. In 2021, we will commence the construction of Sample Collection Area at Nutrition Laboratory at Mon Repos. This will improve laboratory processes to determine the composition of the feed and feeding material in order to formulate the best ration for the animals from locally available feeding materials.
G$29 Million will be invested in the establishment of a modular pig slaughtering and processing facility at Garden of Eden. Importation of pork and pork products is almost 66%. Ham. bacon and sausage make up the bulk of the imports. Based on our data the swine industry is producing at 10% of its true potential. With the introduction of the new (imported) breeder herd and with the supply of improved breeding stock to swine producers, output will increase, creating more income-generating opportunities.
COVID-19 was the main hindrance to farmers' training in 2020. However, 2021 over $5 Million will be invested in an "In service Training Centre" for virtually accessories for E-training to reach farmers in all districts to transfer new and improved technology.
FISHERIES (AQUACULTURE)
Mr. Speaker, the fisheries industry is of critical importance to Guyana's economy and to the social well-being of the country. This industry employs over 15, 000 persons. It contributes not only to boosting development in rural areas but it is an important contributor to Guyana's export earnings. More importantly, as a major source of animal protein in Guyana, fish and fish products contribute to food and nutrition security in Guyana.
State of affairs before 2020 and Achievements
Mr. Speaker, when this government took office in 2020 the state of the Fisheries industry was quite dismal. To reverse the effects of its mismanagement by the previous administration we:
● We immediately withdrew the VAT on fisheries inputs. Now, fishermen are once again able to purchase fishing equipment and fishing licenses without having to pay exorbitant fees to conduct their businesses. We are now seeing an increase in fisheries activities and production, especially in aquaculture.
Plans for 2021
$293 million is budgeted to support the growth of the Aquaculture Industry.
● We will expand the operations of the Satyadeow Sawh Aquaculture Station.

○ In an effort to encourage increased investment and productivity, Government will be facilitating feed-formulation research with the aim of reducing the cost of feed to below $200 per kilogramme.

○ A breeding programme for indigenous species is also being developed at the Satyadeow Sawh Aquaculture Station, where hatcheries will provide fingerlings at a subsidised cost to farmers.
INFRASTRUCTURE DEVELOPMENT: DRAINAGE AND IRRIGATION & FARM TO MARKET ACCESS ROADS
Mr. Speaker, the importance of providing adequate drainage and irrigation for our farmers must be emphasized. Without adequate drainage and irrigation agriculture productivity will be significantly affected as the majority of our agriculture is done on the Low Coastal Plain which lies below sea level.
Mr. Speaker when this government took office the National Drainage and Irrigation Authority was found with inoperable pumps and excavators.

The National Drainage and Irrigation Authority also installed 9 high-capacity drainage pumps.

4 were installed in Region 2 (2 in Devonshire Castle and 2 in Hampton); and

5 were installed in Region 4 (1 in Cowan Street, 1 in North Ruimvedlt, 1 in Sussex Street, 1 in Hope and 1 in Nootenzuil).

Works are currently ongoing to install pumps at Den Amstel, Mora Point, and Rosehall.

Like I said, under APNU/AFC, there were high D&I rates and no works to show

Of recent, 2,148 acres of farmlands were cleared, and D&I systems were rehabilitated for agriculture expansion in East Bank Berbice, Coverden, Yarakabra, Madina, and other areas by the National Drainage and Irrigation Authority.
Mr. Speaker, this government restored budgetary support for adequate provision and maintenance of drainage and irrigation systems. $125,636,054 was injected into Water User Associations across the country for the maintenance of D&I systems.
Mr. Speaker several other works have started and are progressing to be completed shortly:
South Ruimveldt, a major flood-prone area in the city will have its main drainage sluice rehabilitated by March of this year.
Over 1200 acres of farmland will benefit West Watooka, Linden with the execution of drainage and irrigation works which have commenced.
Works are currently in progress for the extension of the Onverwagt Access Road worth $25 Million.
Mr. Speaker work is also in progress for agriculture expansion and improve support and infrastructure in the hinterland to benefit over 500 households in Region 9.

a Low-lying dam and 1 reservoir were completed in Shulinab
works are currently on-going to complete 1 reservoir in Quiko.
What is the plan for 2021 (and beyond)
Mr. Speaker, in budget 2021 further critical works will be done to provide farmers with better drainage and irrigation that will help them to deal with the effects that climatic conditions such as excessive rainfall or droughts can have on their production. To this end, $12 billion is being invested in critical interventions across the country.
Mr. Speaker, our farmers will benefit from critical drainage and irrigation works that will be done by the National Drainage and Irrigation Authority across our primary agricultural producing regions and the MMA-ADA in Region 5.
Region 2
$100M has been allocated for the rehabilitation of Pump Station at Andrews, Essequibo Coast, which will see improvement in the drainage for approximately 3,000 acres of land and will improve the livelihood of farmers/residents.
$135M has been allocated for the supply of a Pontoon and Two (2) Excavators which will be used to construct and maintain embankments in Pomeroon including a new channel for the Akawini Village. Additionally, channels in swampy conditions and outfall channels will be excavated.
$25M has been allocated for the construction of Canal and Drainage Structure from Manicuru Creek in the Poomeroon to improve drainage for approximately 1,500 acres of prime agricultural lands for cultivation. This will result in better drainage and bring an increase in yields.
$25M has been allocated to empolder farmlands along Manicuru and Dredge Creek in the Upper Poomeroon to improve drainage for approximately 1,500 acres of prime agricultural lands for cultivation. This will result in better flood control and increase land use.
Region 3
$120M has been allocated for the design and construction of Pump Station at Greenwich Park/Barnwell Area, EBE. This will prevent flooding of approximately 2000 acres of both farm and residential land.
$20M has been allocated for the rehabilitation of Drainage Structure at Henrietta, Leguan. This will benefit approximately 1,500 acres farmland and residential area creating opportunity for farmers and a better life for residence.
$20M has been allocated for the construction of Control Structure and Revetment at Kamuni, West Bank Demerara. This project will benefit approximately 1,000 acres of farm land. This will increase drainage and prevent erosion.
$20M has been allocated for the rehabilitation of Drainage Structure at Maria Johanna, Wakenaam which will benefit approximately 800 residents and improve drainage and create a better livelihood.
Region 4
$40M has been allocated for the rehabilitation of Farm to Market Road at Laluni Phase 1. The construction of this road will Improve access to approximately 2,000 acres of farmlands. As a result, abandoned land will be resuscitated, resulting in an increase in agriculture production.
$30M has been allocated for the construction of Georgetown Drainage System & Infrastructure – Phase 1 North Road Concrete Drain. This project will improve drainage in the capital city of Georgetown. The drains will be concrete lined and consist of concrete culverts, which allows for better flow and less restriction of water in the channel.
Further Mr. Speaker, under Flood Risk Project funded by the World Bank, our objective is to reduce the risk of flooding in the low-lying areas of East Demerara, in 2021 $350 Million will be executed to construction of new Dam on the North Eastern Dam of the East Demerara Water Conservancy, this will provide protection, improved drainage and irrigation and reduce flooding for over 300,000 residents on the East Coast of Demerara.
Region 5
NDIA
Design for MMA Phase 2 to commence – G$50 Million
$100M has been allocated for the construction of a Pump Station at Cottage, West Coast Berbice which will serve approximately 38,600 Acres of farmland. This will significantly reduce flooding for the residence between the Mahaica and Mahaicony River.
$100M has been allocated for the construction of Mahaicony Creek Right Bank, Farm to Market Road which will improve access to approximately 10,000 acres of farmlands. As a result, abandoned land will be resuscitated resulting in an increase in agriculture production.
$30M has been allocated for the construction of a drainage channel to contain additional runoff from agriculture area and new sluice at Abary, Right Bank Abary Creek. This will benefit approximately 12,000 acres of farmlands.
$20M has been allocated for the Rehabilitation of Union Sluice which is currently in a terrible state. This project will benefit 20,000 acres of farmlands by improving the drainage within the area.
MMA-ADA
Purchase of 2 long Reach Excavator for $76M to restore D&I in over 114, 196 acres of farmland in Region 5.
Construction of 2 RC Heavy Duty Bridges in Mahaica at a cost of $32M to reduce the distance of transportation and production cost in Mahaica
Construction of the Check Structure at the Burma, Mahaicony Main Drain at a cost of $18M to stop salt water intrusion in this area.
Construction of Secondary Drains/ Canals for 5000 Acres of Cattle Pasture on the Right Bank Abary at a cost of $13.5M to ensure proper pasture and growth of dairy cattle for fulfilling the demand of the new abattoir in Region 5.
Heightening of the Abary Conservancy Dam at a cost of $12M
Heighten Main Canal and Embankments in the Abary/Berbice Area at a cost of $6M
Construction of the Abary Flood Embankment at a cost of $8M
Region 6
Supply of Pontoon and Cutter Head Dredge for Region No. 6 for $400M to clear the sluice outfall
Construction of Pump Station at Black Bush Polder to Irrigate Black Bush Front lands at a cost of $100M
$95M has been allocated for the construction of No. 52/58 Farm to Market Road which will improve access to approximately 10,000 acres of farmlands. As a result, abandoned land will be resuscitated, resulting in an increase in agriculture production.
$80M has been allocated for the construction of Drainage Pump Station at Adventure, East Berbice Corentyne at a cost of
The construction of this drainage pump station will benefit approximately 5000 acres of rice cultivation by preventing flooding and promoting better livelihood for residence.
Across all Agricultural Regions
$20M has been allocated for the clearing of Agriculture Lands for Farmers in regions 2, 3, 4, 5, 6, and 10. Over the next 5 years 25000 acres of agriculture land will be cleared.
Rehabilitation of Sluices, Drainage and Irrigation Structures & Embankment in regions 2, 3, 4, 5, 6, and 10 for $15M
Procurement of Mobile Pumps at $125M to service regions 2, 3, 4, 5, 6 and 10
Mr. Speaker, in keeping with plans to foster agricultural development in the hinterland, $20M has been allocated for Drainage and Irrigation works in Amerindian villages (Kurubakaru, Monkey Mountain, Yawong/Mountain Foot, and Chuing Mouth) in Region 8.
Mr. Speaker, in addition to greater efficiency in the drainage and irrigation system, there will be significant improvements in Water Resources Management. We will equip the Water Quality Laboratory at the Hydrometeorological Service to strengthen its water quality monitoring at a sum of $46M (in the last 6 months alone). The procuring of an Acoustic Doppler Current Profiler will equip the Hydrometeorological Service to conduct river profiling. This is a significant investment towards not only hydropower development but also towards ensuring that Guyana maximizes the opportunities that its Blue Economy presents.
The Ministry of Agriculture has started and will continue to actively involve our partners – farmers, fishers, agro-processors, exporters, producers' association, chamber of commerce, development agencies – to ensure we work together to fulfill our vision to be the agriculture powerhouse in this part of the world.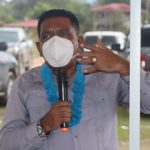 – Agri. Ministry to conduct audit of farming tools sent to Region after groups express dissatisfaction with inaccessibility
During an outreach to Region 10, Minister of Agriculture, Hon. Minister Zulfikar Mustapha met representatives of several farming groups and residents from Coomacka and other neighbouring communities who appealed for assistance with their current farming operations.
The meeting, which was held at the Coomacka playground, residents also voiced concerns about several issues.
Mr. Paul McFarlane, representative of one of the farmers' groups, said the area had great agricultural potential, but more technical support and equipment were needed.
"I really appreciate these interventions. We all know that these things are long overdue. Nothing has been done here, in terms of agriculture, for a long time. I can see there's a lot of potential for agriculture in these parts. While we may not have enough arable land to do crops, we still do some amount of crops, but we can also do a lot of livestock. We can do aquaculture. We live alongside the river.
"Eighty to ninety per cent of us live alongside the river. I think there's great potential for aquaculture in these parts but somethings are lacking. We need the technical support. We don't see or we hardly see the crops extension officers. We do see GLDA officers, but we really need the technical support. We also need the relevant tools and equipment. I don't know when last the farmers' group from the mines received any tools. We also need a boat and an engine because most of the lands available are across the river and we need access to those lands," Mr. McFarlane said. He also said that farmers' groups were not benefiting from tools sent to develop small scale agriculture in the Region.
In response, Minister Mustapha, said the Ministry would be rolling out a programme soon.
"I was just having a discussion with our officers. We'll soon have a programme to work with small farmers. Tools like tillers and other things that you need for your land, investment in the livestock industry and poultry industry; we'll work along with the farmers.
"I've also asked the Permanent Secretary to trace back, from our Ministry, to see how much equipment we've given to Linden over the years. If individuals have those equipment, we'll take it back and give it to the groups. We will commence an audit of all the equipment that came to Region 10 so that we can ensure the farmers' groups benefit from them," he said.
The Minister also gave assurances that extension officers would be more responsive to farmers' needs. Additionally, he said that he had instructed the relevant agency heads to ensure officers visit the farms in the community at least once per month and submit a report of their findings.
Mr. Ronald Narine, a farmer from Nottinghamshire, said he was displeased about some of the works conducted in the area.
"I've been living in Nottinghamshire for over 25 years. The area that I'm living in is in a pond. I have a bill of quantities here that says Nottinghamshire: clean and excavate in depth eight feet, 6,250 feet, $625,000 to clean because this is the road trench in front people house wuh got title fuh they land. It has been neglected for the past couple years; the drainage structure.
"We have another drain; manual cleaning and excavate that drain, 1800 feet; $100 a foot; $180,000. I have seen this money paying for the past six or seven years and the works are nothing compared to this paper that I have in my hand. The people who doing the work don't know nothing and it become a pay day for the CDC (Community Development Council) people. Minister, I don't know if you have anybody that knows the account of this contract but today, this thing bruk up," Mr. Narine said.
Minister Mustapha said groups contracted to execute developmental works in the communities would now be held accountable when works are not executed according to the project specification.
"I've instructed the NDIA to work along with the CDC groups. The issue raised that some of these groups are collecting money and not doing anything, will be investigated. We must ensure that people do the work because when we budget these monies and the works are not done properly, the beneficiaries suffer.
"Although we are encouraging groups to work and giving them contracts, we will ensure that the works are done to the specification. Before the groups receive their payment, the works have to be completed according to the required specification. From now, and as long as I am Minister of Agriculture, I will ensure this happens," Minister Mustapha said.
Residents also raised concerns about the need for improvements to the community's drainage system. Minister Mustapha informed them that the NDIA is currently working to develop a work programme detailing all the requested drainage and irrigation needs in the Region.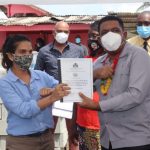 West Watooka, a farming community located in Region 10, will soon benefit from a multi-million-dollar water conservancy as part of the Government's efforts to ensure farmers benefit from irrigation throughout the year.
This was made possible through the intervention of Minister of Agriculture, Hon. Zulfikar Mustapha after he held an outreach to several communities in the Upper Demerara-Berbice (Region 10) last month.
Today, the Minister returned to the mining town for the official signing of the contracts for the consultancy, construction of the dams and construction of the irrigation structures.
In his address during the contract signing, Minister Mustapha said with the construction of the conservancy, farmers would soon be able to increase their production.
"When I came here the last time, I mentioned that we were looking to build a conservancy in West Watooka. Today we are here to sign three contracts to the value of $174,695,640. With the construction of this conservancy, farmers will benefit from year-round irrigation for their farms.
"This, coupled with the upgrades to your current drainage system, will help you, the farmers, to improve your production and general farming life. As Minister of Agriculture, I am committed to working with the entire farming community to ensure that this Region is known for more than mining. Region 10 will soon be known for its great agricultural potential," Minister Mustapha said.
Meanwhile, Chief Executive Officer of the National Drainage and Irrigation Authority (NDIA), Fredrick Flatts, in his remarks, said people from the community should assist with monitoring the progress and execution of the works.
"I'd like persons from the community to check out what is happening from time to time so that you have an idea of what is happening and, of course, if something is happening that looks wrong, you can also speak with our Regional Engineer. As the direct beneficiaries, we want to make sure you are comfortable with the project throughout the entire project cycle," Mr. Flatts said.
E&A Consultants would be overlooking the execution of the project, while Kascon Engineering Services and M&P Investment would be responsible for the construction of dams and irrigation structures respectively.
Minister Mustapha also said the Ministry is working on developing a work programme detailing all the works needed in the Region.
"I also said that we would execute some works so that we can enhance the drainage structure. I'm happy to report that from the time of my first visit as Agriculture Minister to now, the machine was here from the very next day and has been in the area working continuously. To date, the machine would've completed approximately 4000 rods of canal.
"Our engineers will also be meeting with residents and farmers soon so that they can see what works are needed. They will develop a work plan and submit that report to me so that we can have funds available to execute the works," Minister Mustapha said.
Meanwhile, Director General at Ministry, Mr. Madanlall Ramraj said the project was another investment by the Ministry to ensure farmers and the farming community are better off. Construction of the conservancy, which is scheduled to begin on Monday, is expected to be completed in 12 months.

Guyana has recorded a 9% increase in the export of non-traditional agricultural commodities from January to December 2020 when compared to the same period in 2019, despite the COVID-19 pandemic.
In 2020, a total of 9,907 metric tonnes of non-traditional agricultural commodities valued at GY2.5 billion or US $12 Million were exported from Guyana. This increase is due to a 20% (8217 metric tonnes) and 44% (419 metric tonnes) increase in the export of dried coconuts and coconut water respectively.
Further, in the year 2020 Guyana also recorded a 110% (2,194 metric tonnes) increase in Regional exports of non-traditional agricultural commodities. The major Regional export destinations in 2020 were Barbados, Trinidad and Tobago, Suriname, and Antigua.
Of the total non-traditional agricultural exports, 99% (9805 metric tonnes) was shipped via sea, representing a 14% increase when compared to the year 2019. Meanwhile, 1% (102 metric tonnes) of non-traditional agricultural commodities were exported via air in 2020. The 102 metric tonnes represents an 82% decline in exports via air. This decline is mainly as a result of the temporary cessation of flights by Caribbean Airlines in 2020 due to the closure of the international airports, a measure put in place to help mitigate the spread of COVID-19.
Consequently, there were declines in the exports of mangoes, bora, boulanger, pineapple, eddo, and peppers in 2020when compared to the year 2019.Most of these commodities are exported mainly to Canada and the USA.
Moreover, the country saw an increase in the export of commodities such as coconut water, pepper sauce, achar, sauces, cassava cassareep, and preserved fruits when compared to the year 2019.
The Guyana Marketing Corporation (GMC) will continue to work aggressively to ensure this trend is maintained in 2021 and the years ahead. GMC's Officers will continue to create linkages between buyers and sellers of non-agricultural commodities. The ongoing facilitation of the use of the Corporation's Packaging Facilities will also continue.
The table below provides information on the fifteen (15) most exported commodities along with their respective export destinations for the year 2020.
Top 15 Commodities Exported For 2020
No.
Commodity
Destinations
1
Coconuts
Dominican Republic, Trinidad, USA, Barbados, Antigua
2
Coconut water
Canada, USA, Trinidad, St. Kitts, Dominica
4
Pumpkin
Canada, Barbados, Antigua
5
Watermelon
Barbados, Antigua
6
Heart of palm
France
7
Eddo
Canada, Barbados, Antigua, USA ,Suriname
7
Sauces
Canada, Barbados, USA, England
8
Cassava Cassareep
Barbados, Canada, USA
9
Pepper sauce
Canada, Barbados, USA, Antigua
10
Limes
Barbados, Guadeloupe, Antigua
11
Pineapples
Canada, Barbados, Suriname, Guadeloupe
12
Crushed pepper
Trinidad
13
Achar
Canada, USA
14
Ginger
Suriname
15
Mango
Canada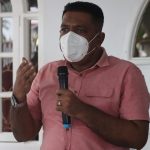 Agriculture Minister, Hon. Zulfikar Mustapha during a recent outreach to several villages along the Corentyne Coast, met with a group of fishermen who appealed for improved zoning in Guyana's waters.
During the meeting at Hogs Town, in Fyrish, the fishermen, who usually fish in a dedicated area in the Atlantic Ocean, told Minister Mustapha that there has been a recent migration of the fish stock that requires them to venture beyond their dedicated zone.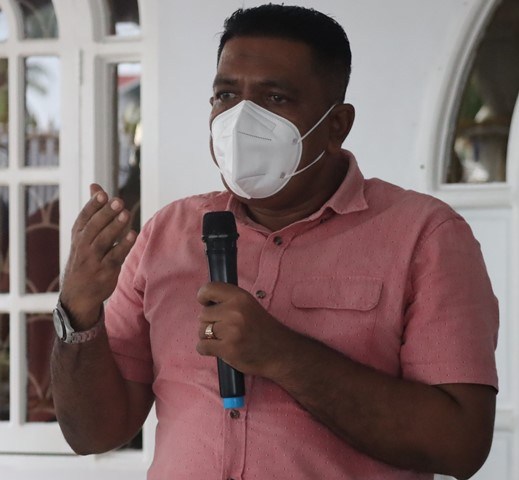 Mr. Sankar Samaroo, one of the affected fishermen, told the Minister that climate change had adversely impacted the catch level and population within their current fishing zone.
"Due to the climate change, the fish not coming into the amount of water you guys give us to fish in. We gotta go over by the trawlers and we ah get cuss. They saying that that is not our zone. We are asking the Minister if there can be a review of this so that there can be a specific time for the trawlers to fish and the fishermen to fish. We've met with them and asked for us to be allowed to fish from 6 o'clock in the morning to 2 o'clock in the afternoon and they could fish during the rest of the day and the night because they are fishing primarily for shrimps. The fishes feed on the shrimp so where ever the shrimps go the fishes following," Mr. Samaroo said.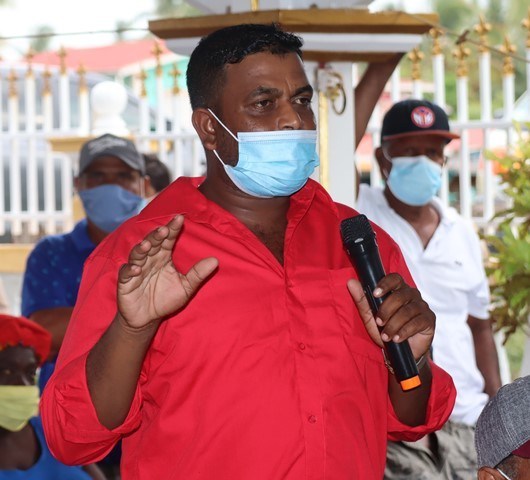 In response, Minister Mustapha committed to raising these concerns with the recently installed bodies mandated to overlook the industry and give recommendations to Government.
"Last week I installed two bodies that are responsible for dealing with these matters; the Fisheries Advisory Committee and the Guyana Fisheries Limited Board (GFLB). Members of the trawlers association have also raised issues pertaining to the low level of catches and the Ministry, through the Fisheries Department, will launch an investigation into the matter soon. In relation to your matter, I will raise it with the heads of both bodies so that they can meet with all parties involved, launch an investigation and make recommendations for a way forward to the Fisheries Department," Minister Mustapha said.
Other fishermen also appealed for assistance with the irrigation channel used when discharging their catch and for works to be carried out on the access dam used to transport their engines.
"When the tide low, boat cannot come in. We have to wait for the tide to rise then boats can come in. We are coming in a line so by the time the first boat finish discharging the catch, the catch from the last boat spoil. The channel is very, very narrow. Another issue, whenever the channel where the Albion Estate blow water, the dam is breaking so the channel is being affected. We are asking if… they recently bring a long-boom hymac, but it cannot reach to the middle, so, we're asking if they can get a pontoon with the hymac and get that thing resolved. The revetment on the eastern half of the channel from where the concrete irrigation is which is like about 500 feet, so that the dam cannot break away. It's tough on us to take out our engines when the tide is low and the catch. We cannot work during low tide. We are asking for something to be done so that we could get better access," Mr. Ramsarran said.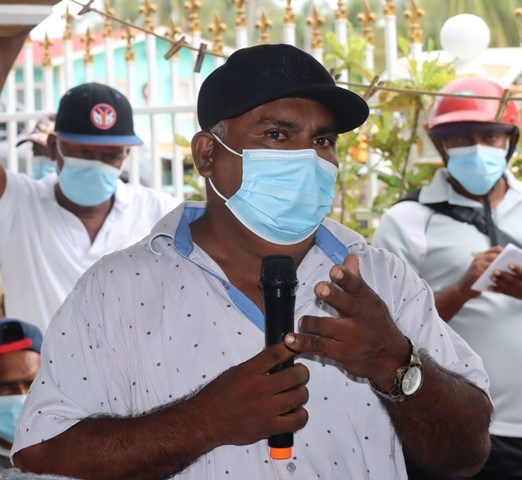 Minister Mustapha committed to having works executed to bring some level of assistance to the fishermen.
"I've asked the CEO of the NDIA, and within two weeks we'll send the pontoon with the excavator to clear the entire enlarged channel so that you can have some level of relief," Minister Mustapha said.
The Minister also told the fishermen that soon there will be a National Aquaculture Conference, during which, His Excellency, President Dr. Mohamed Irfaan Ali will launch the Government's aquaculture master plan.
Recently, stakeholders in the fishing industry across the country have raised concerns over low level catches in both fish and seabob species in Guyana's waters.
During a recent meeting with the newly installed Fisheries Advisory Committee, President of the Guyana Association of Trawler Owners and Seafood Processors (GATOSP) Mr. Ruben Charles expressed concern over the current low level of catches with Minister Mustapha.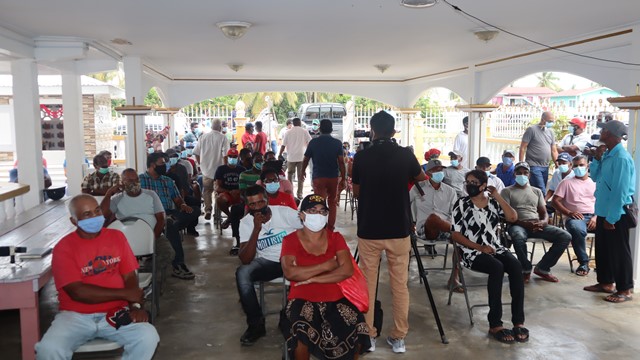 This, he said, may be linked to the current oil exploration activities offshore. He added that although no scientific research has been done in Guyana to officially link low levels of catches to oil exploration, there have been similar instances of low level catches in other nations with current oil and gas operations offshore.
Farmers also raised issues about drainage and dilapidated roads and dams. Minister Mustapha committed to having a machine deployed to the area to carry out the works. He told residents that the machine will remain in the area until the works were completed. He also committed to providing crusher run gravel to do revetment work on the dilapidated dams.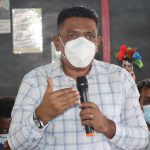 – more block drain structures to be constructed
– flood-affected farmers to receive planting materials, fertiliser, other forms of assistance
Farmers from communities along the Pomeroon River in Region Two, will soon benefit from an improved drainage and irrigation system, with the passage of the national budget, which is expected to be presented in the National Assembly sometime next month.
Earlier today, Agriculture Minister, Zulfikar Mustapha and a team of senior officers from the ministry, hosted two community meetings with farmers to discuss and bring some amount of relief to the issues they are facing.
During the first meeting, which was held at the Jacklow Primary School, Minister Mustapha disclosed that the National Drainage and Irrigation Authority (NDIA) is hoping to procure a pontoon, fitted with two excavators, to carry out works in the communities along the Pomeroon River.
Several of the farmers and residents who attended the meeting said there was an urgent need for works to be carried out on a number of the drainage canals in the Region. The farmers also said that more block drain structures needed to be installed along those riverine communities.
Shaik Yussuf, a farmer from Jacklow, said that farmers needed planting materials to be able to return to their farms after most of their crops were damaged due to the recent instances of prolonged flooding in the Region.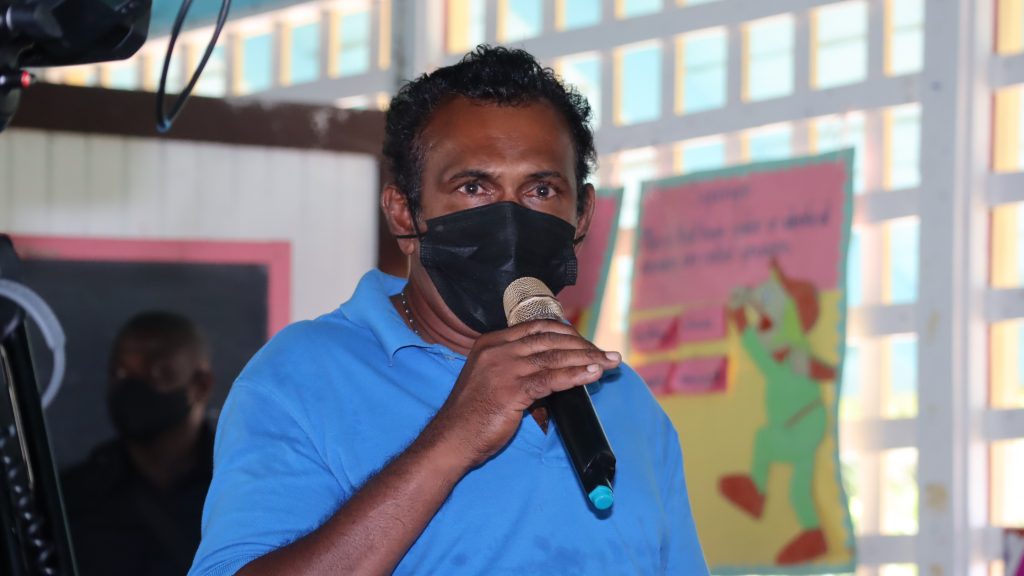 "As you know the flood water now is presently receding and now we're seeing what the losses are. I have a concern about the planting material. If these prices for the planting materials can be reduced to a lower cost so that farmers can be able to purchase these planting materials. Secondly, I am appealing for some sort of assistance for farmers in the form of giving fertiliser so as to help the farms with the produce. My other concern is, we have a block drainage at the back and it is presently clogged up. It needs reconditioning so that we can be able to get back on our farm because, I think, that was one of the main causes of the flood that affected us. My next concern is about these plastic tube kokars that are being given to certain persons. I applied since 2015. The first time I spoke to the engineer, he told me that my name was on the list. The next time I spoke to him he said that my name was striked off. So, these are things that are really bothering some of us," Mr. Yussuf said.
Minister Mustapha told the farmers that his ministry had submitted a proposal for the purchase of a pontoon and two excavators to carry out continuous works in the Pomeroon region. He also said that, after the 2021 budget is passed, the NDIA would be able to recommence its block tube registration and distribution exercise.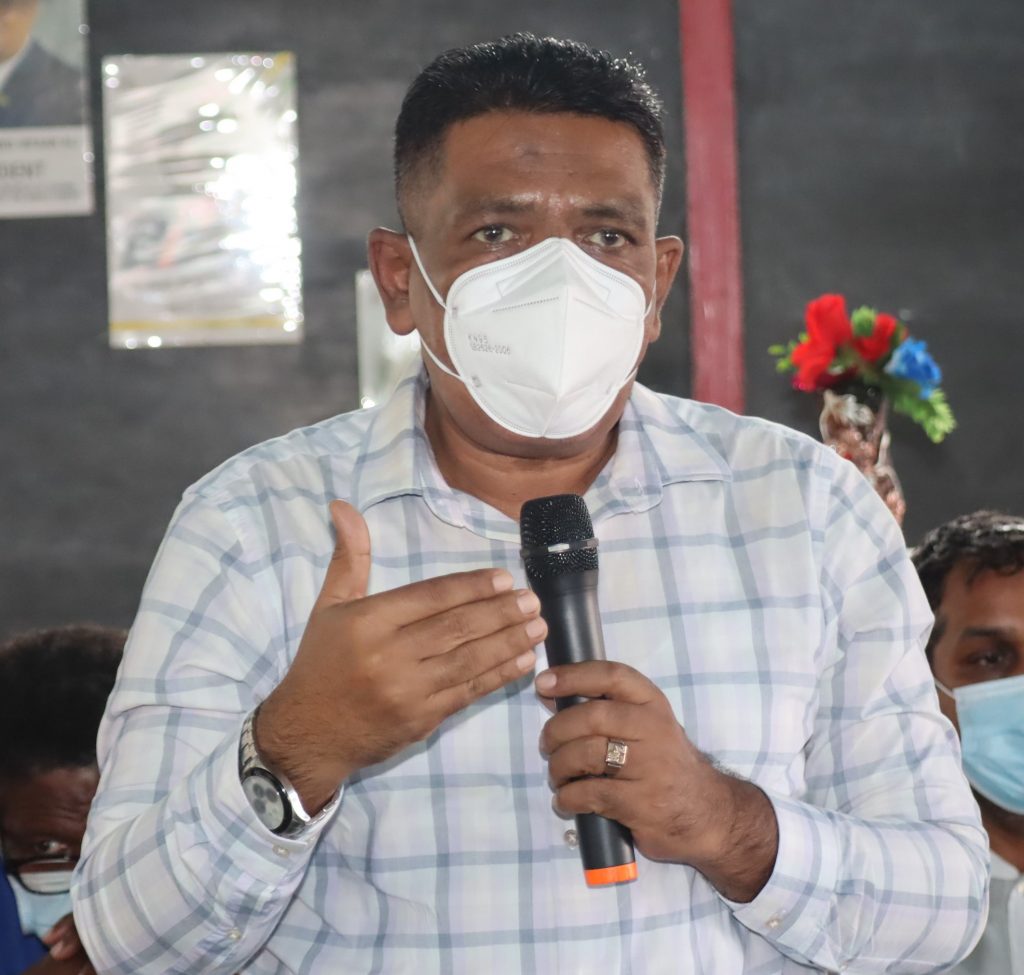 "You know now we are preparing for budget. We have already submitted to the Ministry of Finance our proposal. I want to tell you that we've included sums to purchase a pontoon with two excavators for the Pomeroon River. As long as we get that, it will remain in the Pomeroon. I am optimistic that we will have those funds approved. When we are crafting our budget estimates, we'll look at various vulnerable areas but we decided that we should include those critical pieces of equipment in our budget proposal. In relation to the drainage system, I know for a fact that, when we were in government prior to 2015, we did a number of those block drainage structures. We also distributed block tubes to help farmers. I've instructed NDIA to recommence that programme. That programme, however, cannot start until after the budget has passed. From Monday, officers from the NDIA will come into the area to do an assessment. I want to assure you that we will try, as much as possible, to facilitate as many requests for these structures," Minister Mustapha said.
Dexter Cameron, a farmer from Marlborough, said that the small farmers in the community were experiencing issues with intermediate drainage and could not afford to do much on their own.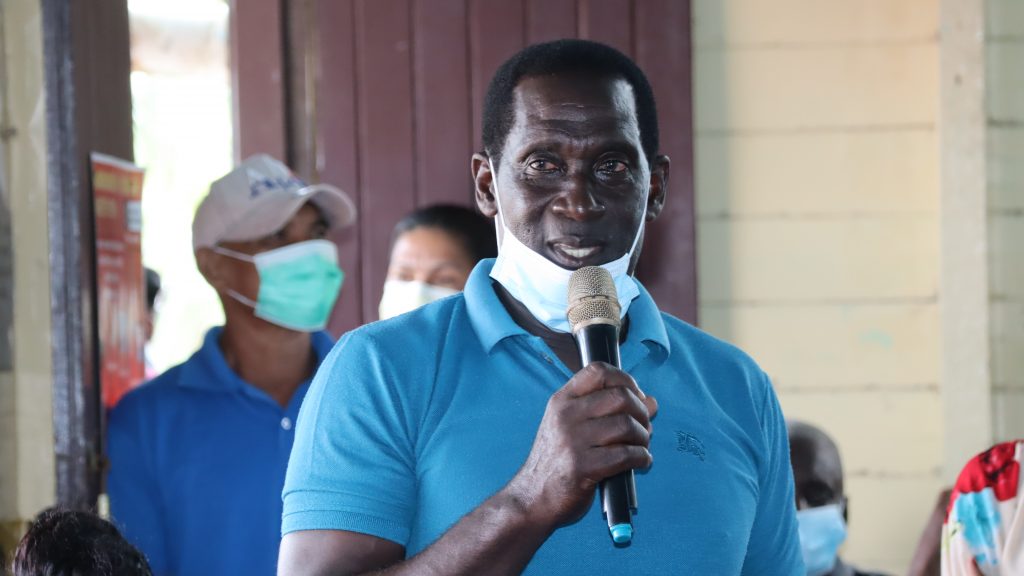 "My concern is about drainage in the Pomeroon. Agriculture is a big business and everyone may not be able to excel in certain areas. We know that big farmers can do certain things but the smaller farmers would like to exist also. My concern is that we all can't reach at top, but there's a level where we can all exist. The smaller farmers, and they are many, are having a problem with intermediate drainage. The government has been doing a very good job. We've had our canals dug and they are being maintained and work is going on. The river defense programme is going on. The sea dam and the river dams are being built but there's a struggle within the farms themselves. That's where we need some assistance. Pomeroon is a low land and we cannot blame the government when the rain falls but we can ask for help to deal with this problem," Mr. Cameron said.
Brian Ali, a well-known farmer from Marlborough, spoke about the condition of the mouth of the Pomeroon River. He also asked for assistance with chemicals in cultivating coconut.
"If we are thinking long term, because farming, especially coconut farming is about to take off to go a very high place…the major concern, where drainage is concern, is the dredging of the Pomeroon River. In 2005 I did raise this issue and some persons objected to it. If we are in a basin and the mouth of the river is shallow, only a certain amount of water could pass out there. People are suggesting that we dig more canals to the river but it would be the same thing if the rain falls because the mouth of the river is shallow. It needs dredging. My other concern is, at one point we were receiving chemicals for the coconut industry. I would ask today if that process could continue. Today we have cases of infestation of the red palm mite and recently, I've seen the coconut cockle. The chemicals that we use would also help to alleviate that very cockle infestation," Mr. Ali said.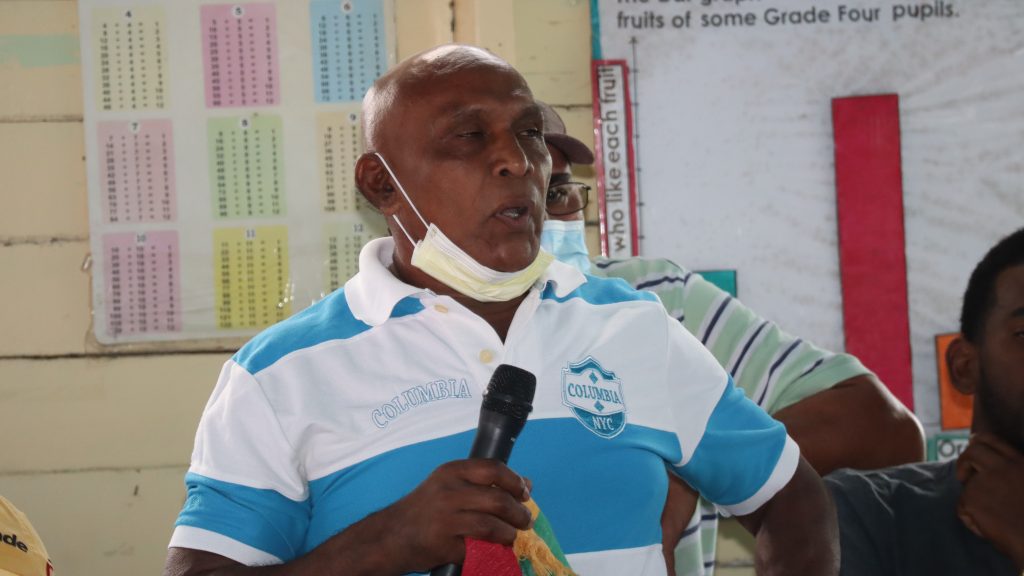 In responding to the farmers' comments, Minister Mustapha said the Ministry did discuss carrying out works at the mouth of the Pomeroon River.
"When I visited flood affected areas in Charity a few weeks ago with the Prime Minister, that issue was raised. I asked NDIA to do an estimate of the cost to execute that project. It would cost the government billions of dollars. We have to work over time between the Ministry of Public Works and the Ministry of Agriculture. I will let my colleague Minister know that there is serious concern from residents in the Pomeroon about the clearing of the river mouth," Minister Mustapha said.
Over the past few weeks, several communities along the Pomeroon River had experienced severe flooding as a result of constant rainfall and the overtopping of the Pomeroon River, leaving almost 150 households severely affected.
Since then, the Ministry of Agriculture has put measures in place to bring some amount of relief to farmers who suffered losses as a result of the flooding. The National Agriculture Research and Extension Institute (NAREI) and the Guyana Livestock Development Authority (GLDA) have commenced a series of assessments to see how many farmers were affected and the extent of the damage.
Minister Mustapha said that, based on the findings of those assessments, farmers will be given assistance in the form of planting materials, fertilisers and other chemicals so that they can return to their cultivation. These assessments, he said, will commence within the coming days. He assured farmers that, they too, would benefit from the same level of assistance farmers along the Coast and other parts of the country, who were affected by flooding, had received.