Press Release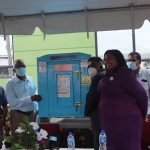 The National Agriculture Research and Extension Institute (NAREI) yesterday received 15 pesticide storage cabinets valued at $700,000 from the Pesticides and Toxic Chemicals Control Board (PTCCB).
During a simple handing over ceremony at the PTCCB's Mon Repos Office, Registrar of the PTCCB, Ms. Treica David said that the PTCCB will be working with NAREI to ensure farmers and extension officers have a clear understanding of the requirements by which the chemicals should be used and stored.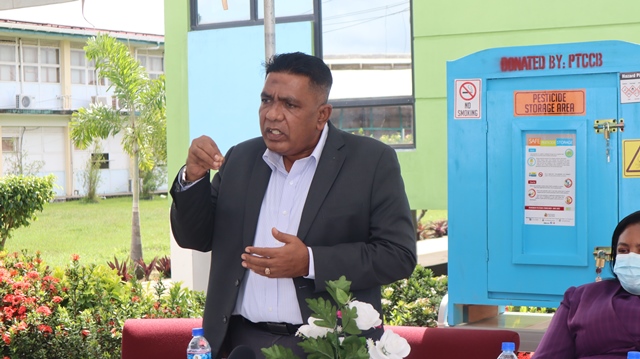 "Today, we've collaborated with our sister agency, NAREI, to allow them to have access to pesticides storage cabinets which will be sent to the various regions where these chemicals will be stored. We've also worked with NAREI to ensure there is an understanding of the requirements by which these chemicals are to be used. Monocrotophos is restricted in Guyana for use in the coconut industry. One of the things we've worked with NAREI on is to ensure that extension agents understand that these pesticides need to be stored in accordance with the law and given to farmers for the treatment of pests only in coconuts with relevant records kept, both by the farmer and NAREI, and back to storage once they've been used," Ms. David said.
The 15 storage cabinets will be distributed across the coconut-producing regions for the safe storage of monocrotophos, a chemical primarily used for the treatment of pests in the coconut industry.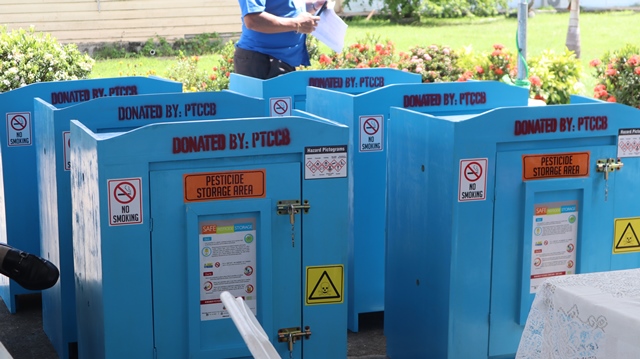 Also present to do the official handing over of the cabinets to NAREI on behalf of the PTCCB was Agriculture Minister Zulfikar Mustapha. While delivering brief remarks, Minister Mustapha said that with a large number of requests by farmers for monocrotophos, NAREI and PTCCB had collaborated to ensure the chemical was made available to the farmers in a safe and manageable way.
"During my outreaches to areas like Wakenaam and other parts of the country primarily known as large-scale coconut producing Regions, farmers made requests for this particular chemical. Much consideration was given to these requests given the toxicity of this chemical and our efforts as a government to tackle pesticide suicide. The Registrar was made aware of these requests and insisted that special emphasis be placed on how these chemicals were going to be stored. With that in mind, the PTCCB committed to making these cabinets available and today they are making good on that commitment. These are the kinds of efforts that we are putting in place to develop the sector in a safe and sustainable way," Minister Mustapha said.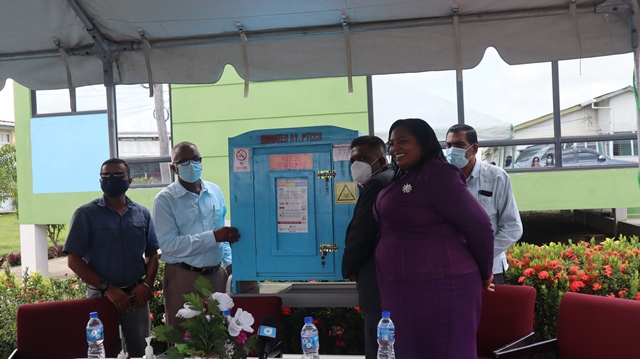 The subject Minister also said that stakeholders can rest assured knowing that government will continue to make the necessary investments in the sector to ensure farmers and their families are safe and that emerging industries like the coconut industry have the necessary support to reach their full potential.
The PTCCB will continue to execute its mandate through the holistic and comprehensive management of pesticides and toxic chemicals in Guyana with key support at the national level.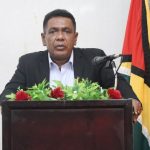 – as GNFO re-launched
Today officials from the Guyana National Fisherfolk Organization (GNFO) hosted their second national election.
Representatives from the Upper Corentyne Fisherman Coop Society, Rosignol Fishermen's Coop, Albion Landing Site, Tree Door Fishermen Coop, D'Edward Fishermen Coop, Parika Fisherman Coop, Lima's Fishers' Association, and the Greater Georgetown Fisherman's Coop attended the exercise which was held today in the main boardroom at the Ministry of Agriculture.
Agriculture Minister Zulfikar Mustapha said that government was encouraging fisherfolk to be more cognizant of their responsibility to Guyana's economic development.
"This election of the Guyana National Fisherfolk's Organization is happening at an opportune time when the Ministry of Agriculture and the government are encouraging our fisherfolk to become more aware of their role and responsibility, as well as your participatory approach in the fisheries management process. When we look at the contribution of this sector to our country's GDP it is tremendous. Our manifesto speaks to enhance support to fisherfolks and coop societies," Minister Mustapha said
The subject Minister also said that his Ministry is working to address several issues faced by fisherfolk as it relates to piracy and the granting of licences to Guyanese fishermen to fish in Surinam waters.
"This year we've allocated large sums of money to develop the fishing industry. We've also acquired a fisheries monitoring vessel so that we can execute patrolling operations to protect our exclusive economic zone. We also recognize that our fisherfolks are severely affected by piracy. Only today I received reports of a recent attack on one of our fishing vessels by armed Venezuelans. We are now taking the necessary steps to procure equipment and recruit capable personnel to commence patrolling our Coast. Government has also been working with our counterparts overseas to regularize the fishing industry. For example, with fisherfolks on the Corentyne, they have to depend on middle-men from Suriname who are charging exorbitant fees to get licences. Following a State visit last November, myself and the Minister of Agriculture in Suriname have been discussing ways to have our fishermen licenced to fish in the Surinamese water," Minister Mustapha said.
Minister of Labour, Joseph Hamilton said that coops were established to serve the community and soon his Ministry will be putting the necessary systems in place to ensure that was done.
"Whatever you produce in a Coop, whether it be fish or coops, what might determine how much markets you get or how much profits you get, might be as simple as putting it in a plastic bag. Everything I know suggests to me that Cooperative Societies have to periodically retool, remodel and modernize themselves. In order to be able to do that, I've instructed that the Ministry's Coop Department conduct an integrity audit of all Coop Societies in this country. We've advertised for auditors and 11 companies have shown interest so shortly we'll have that audit done. It is not an ordinary annual audit. I want to know every aspect of the society. I'm told that presently we have 512 on the books. My assessment, after the audit, will determine who lives and who dies because a coop can only live to serve the community. That is what it was created for," Minister Hamilton said.  
Similar to the Guyana Rice Producers Association, the GNFO was officially formed in 2008 as an umbrella body to unite fisherfolk in Guyana. Preliminary works were done but the organization subsequently became dormant.
Chairman of the GNFO, Pamashwar Jainarine said that the organization is functioning but not as effective as it should. He also outlined several issues faced by the organization in the past.
"Some of the issues faced when the organization was resuscitated in 2015 are the same issues we face now. These include inadequate boarding facilities, run-down wharfs, bad roads leading to some of the landing sites, lack of trained personnel managing the landing sites, poor markets and prices for our catch, and payment of VAT on items that were made to no longer attract VAT. The GNFO members couldn't deal with the issues. They were under the thought process that the former Minister of Agriculture would've assisted and after seeing that nothing was being done, they became frustrated and stopped attending meetings. We are functioning but not as we'd like. This is why we've embarked on a nationwide scoping exercise to bring more landing sites, or what we would say 'the primary fisherfolk organizations' into the GNFO," Mr. Jainarine said.
Minister Mustapha said that government was working to ensure measures put in place to benefit fisherfolk were enforced. He noted that in the instance of VAT being charged for equipment for the fisheries sector and the agriculture sector in general, the Guyana Revenue Authority has been ordered to go after businesses that are yet to readjust their prices to reflect those reductions.
The Minister also said that his Ministry will be working to address some of the issues faced by the GNFO, such as inadequate facilities and better prices and markets for fish and other seafood
Mr. Vishnu Persaud and Mr. Veeram Ramsarran were among those elected today to serve on the GNFO.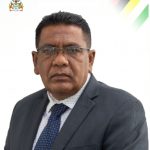 – IICA launches 'AgriExtApp' to modernize Regional agriculture extension services
During a virtual meeting with the Director General for Inter-American Institute for Cooperation on Agriculture (IICA) and other Ministers of Agriculture from across the region, Agriculture Minister Zulfikar Mustapha discussed Guyana's efforts to resuscitate the agriculture sector amid the current global pandemic, COVID-19.
"COVID-19 has impacted our agri-food system in several ways. We saw a reduction in the income for farmers, loss of jobs for some, and increased prices of agriculture inputs and supplies, just to name a few. One major lesson that COVID-19 has highlighted is the need for more resilient agriculture sectors in the Region. In providing continued support to our farmers, it is necessary to facilitate continued access to and diversification of sources for agriculture inputs such as seeds and other planting materials, feeds for poultry, livestock, and other small ruminant animals, and fertilizers. We are exploring alternative sources of feeds to reduce our dependency on external supply and reduce this cost for our farmers. As such the Government of Guyana is providing special incentives for investment in corn and soya," Minister Mustapha said.
Agriculture Ministers from across the region spoke of the challenges faced in the sector as a result of the global pandemic and vowed to collectively work to enhance regional integration as they seek to rebuild their respective productive sectors.
The subject Minister also said that Caribbean nations needed to work together to transform the way agriculture is done across the Region. He also encouraged the Ministers to use the 2021 United Nations Food Systems Summit as a launching point to present actions and implement solutions to achieve the 2030 Agenda for Sustainable Development.
"It is imperative that the Caribbean Region work together to transform the way we produce, consume and think about food, ensuring our countries are not left behind. We should use the UN Food Systems Summit as a launching point to take concrete actions and implement solutions that will put us on track to achieve the Sustainable Development Goals (SDGs). Our national food systems should be aligned with the 2030 Agenda for Sustainable Development. All actors in the agri-food system and partners such as IICA will undoubtedly have a vital role to play.
'AgriExtApp
IICA's Director General, Dr. Manuel Otero also officially launched the 'AgriExtApp', a platform developed to foster government-to-government intra-regional trade, as well as share, produce information across the region. The platform is created to allow residents of CARICOM member states to communicate in real-time, the level of production in the region. The launch of the app is said to be congruent with CARICOM's mandate to transform the region's agriculture and agri-food system
Dr. Manuel also said that the application will be used by Caribbean farmers and countries that need help with promoting new technologies and best practices
Minister Mustapha said Guyana was grateful for the role of IICA in providing support for the development of an online trade App that will benefit our agro-processors.
"It is our vision to shift agriculture from primary producer to value-added, as such developing our agro-processing industry and enhancing our marketing services is a priority. The AgriExtApp developed by IICA and CARICOM will support the modernization of the Extension service, especially since my government has allocated funds in this year's budget to purchase tablets for our extension staff, to engage in real-time those involved in this very important sector," Minister Mustapha said.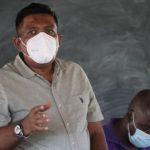 – Minister Mustapha tells villagers Ministry is working to tackle issues with markets in the Hinterland
Agriculture Minister Zulfikar Mustapha announced that his Ministry will be expending $3 million in 2021 to commence the cultivation of corn and soya bean in Moco Moco Village, North Rupununi.
During a recent two-day outreach to Region Nine, Minister Mustapha hosted several meetings with farmers from several villages to listen to some of the issues faced in the agriculture sector in the Region.
During his meeting with villagers from Moco Moco, Minister Mustapha told the gathering that a number of transformative projects will be rolled out in the Region over the next few months. He also told villagers that his Ministry will be making the necessary resources available to commence corn and soya bean cultivation in the coming months.
"We've earmarked three acres each for the cultivation of corn and soya bean in the village. Our extension officers will come and have discussions with the Village Council shortly to determine where to start the production. This initiative will benefit your community tremendously. Over time we will increase the production and ensure you have the necessary support to sustain these crops," Minister Mustapha said.
Toshao for Moco Moco, Mark George said that the village needed heavy-duty equipment if they were to venture into large-scale agriculture. He also said farmers were willing to increase their cultivation but sighted a lack of markets as a hindrance.
"Minister our biggest challenge here is markets. We can do so much more than we are doing now. For example, we have peanuts in people's homes with no markets. We also need a tractor with a plough. We are grateful for the basic garden tools but we also need big tools so that we can do our cultivation in a smarter way and on a larger scale," Mr. George said.
Responding to those requests, Minister Mustapha told the villagers that several tractors were being procured for the Region under the Ministry's 2021 Capital programme.
"Your village leader also spoke about the tractor and plough. I want to assure you that, this year in our program, we will be purchasing three heavy-duty tractors fitted with chippers and row plough. I want you to work with our officers to develop a program for your community. We'll put one of the tractors in Lethem and that machine will service this and other areas around Lethem. We'll also put one in the North and one in the South. These machines will be used to help the Village Council as well as individual farmers to develop their plots and farms. We are now at the procurement stage to purchase these machines," Minister Mustapha said.
"Since taking office, I've been making changes to the way several agencies under the Ministry's umbrella operate. The New GMC is one of those agencies. We had a change in management and the agency is now refocusing its efforts to act the marketing aspect of its name. Only recently, several farmers from this Region had 50,000 pounds of peanuts and we were able to find a market for those farmers. These farmers were also paid with cash so you don't have to worry about not being paid on time for your produce or being forced to barter as is often the case in this region," Minister Mustapha said.
The subject Minister also told villagers that with the new agro-processing facilities being constructed across the Region, they would be able to benefit from better prices for their produce.
"We are encouraging value-added produce to increase your earnings. These facilities will be outfitted with the necessary equipment to improve the packaging and labeling of your produce. You will not have to worry about spoilage because you will now have facilities that will be able to process your crops and extend their shelf life," Minister Mustapha said.
Minister Mustapha also instructed the NDIA to send an excavator to commence digging of a fish pond after villagers sought the assistance of the Minister to construct these facilities so that they could venture into aquaculture. Those works are scheduled to commence before the end of the month.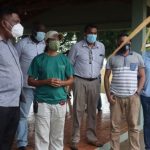 – farm looking to venture into large scale corn production
With government moving apace to double rice production within the next five years, Agriculture Minister Zulfikar Mustapha said that his Ministry will be working to resuscitate rice cultivation at the Santa Fe mega farm in Region Nine.
This was disclosed during a recent two-day outreach to the North Rupununi Region earlier this week.
Minister Mustapha, while visiting the farm noted that government was able to increase its quota for rice being shipped to Brazil through Guyana's current bilateral trade pact-Partial Scope Agreement. He added that with Santa Fe being located closer to Brazil, it would be economically viable to resume cultivation there.
"Santa Fe has a rice mill and thousands of acres specifically for rice cultivation. In the past, the farm was able to produce rice which was sold to Brazil. This was done through upland rice cultivation which is a system that our neighbors in Brazil, who on similar soil, has been able to enjoy over 30 years of success in this type of cultivation. I was told that irrigation has been a challenge in the past so we'll be working closely with the team from Santa Fe to improve their irrigation so that they can resume rice cultivation and agricultural operations at the farm in general. Additionally, my Ministry, through the National Drainage and Irrigation Authority (NDIA), is now working aggressively to improve irrigation for agricultural purposes in the Region. We've been constructing several wells and reservoirs to assist with cash crop cultivation and cattle rearing across the Region and this will be a continuous feature by the Ministry," Minister Mustapha said.
The subject Minister added that apart from rice, the Ministry will also continue to give technical support to the farm to improve its crops and livestock operations.
He also said that large-scale corn cultivation at the farm was discussed. He said with government providing the necessary incentives to cultivate crops like corn and soya beans, his Ministry will be providing the necessary support to the farm to get their corn cultivation exercise going.
General Manager of the Santa Fe farm, Yolanda Vasconcellos said that the farm is currently involved in a wide range of agricultural operations.
"We currently have 29,000 acres of land being utilized for agricultural purposes. We do livestock, crops, and aquaculture. We currently have a variety of orchard crops and other fruits like watermelons, peanuts, cassava, papaw, tomatoes, ochro, and pineapples under cultivation. We also cultivate a number of vegetables and seasonings like eschalot. We also have improved pastures as well as 8000 acres for rice. We also have a growing cattle herd. So far, we have 460 animals. We've imported several breeding bulls like the Texas Long Horn and so on. That is to improve the breeds within the communities here. We've also done that with the Arabian Horses. They breed with the local animals and have adapted well to the climatic conditions here. We can also process corn so that's another crop that we propose to get into," Vasconcellos said
With Guyana spending almost US $25 million annually on feed for the livestock industry, government had announced that special incentives would be given for large-scale cultivation of corn and soya-bean. The budget also saw the removal of value-added tax (VAT) from agriculture machinery, fertilizers, agrochemicals, and pesticides, making it more feasible for such investments.
Santa Fe was established back in 2010 and currently has 12 full-time employees. However, more villagers are employed when the farm has other projects like planting and harvesting ongoing.
Vasconcellos also said that the current global pandemic negatively impacting trade to some extent, especially with Brazil. She also said that access to markets before the COVID-19 outbreak has also been difficult at times due to transportation issues during the rainy season.
"Last year we had to scale down on production because of lack of markets because of COVID but that was across the globe. We've since been able to resume our regular cultivation but in phases," Vasconcellos said.
Back in 2010, the government signed a memorandum of understanding (MOU) with ITC Barbados for the development of a large-scale integrated agricultural crops and livestock project. Phase one called for the lease of 100,000 acres of land to the investor with a minimum investment of US$5M.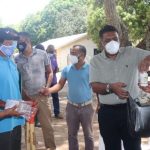 – Agri. Ministry to assist small farmers to improve production
Villagers from St. Ignatius and neighboring satellite villages in the North Rupununi will soon benefit from several initiatives that will see a significant boost in their agro-processing capabilities.
This year, the Ministry through the New Guyana Marketing Corporation (GMC), will be constructing a $14 million agro-processing facility to assist farmers with adding value and extending the shelf life of their produce.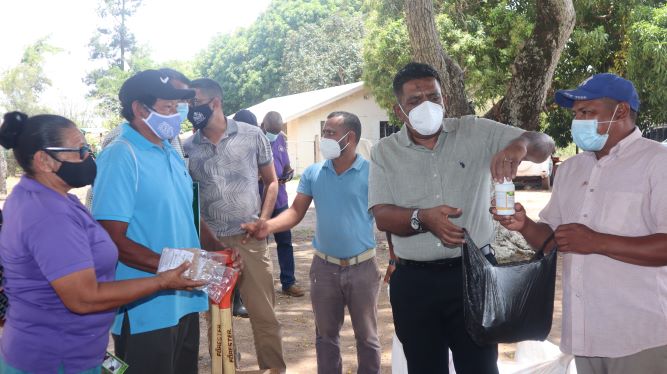 This disclosure was made by Agriculture Minister Zulfikar Mustapha during a recent meeting with residents and farmers in St. Ignatius, Region Nine.
"We want to ensure your produce is more valuable by helping you to process these commodities so that you can earn more. This year we'll expend $14 million to construct an agro-processing facility right in St. Ignatius. We'll also refurbish the existing facility and install equipment to process peanuts and cashew nuts. A peanut sheller and a peanut skin remover will be installed. The facility will also have all the necessary equipment to make peanut butter, jams, and jellies, as well as coolers, chillers, and industrial scales. So this facility will be of an international standard," Minister Mustapha said.
The subject Minister also said that the Ministry, through the New GMC will be working to find markets for these agro-processed commodities.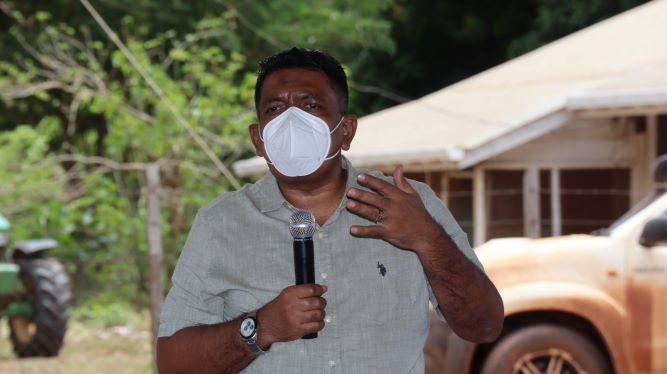 "If we are going to help you to add value to your produce we have to help you find markets. Officers from the New GMC will be more present in the Region to work with you and find steady markets for your produce. We have a number of areas where we can tap into. For instance, Caribbean countries import between US $6 to $8 billion in agriculture produce annually. Our local supermarkets are selling peanut butter, jams, and jellies that were imported from overseas. We will ensure we work with you to bring your products to an international standard so that you can access those markets both locally and internationally," Minister Mustapha said.
In addition to the agro-processing facility, Minister Mustapha also told villagers that, this year, the National Drainage and Irrigation Authority (NDIA) will be procuring a number of tractors outfitted with ploughs to assist farmers with land preparation. These tractors, he said, will be stationed in different villages in the Region.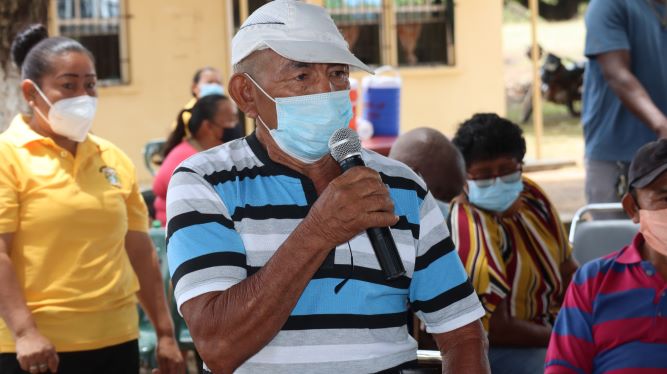 Phillip Baretto, a Senior Councilor from Quarrie, a satellite village of St. Ignatius, said that villagers need assistance with land preparation to cultivate in the Savannah.
"We in Quarrie are farmers. We always farm. That is our job and what we do for a living. Minister we have been doing farming with our regular hoes, cutlasses, axe, and for some time now we've been getting assistance with ploughing our farms from the agriculture department. Minister, we want to plant more in the Savannah. We are giving our forests some time to catch themselves so that they can get back to a standard because we all use the forest. We want to do the savannah planting but we would need additional help and we would also need some fertilizer for the soil because the soil in the Savannah is not rich like the soil in the forest," Baretto said.
Other farmers present said that would like assistance with rice production, as well as technical support for cash crop production and aquaculture.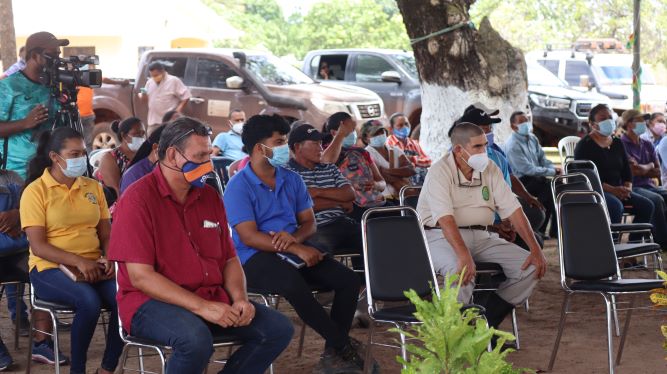 Minister Mustapha told villagers that a new system is in place to ensure extension officers in the Region are more responsive. He also said there will now be improved channels of communication between Regional officials and agriculture officers stationed in the Region.
After the meeting Minister Mustapha distributed fertilizer and other planting material to farmers. He informed them that the Ministry will be assisting them with more chemicals and planting material to them periodically.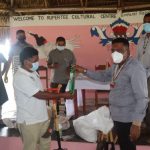 The Indigenous Village of Rupertee, located in the Annai Sub-District, Region Nine will soon benefit from a number of government incentives to boost the village's economy and agriculture output.
During an outreach to the several villages in the North Rupununi District on Tuesday, Agriculture Minister Zulfikar Mustapha met with representatives of the village to discuss government's plans for agricultural development in the Region.
As part of a packed two-day outreach exercise, Minister Mustapha visited the village's Black Giant Poultry Project site.
Senior Village Council, Surish Andries said that with the current facility in place, the project has the ability to expand and further improve the village's ability to supply poultry to other villages in the Region.
"The building is currently underutilized. We want to be able to fully utilize this facility. That is our target. We've had a few challenges with attacks from the wildlife where animals would come in the pen. This species of bird is very new to us and its serving as a learning experience for us. GLDA has an officer here who is really helping us with the records and so. We also need an incubator. A small one to assist with our production," Mr. Andries said.
After visiting the facility, Minister Mustapha also meet with several villagers to listen to some of their requests to improve agriculture.
During his engagement, Minister Mustapha disclosed that an additional three million dollars will be spent to develop agriculture in Rupertee.
"We'll construct fences to enhance your cattle rearing. We'll construct a well so that you can benefit from a potable water supply. And finally, we'll build a house, a 'kapetash'. Your community will be enhanced. We'll also be working with you to develop your livestock industry with pasture development and access to improved breeds through artificial insemination and breeding bulls. Soon, we'll be making more donations to all of the villages in Region Nine. Each village in Region Nine will experience some form of development from the Ministry of Agriculture this year because I believe the same benefits farmers on the Coast are receiving, farmers in this Region should benefit from as well," Minister Mustapha said.
The subject Minister also told the villagers that with the Ministry working to develop the non-traditional crops sector, areas like Rupertee and other villages in Region Nine will have to play a major role given the vast amounts of land available.
"Although we are investing in our traditional crops, we are also promoting the cultivation of non-traditional and high-income earning crops. Areas like Rupertee in Region Nine will be important areas for us because we recognize, over the years, we've been importing millions of dollars in corn for the poultry industry. We have the ability to satisfy the local markets and government has been putting the necessary systems in place to bring Guyana to a place where it can start producing these crops on a large scale," Minister Mustapha said.
Villagers who attended the meeting also told the Minister and his team that there were a number of projects that needed government's input to further enhance agriculture in the village.
Mr. Andries also told the Minister that the village needed a tractor fitted with a plough as many farmers need assistance with land preparation for their farms and pastures.
Another villager spoke about the need for an inland fisheries policy to develop the sector, as well as a proper management system for tractors in the Region.
"There's no inland fisheries policy in Guyana. It's in draft and I know this because I took part in that process to create the document. I would like for this Government to recommence the process to regularize this and make it a reality. We have policies for the other fishing but nothing for inland fisheries. I've been speaking with the Chief Fisheries Officer on this as well. The only document we have is the Arapaima Management Plan and it is still being breached because the law says that we should not trouble it but people still do. Another thing Mr. Minister is transportation. You heard the Senior Council say that our tractor is down. This is the case for several villages. I'm happy that you said the government will be giving tractors to several villages but there needs to be a proper management system in place," the villager said.
While responding to those comments, Minister Mustapha told the villagers that the three tractors fitted with ploughs will be procured for the Region this year by the National Drainage and Irrigation Authority (NDIA) and one of those machines will be stationed in Annai so that villagers from Rupertee will have access to it. As it relates to the need for an inland fisheries policy, the subject Minister said that the Fisheries Department is currently working to have systems in place to regularize inland fisheries. He also said that with government moving apace with its aquaculture master plan, policies regarding all areas of fisheries will be crafted and implemented in the coming months.
Minister Mustapha also told the villagers that he has instructed NDIA's Regional officer to develop a management system for machines assigned to the Region and to have persons from the villages who are operating the machines trained to carry out basic repairs should the need arise. This, he said, will cut back on downtime and ensure works are carried out promptly.
After the meeting, Minister Mustapha distributed several farm tools, Acoushi Ants bait, fertilizers, chemicals, and seeds to be used by villagers for agricultural development.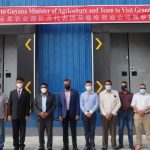 A Chinese-owned seafood processing company, Grandeast Inc., is the latest seafood processing establishment to commence operations in Guyana.
Grandeast Inc. is a wholly-owned subsidiary of Fuzhou Hongpu Aquatic Products Co., Ltd. in Fujian, China, a company specializing in processing and trading of fishery products.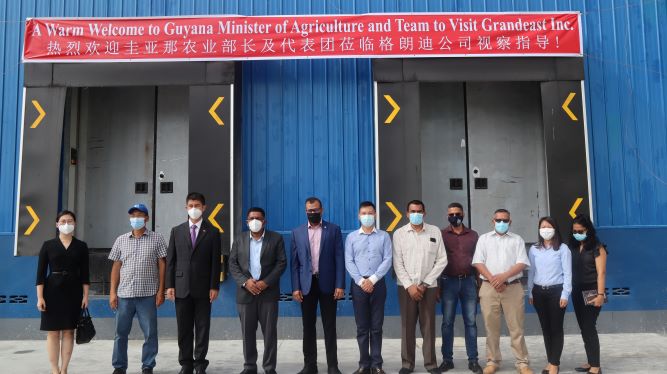 The facility was constructed at a cost of US $25 million and is outfitted with modern seafood processing equipment.
During a tour of the facility earlier today, Agriculture Minister Zulfikar Mustapha said that he welcomed the market opportunities being presented to local fishermen with the establishment of the processing facility.
"So far I am quite impressed with the facility. This was a massive investment and it provides a ready market for our fishermen. Most of this company's suppliers are fishermen from the West Coast of Demerara. Today we were able to witness the entire processing procedure for one of their products. The General Manager would've indicated that there is a ready market for this particular type of processed shrimp in China with room for expansion in the market. Our local fishermen would usually discard certain species of shrimp because there was no market for them locally. This company has provided that market and fishermen are now encouraged to work more hours weekly to satisfy the demand. As a government, we support these types of investments and we will continue to support investments that benefit the people and the development of this country," Minister Mustapha said.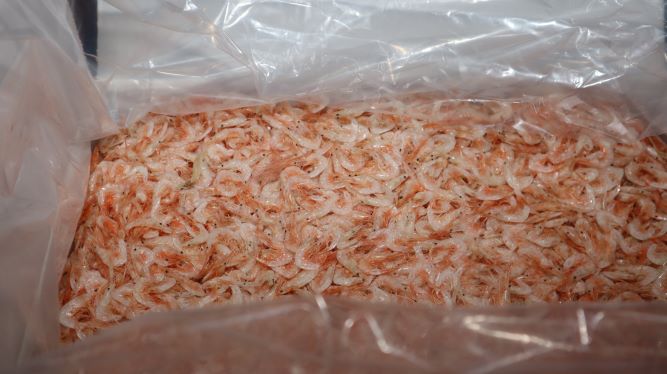 General Manager of Grandeast Inc. Wu Junyu said that the company has provided employment for up to 240 persons so far. He also said that this was the first phase of the company's local operations and that plans are being discussed for the commencement of phases two and three. Mr. Junyu also said that with the company looking to expand, it will require additional produce from local fishermen in order to supply its Asian market.
As it relates to foreign trade, Foreign Secretary Robert Persaud said that the Ministry of Foreign Affairs is working to address the issue of barriers to trade for a number of agricultural and other produce.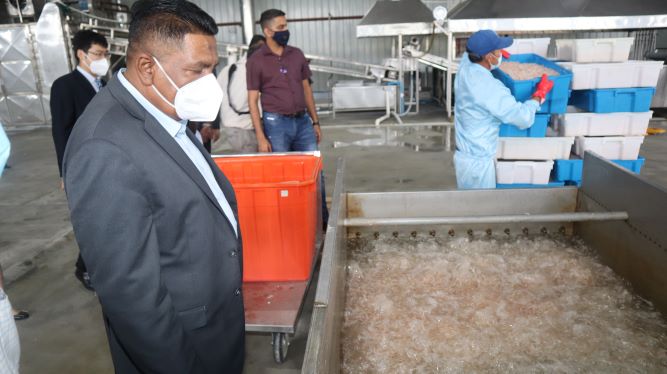 "Given the mandate of the President, we're looking to open new markets and remove any barriers or any obstacles whether it's in the Caribbean, North America, or Europe. We have over 20 trade agreements with different countries and regions and we want companies in Guyana to take full advantage of these opportunities. When there are obstacles our Ministry through our Trade Department would step in and assist. We're now working very closely with the Ministry of Agriculture to address issues of barriers to agricultural export," Mr. Persaud said.
Hong Dong Fisheries Co., Ltd., which is the holding enterprise of Fuzhou Hongpu Aquatic Products Co., Ltd is involved in ocean fishing, fishery base operations, cold chain logistics, fish processing, import and export trade, marine biology research, and aquatic product market operations management. It is the largest comprehensive fishery enterprise in China with the largest number of fishing vessels, abundant product categories, and a complete industrial chain.