Press Release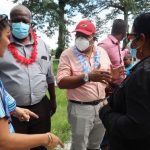 – several emergency measures put in place to address flooding
– CDC to distribute relief packages tomorrow
Following instances of heavy and continuous rainfall over the past few days in several parts of Charity, which is located in Pomeroon-Supenaam, Region Two, a number of farming and residential areas are currently affected by flooding.
Today, Prime Minister Brigadier (ret'd) Mark Phillips and Agriculture Minister, Zulfikar Mustapha visited several of those communities to get a firsthand look at the extent of the flooding.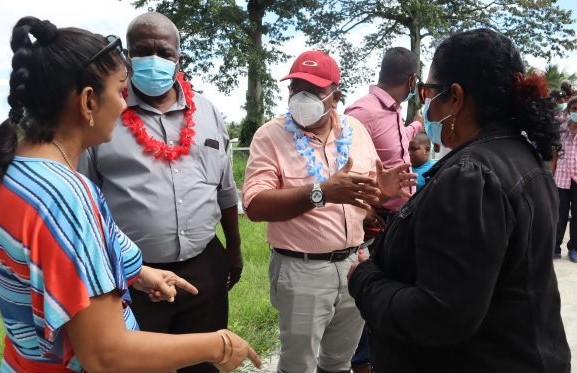 During the assessment outreach, the two Government officials also met with a number of residents and reassured them of Government's commitment to developing long term solutions to the country's drainage issues.
Tage Corlet, a resident whose yard is currently flooded, said that she was pleased to see the officials in the area. She also took the opportunity to share her concerns about the condition of the drainage structure which is close to her residence.
"This water gotta go down. I think this kokar is too deep. If it was shallow, from the time this water come here all woulda go down. When the kokar them too deep it can't pull. Them does take people from far to come and do these projects. We need people who know the area to atleast work with these people," Ms. Corlet said.
Minister Mustapha said that the NDIA will be working along with the local bodies to put temporary measures in place to drain the affected areas.
"We'll be moving one of our mobile pumps from Windsor Castle to Charity North to assist with the flooding in the area. I've also asked the NDIA to come up with a long term plan so that we can avoid these types of occurrences. Officers from NAREI, GLDA and the GRDB will also be conducting assessments of the losses that farmers would've suffered. Based on those assessments, we'll then extend assistance to the farmers who would've suffered losses in the form of planting material, seeds, fertilizers, etc.," Minister Mustapha said.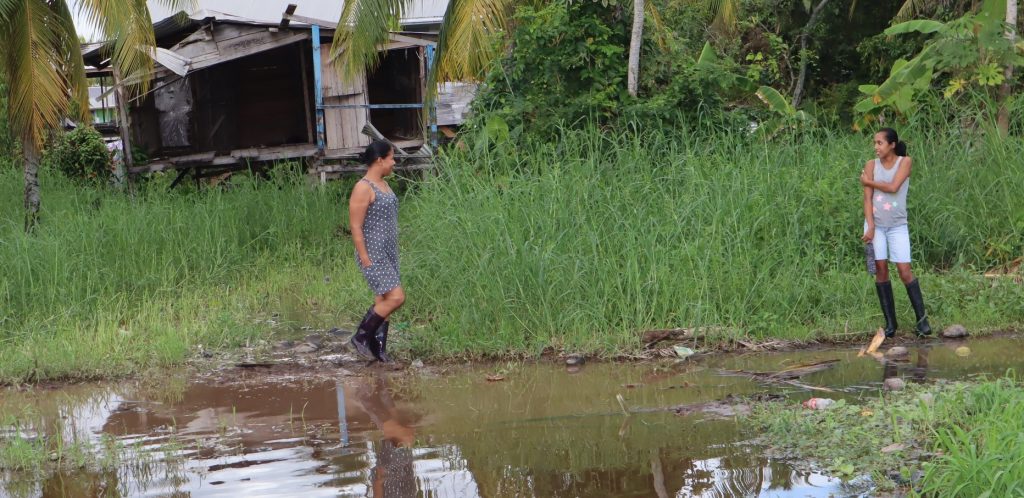 The subject Minister further disclosed that teams from the Region and the Ministry have been instructed to monitor the affected areas in the Pomeroon.
"There is another issue in the Pomeroon and I've asked the NDC to monitor that area and give us feedback on a regular basis. A number of areas there are under water and so we need our Regional officials to work with us. We'll also be sending teams there to do an assessment of the losses," Minister Mustapha said.
Prime Minister, Mark Phillips while offering comments said that, based on the assessment of the flooded area, there is a lot of work to be done.
"There is a lot that needs to be done. Not only in terms of clearing the outfalls and the kokers and pumping the water off, but there is also a lot of garbage that has built up over the years blocking the outfalls in those areas. So we expect the NDC to work with the RDC, of course with support from central Government because that is a massive project in the long term. Short term measures; we'll have the Civil Defense Commission come here tomorrow to carry out an assessment and also offer some relief supplies to the persons affected," Prime Minister Phillips said.
The Prime Minister also urged persons to desist from littering as it was observed that many of the drainage structures were filled with garbage.
Visits were also made to the primary commercial zone in Charity, where several businesses were also visibly affected by flood waters. Regional officials who were apart of the delegation noted that during the latter parts of last year, efforts were made to have the drainage network in Charity desilted.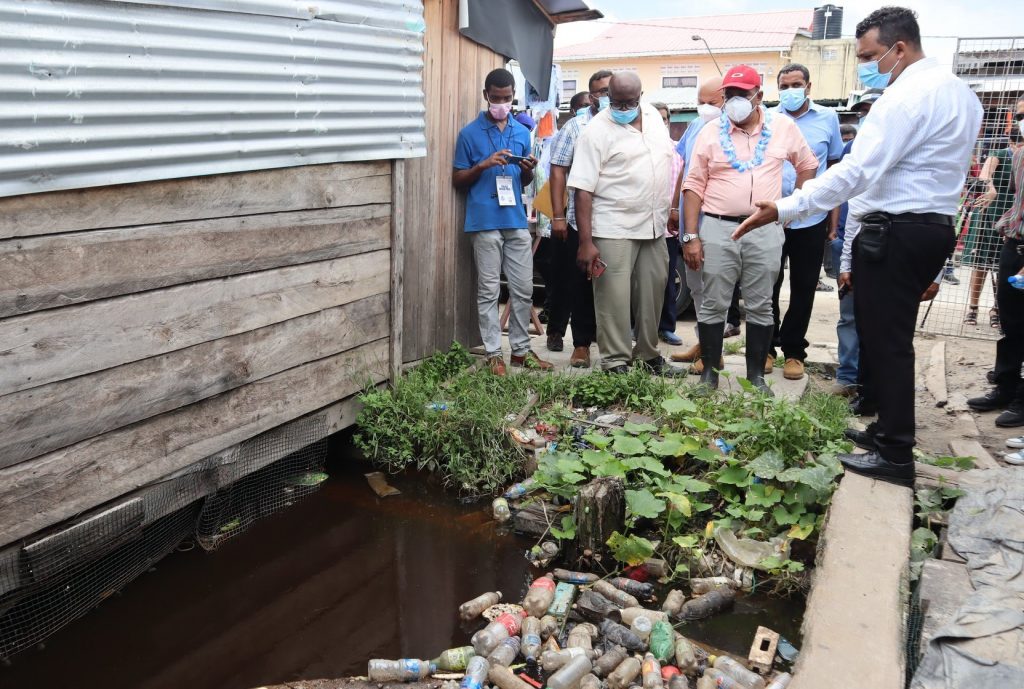 It was also observed that a number of stalls were constructed over the drains which posed some amount of difficulty in executing clearing. Minister Mustapha has called on the Town Council to work with persons who occupy these structures to devise a system to ensure much needed drainage works can be executed.
The Ministers were accompanied by several senior officer from the Ministry of Agriculture, and other Regional Officials.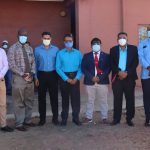 – tasked with developing programmes to open new lands, develop phase two of the scheme
– land use policy also to be developed
Yesterday, Agriculture Minister, Zulfikar Mustapha officially installed the Board of Directors for the Mahaica Mahaicony Abary Agriculture Development Authority (MMA/ADA) Scheme.
With the installation of the new Board of Directors, persons in the scheme will now be able to have their land lease and use issues resolved at the Board level.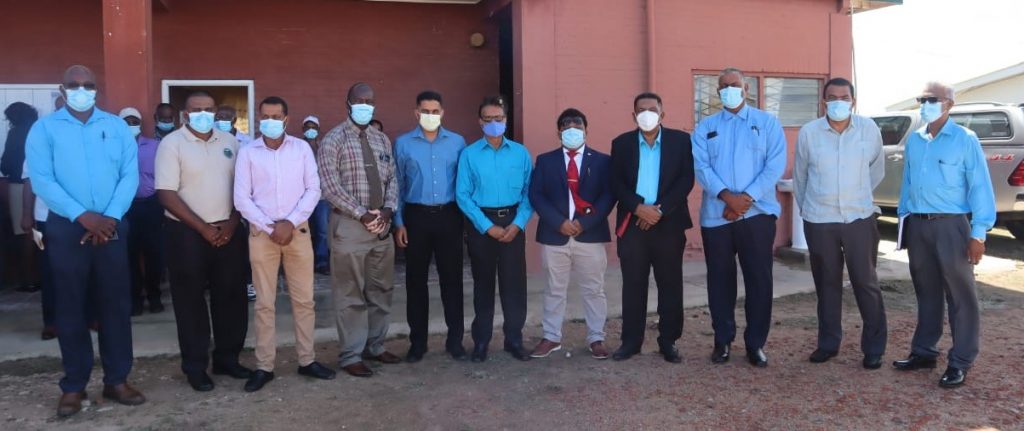 During the brief meeting, Minister Mustapha told the new Board Members that with the new investments coming on board for agriculture, they must work aggressively to guide Government with formulating policies to develop the scheme.
"MMA is the largest and one of the most important agriculture schemes in our country. With the experience of the persons on this Board, I think that we can move MMA from where it is now to greater heights, but we have to work together. The renewed interest we've seen in agriculture over the last three months is a result of our proactiveness. We've been reaching with farmers and the various stakeholders in an effort to get an idea of some of the issues they were faced with, as well as, promote what Government has in store for them. A number of persons, both locally and overseas, have expressed interest in the sector. It is now up to us to ensure we prepare the necessary infrastructure and put the necessary policies in place to facilitate these investments. Recently, I made a presentation to the delegation that came from Dubai on how we can improve and increase rice production by one hundred percent over the next four years. If we are going to achieve this the MMA has to play the most important role in terms of opening new lands and developing the second phase of the MMA Scheme," Minister Mustapha said.
Newly appointed Chairman of the Board, Dr. Bob Andy Ramnauth urged the new members to take their role seriously and to work as a collective to resolve the issues in the scheme.
"You are not here by chance. Your experience and expertise have afforded you the opportunity to be here. We all bring to this table, a wealth of knowledge. If you look around this table you see knowledge, wisdom, youth, vigor and vitality and that is what we need to move this scheme forward. We are here to perform a task. We should be able to help farmers and change the lives of these farmers. Ove the past couple of years we would have seen the deterioration of agriculture in our country, therefore as members of this Board we have a task to reverse that," Dr. Ramnauth said.
Minister Mustapha further stated that Government also expects the Board to be proactive as it relates to land use policies in the scheme.
"I am happy to have Mr. Andrew Bishop on the Board. He is a former Lands Commissioner so he has great knowledge on land use. With his experience and the experience of other members, I am sure we can develop a proper land use policy for the MMA, which is needed if we are to properly develop the scheme. Many persons visit me during my Farmers' Open Day with a lot of disputes with lands in this area. I would like to suggest that the Board discuss setting up a Lands Dispute Subcommittee so that we can have that implemented as soon as possible. It should comprise someone with a legal background, a farmers' representative and someone with knowledge on proper land use and management," Minister Mustapha said.
The subject Minister also said that focus must be placed on zoning and developing lands cattle rearing in the Scheme.
Two weeks after taking office, Government approved $90 Million to carry out much needed infrastructural works in the MMA-ADA Scheme.
Mohamed Zaid Rafeeoodeen, who was elected Vice Chairman of the Board, thanked Minister Mustapha for this timely intervention, which saw funds being made available to carry out much needed drainage works in the scheme.
"I must take this opportunity to thank Minister Mustapha for intervening at a very early stage when this Government started in August by helping farmers in the MMA. You would've made available, through the Government, a large sum of money to put into the MMA. With this intervention, we were able to clear, deweed and put on maintenance well over 300 channels. If we were not able to have this done at that stage then rice farming in this Region, not only would've been difficult, but would've been near impossible," Mr. Rafeeoodeen said. Members of the newly elected Board of Directors include Dr. Bob Andy Ramnauth (Chairman), Mohamed Zaid Rafeeoodeen (Vice Chairman), Vickchand Ramphal, Dr. Dwight Waldron, Lionel Wordsworth, Andrew Bishop, Aditya Persaud, Madanlall Ramraj, Moses Rampal Dawchan Nagasar and Curbette Victorine (General Manager/Ex Officio).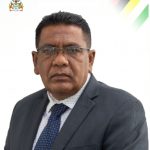 – dialogue with int'l donor agencies favourable as Gov't continues to make strides to develop productive sectors
With Guyana now gaining Regional and International recognition for being the latest nation to discover oil, Agriculture Minister, Zulfikar Mustapha has given Government's assurance that investments will continue to be made to sustain and develop the agriculture and other productive sectors.
The Minister was at the time speaking on the recent engagement Minister with responsibility for Finance, Dr. Ashni Singh, had with Country Representative of the International Fund for Agricultural Development (IFAD), Maija Peltola.
Minister Mustapha said that earlier in the year, the focus was solely on developing Guyana's oil and gas sector.
"Prior to August, 2020, the previous administration seemed to have all their attention on only the developing oil and gas sector. If we look at countries like Venezuela who only focused on their O&G sector and neglected their other productive sectors, they are currently facing a serious economic crisis. Our Government is determined to ensure we continue to invest and develop our other productive sectors. One day the reserves will run dry but agriculture is here to stay. Our people have to eat and they have to earn and we know that the agriculture sector remains one of the largest employers in the country. We will not make the mistake of neglecting our other productive sectors. There is a renewed interest in the sector given the support and initial investments made from Budget 2020. I can promise that things will only get better for the agriculture sector," Minister Mustapha said.
Minister Mustapha also disclosed that Budget 2021 will focus on implementing and executing larger projects, as well as opening more lands for agriculture, improving the country's drainage and irrigation infrastructure and capabilities, developing Hinterland agriculture, intensifying extension services, developing the other crops and livestock sectors and improving the sector's marketability when promoting non-traditional crops and agro-processed commodities.
Back in September of this year, Minister Mustapha had a virtual meeting with the IFAD Country Representative, during which they discussed current projects and the possibility for new projects to further develop Guyana's agriculture sector.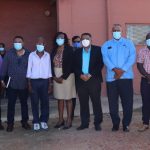 – default lease payments, subletting among issues to be addressed
– urges Board to have discussions with farmers
Earlier today, Agriculture Minister Zulfikar Mustapha formally installed the new members of the Mahaica Abary Rice Development Scheme (MARDS) Board of Directors.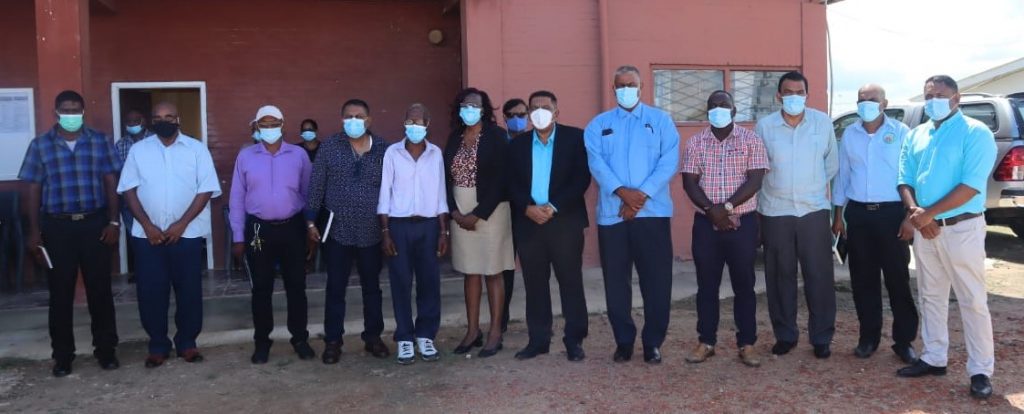 During the meeting, Minister Mustapha stated that Cabinet has reposed confidence in the new Board to ensure the scheme functions effectively.
However, Minister Mustapha urged the new Board members to get to work immediately given the current issues faced in the scheme.
"A number of issues have developed over the years and I hope that you will work to resolve those issues in a timely manner. At MARDS, there is a lot of dissatisfaction among the farmers and we have to ensure that we correct the problems that are currently existing in the Scheme. People who've had leases over the years, the leases have expired but they continue to occupy the land. Some persons are even subletting these lands for double the price they are paying to MARDS. If they themselves are planting the lands, you can work with them to renew these leases. We have to look at all these issues. At the same time, when dealing with these issues, we must not be high-handed or arrogant. We need to have discussions with the farmers and find an amicable way to resolve these issues," Minister Mustapha said.
The Board, which will be in place for 12 months, will be responsible for dealing with all matters relating to the proper management of the scheme, as well as, making suggestion and representation to the Ministry for decisions that have to be made at the Government level.
Newly appointed Chairman of the Board, Mohamed Zaid Rafeeoodeen, while addressing the new members, said that Government can expect the full corporation of the Board to move the scheme in a positive direction in keeping with the vision of the Government and the interest if the farmers.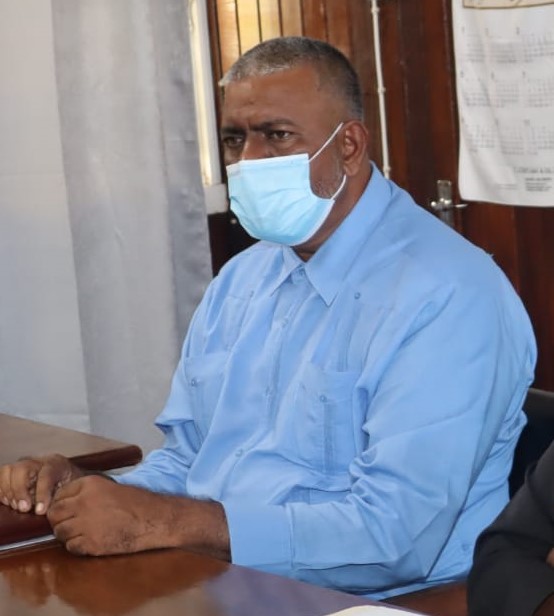 "Minister, I want to assure you that I will do my best and you can expect nothing less than that, in managing the affairs of this corporation. I would like to also encourage the Board members to remember that we were all appointed as a team to manage the affairs of MARDS and I am expecting that we work as a team. Like Minister would have said, we must work for the betterment of the agriculture sector and more so, the farmers that we have in MARDS. They are depending on us and if we don't manage well it is going to affect their lives. Therefore, as a team we must manage well to ensure that we bring relief and change the life of the farmers for the better. There is no other option," Mr. Rafeeoodeen said.
Minister Mustapha also said that there should be a review of the leases given in order to ensure the proper procedures were followed.
"We have to look at these leases to understand how things were done and how we will go about giving new allocations. We also have to come up with a favourable system to deal with farmers who are delinquent with their lease payments. I am not saying that the Board should take lands away from people, but there are a number of small farmers who need lands to plant, that end up renting lands from persons who have leases, at very high prices. We must ensure we work with the farmers to collect these fees so that we can further develop the scheme," Minister Mustapha said.
When taking office back in August of this year, Government disclosed that most of Governmental agencies were in a terrible financial state.
During his first press briefing, Minister Mustapha disclosed that most of the agencies under the Ministry of Agriculture were cash strapped. This, he added, was due to clear mismanagement of funds and a 'lackluster approach' to the execution of several projects.
As it relates to MARDS, over $66M is owed to the authority by farmers who are in default of due payments. One of the first charges to the Board was to work with farmers to develop payment arrangements for outstanding fees.
The new Board Members include Mohamed Zaid Rafeeoodeen (Chairman), Gewan Khadroo, Satanand Narain, Zamal Hussein, Rion Peters, Delma Nedd, Dhaneshwar James, Mahendranauth Ramjit, Anthony Sackichand, Andre Karim and Dane Henry (General Secretary/Ex Officio).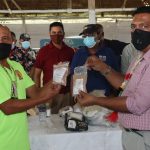 – villages included in 2021 Black Giant programme
Following a recent outreach to the villages of Orealla and Siparuta, located in the Corentyne River, Agriculture Minister, Zulfikar Mustapha disclosed that an extension officer has been identified and will commence working soon.
"After we met with residents and they indicated that there was need for a resident extension officer, we were able to identify a qualified person. Her name is Reyanna DeGrella. We've commenced the process for her to start work in the two villages but due to the recent travel restrictions to and from the villages due to the increase in COVID-19 cases, she is unable to travel to Georgetown to complete the official procedure. We are working with village officials to have arrangements in place for this process to be completed as soon as possible," Minister Mustapha said.
During the outreach, farmers from Orealla appealed to Minister Mustapha for Government to assist them with becoming self-sufficient in poultry. Requests were also made for assistance with materials to improve their pasture.
As a follow up to those requests, Minister Mustapha said that both Orealla and Siparuta will benefit from the Ministry's 2021 Black Giant programme.
"We have an ongoing Black Giant poultry initiative targeting Hinterland communities and other vulnerable areas. The aim of the initiative is for these communities to become self-sufficient in poultry production. We've had successes with this initiative so far and we will be extending it to Orealla and Siparuta come 2021. I've already instructed the Guyana Livestock Development Authority (GLDA) to include these villages in their upcoming programme. We will also be including a number of other hinterland communities that have been overlooked in the past. As it relates to materials to improve their pastures, I've engaged the head of GLDA and the materials will be handed over to the village before the end of the year," Minister Mustapha said.
Minister Mustapha also stated that requests by residents for assistance with identifying an area for them to sell their produce at Springlands is also being addressed.
"We are in dialogue with the Regional Officials. Only today we were in contact with the Regional Vice Chairman about the matter. We will now approach the Regional Mayor and City Council on the matter since that is the body with the authority to identify the area best suited for the farmers. When I spoke with the residents during the outreach, I said that we have to ensure the area identified is developed and suitable for them to sell their produce. They would need to have access to washroom facilities and proper garbage disposal, among other things," Minister Mustapha said.
During the outreach, residents also received a number of seeds and Acoushi ant bait as part of the Ministry's seed and bait distribution exercise that was reintroduced under the current administration.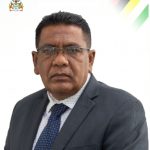 – "Once works are complete, Mocha residents should see immediate improvements to the D&I systems", Agri. Minister
During a recent community outreach to Mocha on the East Bank of Demerara, Agriculture Minister met with scores of farmers and assured them that his Ministry will be working with them to ensure their issues are addressed.
While commenting on commitments made during the visit, Minister Mustapha said that his Ministry is committed to having the works completed within the shortest possible time.
One of the issues raised during the meeting was the delay in the completion of works being carried out at the outfall channel in Little Diamond on the East Bank of Demerara. Minister Mustapha urged contractors working on critical drainage and irrigation project in Mocha, and its environs, to ensure they stick to the contractual deadlines.
He added that officials from the National Drainage and Irrigation Authority (NDIA) regularly engage the contractor carrying out the works to have them completed soon.
"Since taking office, we've been engaging contractors about the delays in the completion of several projects. Only recently we saw the Ministry of Education taking action against a contractor for failing to complete a project on time. The contractor working in the Little Diamond outfall channel is currently doing some revetment works. He was expected to have these works completed at the beginning of the month. We've engaged him and he has committed to having the works completed before the end of the year. Once these works are completed, we should see immediate improvements to the drainage and irrigation in the area," Minister Mustapha said.
During his engagement with farmers, most of whom aired a number of concerns about insufficient drainage and irrigation, Minister Mustapha said that the Ministry will soon commence works to enhance the community's drainage and irrigation systems. Following the outreach, officials from the NDIA visited the community and carried out a needs assessment of the works required to bring relief to the community.
Minister Mustapha further stated that the Ministry is currently in the process of purchasing a number of machines to add to its fleet. This, he said, will improve the Ministry's ability to carry out much needed drainage and irrigation works in several communities across the country.
"There is a lot of work to be done and we need more machines to do these works. NDIA is in the process of procuring some more machines to improve our services. Since taking office, I've been meeting with farmers all across the country and I've made several commitments to have drainage and irrigation works carried out. NDIA has been moving machines around to different communities to assist with these works. In the case of Mocha, our officers had a follow up meeting to get an idea of what is urgent and we are currently moving machines around to have the works there completed," Minister Mustapha said.
The subject Minister also said that he was in possession of the needs assessment report and major works identified will be budgeted for in the 2021 National Budget.
"Coming into office, I knew a lot of work had to be done. Although we were able to do some amount of work, we were not able to do as much as we hoped but rest assured, these projects will be catered for in the 2021 National Budget and other subsequent budgets. Our Heads of Departments have already started preparation for that," Minister Mustapha said.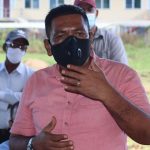 – island to benefit from a number of D&I projects after farmers complain about defects in several drainage structures
During a recent outreach to communities in the Essequibo Islands-West Demerara Region, Agriculture Minister, Zulfikar Mustapha reaffirmed Government's commitment to ensuring there is development across the country.
While addressing farmers at a meeting in Leguan, Minister Mustapha told the gathering that their community will not be exempt from Government's vision for development.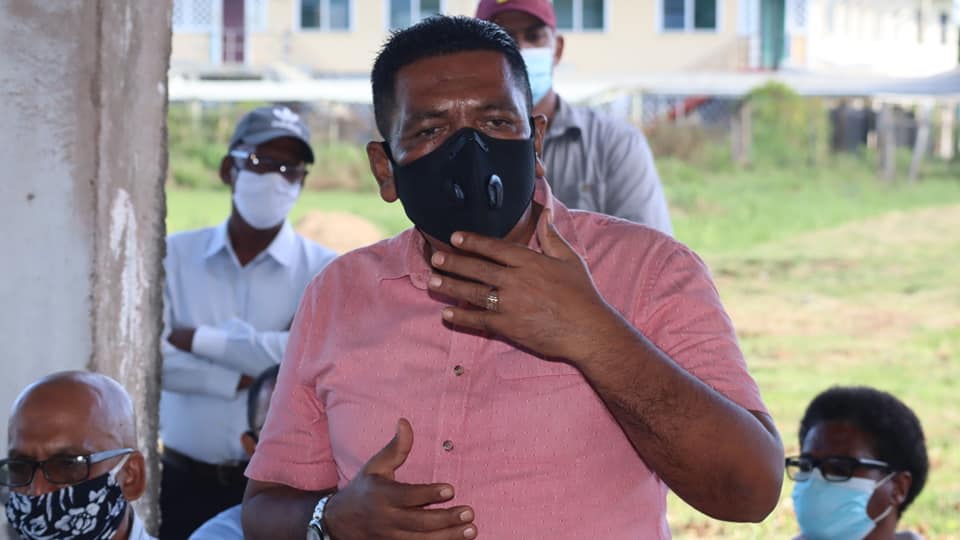 "Sometimes development takes a long time. Sometimes development might pass you and go to another area based on the priorities of the Government. I am not saying development will pass Leguan. I just want to let you know how things happen sometimes. But I want to reinforce and I want you, the residence to know that Leguan is a very important community to us, in the Government, and we will do our best to resolve your issues," Minister Mustapha said.
Farmers present indicated that the common issue on the island was the lack of proper drainage and the need for some amount of rehabilitation works to critical D&I structures.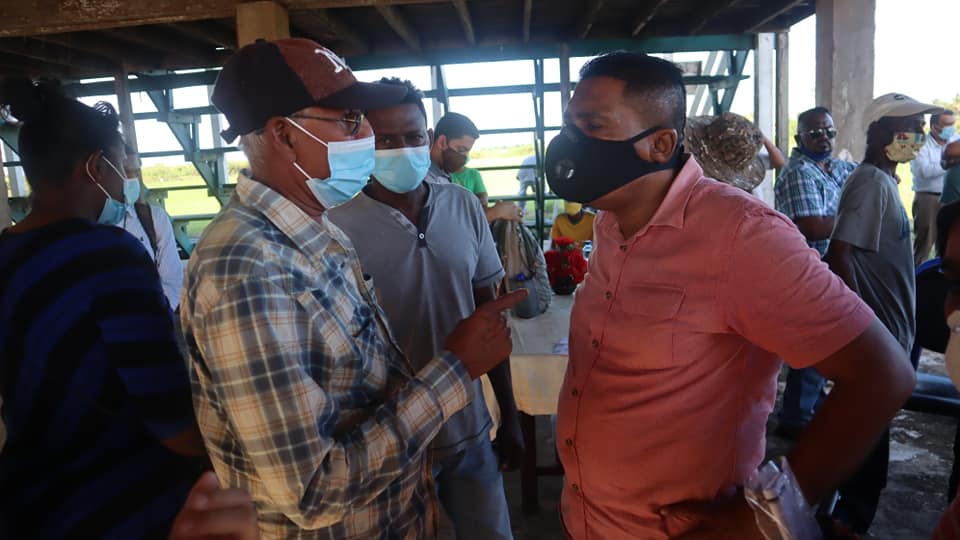 Jairam Rampersaud, a farmer from Leguan said that his farmland and home are constantly flooded due to a defective kokar close to his residence.
"At present, the kokar close to me is in a deplorable state. It is a self-acting kokar and over the years, the water would flow straight to my land and my home is often flooded. I would like for you to make some intervention to help the situation at present. The kokar is falling apart and water is seeping through the entire structure," Mr. Rampersaud said.
After listening to issues raised by several farmers present, Minister Mustapha noted that his Ministry will be working with the Regional Office to develop a work programme to remedy their issues.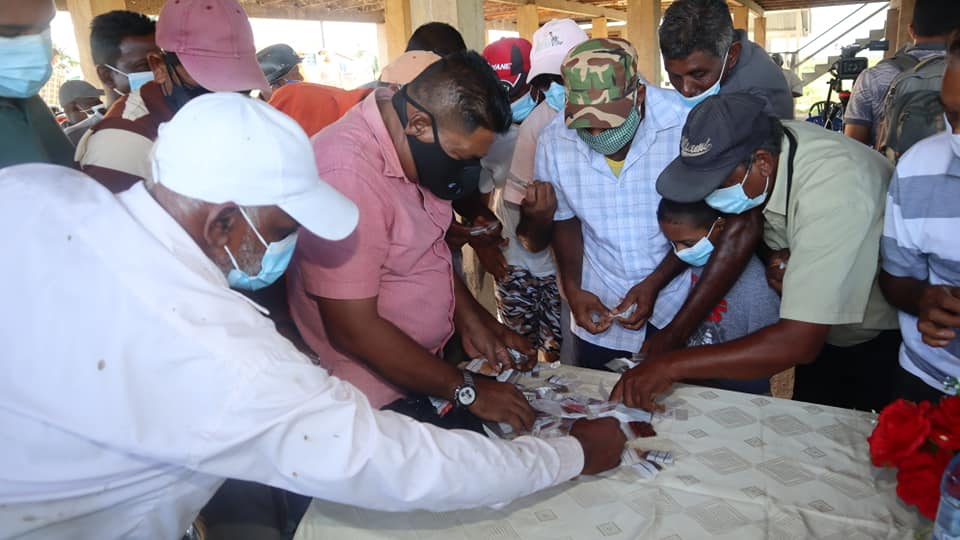 "Since taking office as Minister, there has been one common issue faced by persons in the farming communities across the country. It is clear that the previous administration has failed to provide basic drainage and irrigation services to citizens. There has also been a clear neglect to critical D&I structures across the country and clearly the structures in Leguan were no exception. I had meetings with farmers from Hogg Island and Wakenaam earlier today and they too have similar issues. I've committed to having an engineer go to those communities to carry out a needs assessment that will be factored into a work programme to ascertain what works are needed to ensure residents benefit from proper drainage. You will also benefit from that exercise. We cannot do extensive works now with this emergency budget, but rest assured, we will work to have some of the critical issues resolved. Other major works will be budgeted for in 2021 and other budgets to come," Minister Mustapha said.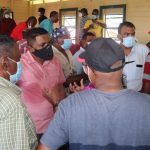 MoA to work with Regional Officials to construct drying floor for rice farmers
Extension officers to assist farmers with coconut cockle
Farmers from the island of Wakenaam will soon benefit from the services of a new excavator to assist with drainage and irrigation works. This was disclosed by Agriculture Minister, Zulfikar Mustapha during a recent outreach to the island, where he met with farmers to listen to their issues.
During the meeting Essequibo Islands-West Demerara Regional Chairman, Ishan Ayube said that there is need for a new excavator on the island to assist with the digging and maintenance of the canals.
"We have an excavator that is 11 years old. It has worked successfully in the past but it has reached a stage where maintenance is becoming a problem, its work hours is a problem and we are getting less rodage because of its age. I'm asking, on behalf of the residents and the farmers of Wakenaam, for a new excavator," Mr. Ayube said.
In responding to the request, Agriculture Minister Zulfikar Mustapha committed to having a new excavator stationed on the island before the end of the year.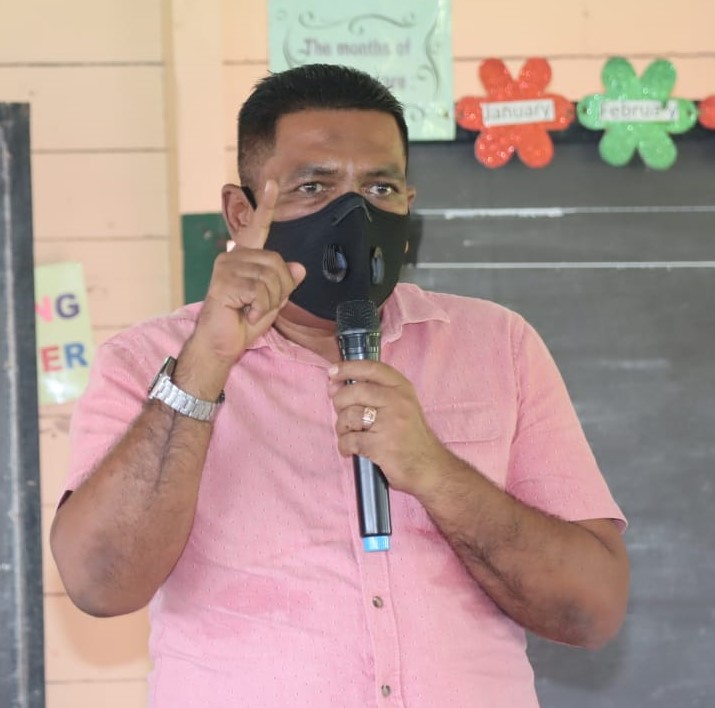 "I know that the excavator you have here is not working effectively. I've just consulted with my technical officers. We'll be purchasing some new excavators and I'll assign one to the island. So before the end of this year, you will have a brand new long boom excavator on the island to help with the digging and clearing of the canals. I've also instructed the NDIA to send a bulldozer to the island to complete all the work before it returns to Georgetown," Minister Mustapha said.
The subject Minister also committed to having his Ministry conduct a needs assessment in order to develop a work programme for works needed on the island.
The Regional Chairman also said that there is need for assistance with their current maintenance programme.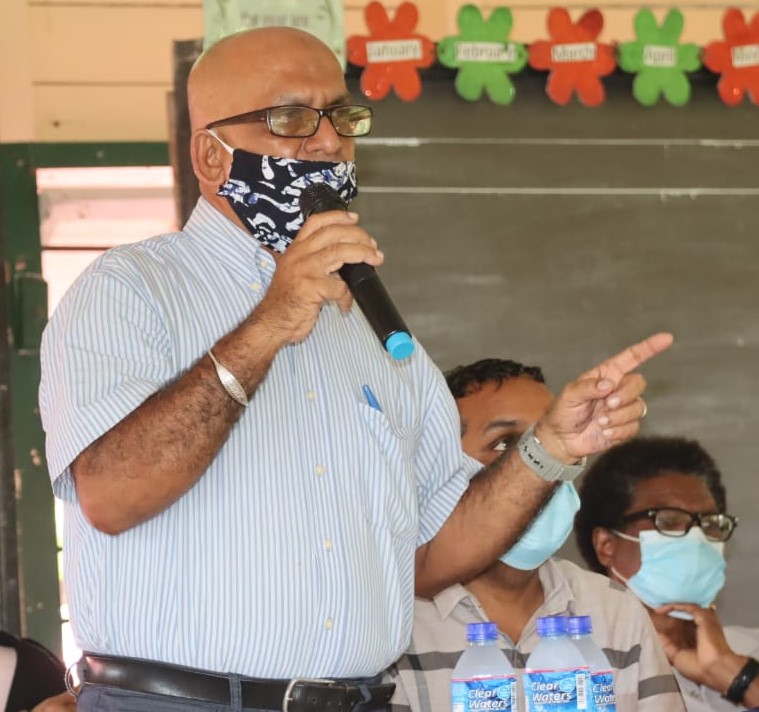 "There were several complains to the NDIA by farmers on the way the programme was kept. Complains that we were doing mainly spraying, weeding and, to some extent, using an excavator. We were written by NDIA last year and in August of this year we were told to only prepare trenches that were done by weeding or excavation. It will cost $3.5 million to do a maintenance programme with only weeding. The NDC cannot afford to do weeding maintenance programme or excavation programme with the current tax valuation and the current NDIA grant. If we were able to continue with the spraying and the other maintenance which was successful to about 90%, one month's maintenance would cost about $1.7 million and we would have been able to manage that," the Chairman said.
However, Minister Mustapha said that the Ministry will not encourage the spraying of chemicals as a means of weed control, noting the negative effects these chemicals have on the eco-system.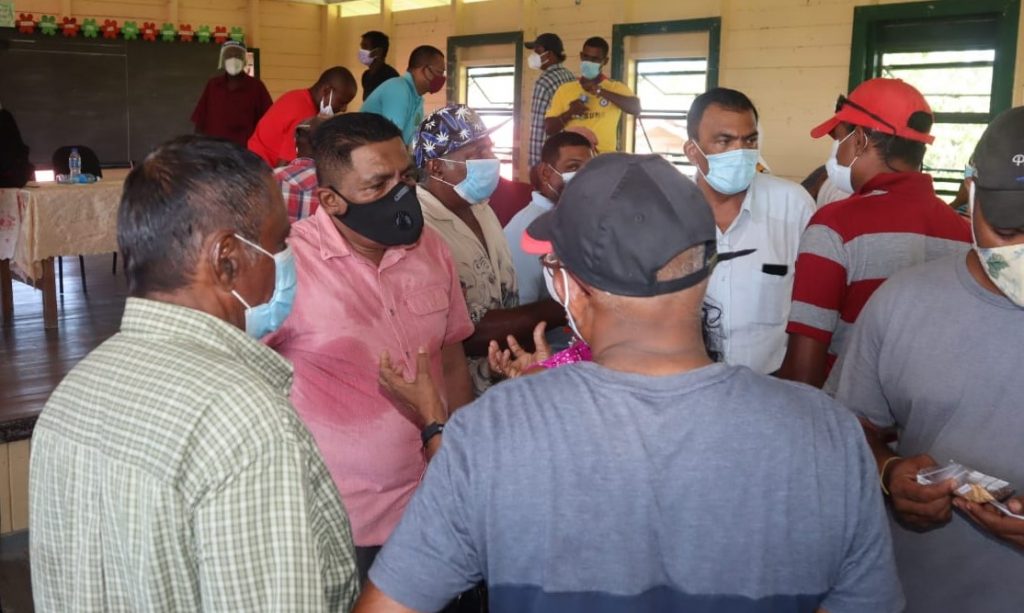 "I will not encourage contractors or persons who are working to clean the canals to spray chemicals as a means of weed control. While you are spraying the surface, the weeds would grow or end up at the bottom, and as the seasons progress, you will find that the canals becoming shallow," Minister Mustapha said.
Joseph Juman, a farmer, said that there is an issue with coconut cockle affecting farmers on the island.
Minister Mustapha informed the farmers that this Government is placing a lot of emphasis on coconut production and as such, will ensure extension officers from NAREI work with farmers to assist with this issue.
"Coconuts have the potential to bring in a large amount of foreign currency for our economy. This multipurpose commodity is now taking the world by storm and we will be putting a lot of effort and emphasis to ensure we develop our coconut industry. Government will be making resources available to increase research in order to strengthen the sector. We will also be constructing two new coconut nurseries so that planting material can be readily available and farmers can have better guidance in order to expand their cultivation. NAREI's extension officers will also be coming to your farms to assist you with the coconut cockle infestation within the coming days. Extension services will also be increased tremendously," Minister Mustapha said.
Requests were also made for a drying floor for paddy to be constructed on the island and additional markets for farmers' crops. Minister Mustapha told the farmers that, if the Region can identify the land, the Ministry, through the Guyana Rice Development Board, will work with officials to construct a drying floor. He also told the farmers that Government is in the process of revamping the mandate of the Guyana Marketing Corporation. This agency, the Minister said, will now be responsible for securing continuous markets for farmers' produce.
Minister Mustapha also took the opportunity to encourage farmers to cultivate value added crops and practice more economical methods of planting like intercropping. Farmers also benefited from the Ministry's seed distribution programme.
Accompanying the Minister on the outreach was Ministry of Agriculture Director General, Madanlall Ramraj and other Heads of Agencies.