Uncategorized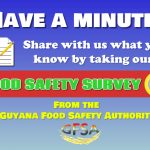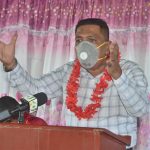 -agriculture extension officers for Black Bush Polder
The Ministry of Agriculture is expanding its services in East Berbice-Corentyne (Region Six) with plans to open a branch of the Guyana School of Agriculture (GSA) and to dispatch a full complement of agriculture extension officers to assist farmers at Black Bush Polder, Corentyne.
Minister, Hon. Zulfikar Mustapha made these announcements during a joint outreach to the region with Attorney General and Minister of Legal Affairs, Hon. Mohabir Anil Nandlall on Friday.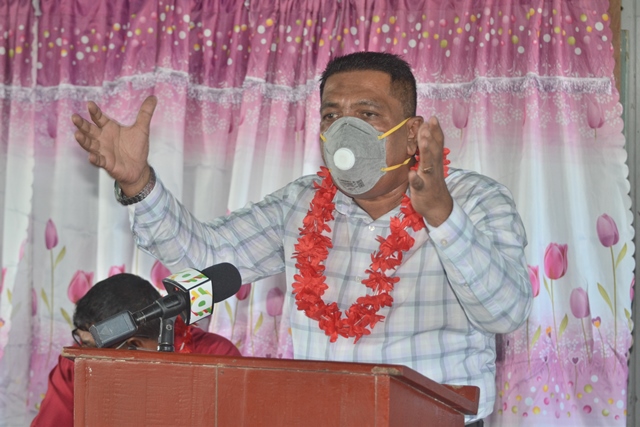 "As soon as the Board of Directors is formed very shortly, I will task that new Board to establish a branch of the Guyana School of Agriculture, so that we can have Berbicians benefitting from the same tertiary education that those in Georgetown and other parts of the country benefit from" MinisterMustapha said.
Former Permanent Secretary of the Ministry of Agriculture, Dr. Dindial Permaul is expected to Chair the GSA's Board of Directors.
Minister Mustapha said a large percentage of the Berbice population is involved in agriculture, which has resulted in the need for more opportunities for higher education to be created.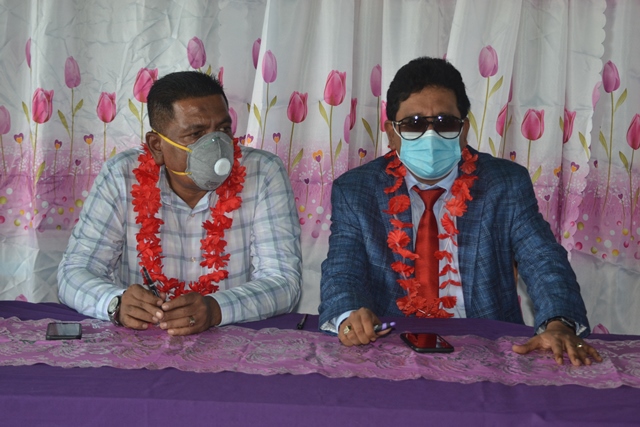 "Agriculture must not be seen as a minimal activity where someone does it as part-time. We must also end the perception that these kinds of exercise are for persons who dropped out of school. We are now doing agriculture in a more scientific way," Minister Mustapha said.
The Minister also revealed that consideration is being given to establishing the School at the John's University of Guyana Campus, which already has a Faculty of Agriculture.
Meanwhile, Minister Nandlall said urgent attention will be given to farming issues.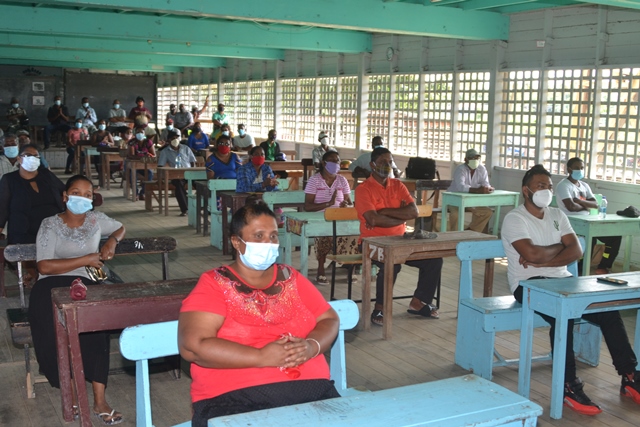 "We don't target one particular group of people, but out farmers are very important and we have to ensure that they enjoy the best of facilities, and have ready and cheap access to land," he said.
Residents also seized the opportunity provided by the visit to voice concerns about a range of matters affecting them.
Head Teacher at the Mibicuri Primary School, Ms. Natasha Loo petitioned for better roads while Johanna resident Ms. Renita Joseph asked for more educational and sport opportunities for youth. Ms. Joseph also asked for land filling and improved infrastructural works at the Johanna Primary School.
While the Ministers dealt with several issues on the spot, they pointed out that it was impossible to address all concerns at a single meeting. However, they said the Government is committed to continued engagement with the people to come up with solutions.
Regional Chairman Mr. Permaul Armogan also attended the meeting, which came soon after a visit by Minister Mustapha three weeks ago.
Additionally, the Guyana Lands and Survey Commission's office in the region is also set to reopen soon. The office had ceased operations due to COVID-19.
(DPI)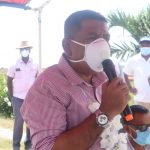 – GRDB to commence grading training this week
– machines to be deployed to carry out critical works in Mahaica Creek in the next three days
– rehabilitation works on Mahaicony farm to market access road to commence with emergency budget
Agriculture Minister, Hon. Zulfikar Mustapha has instructed officials from the Guyana Rice Development Board (GRDB) to put systems in place to ensure grading personnel are employed and stationed at all mills following complaints from rice farmers across the Coast about inconsistencies in the grading of rice at mills.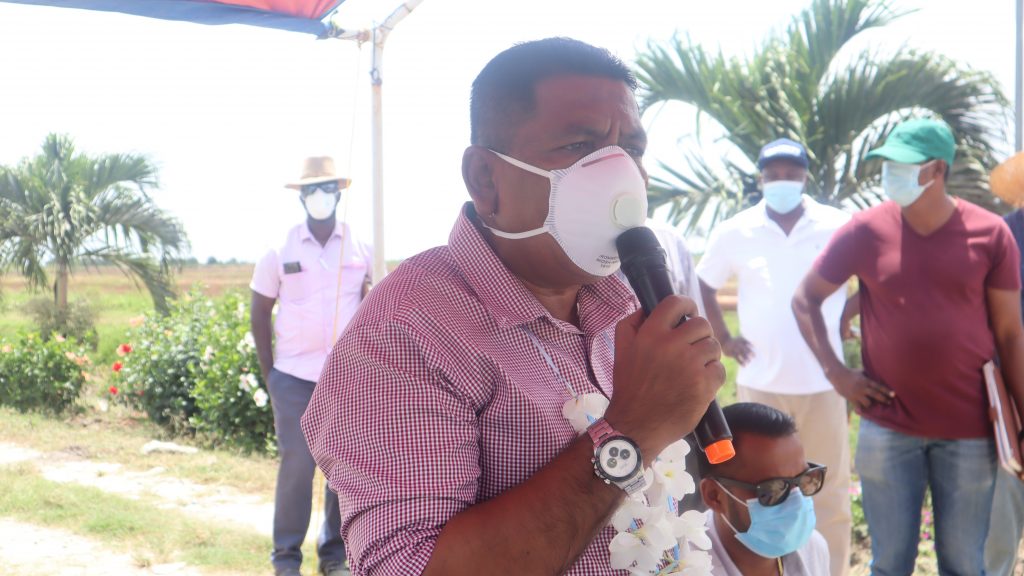 "We will work along with the Rice Producers' Association (RPA), which is the primary body that looks after the interests of farmers, to have the necessary personnel trained by the GRDB and placed at all rice mills in the country. This will ensure rice farmers are treated fairly during the grading process," Minister Mustapha said.
The Minister also informed the gathering that government will resume allocating subventions to the RPA to ensure it has the necessary resources to make representation for farmers.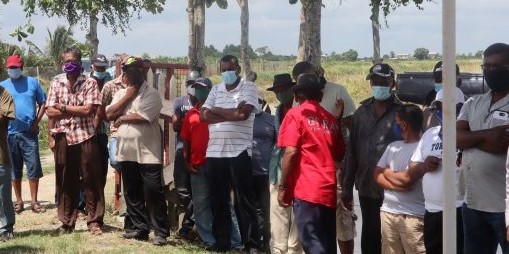 GRDB General Manager, Nizam Hassan, informed the farmers that arrangements were made with officials from the RPA and training is expected to commence in the coming week.
"It's a short but very detailed exercise. The RPA has identified a number of persons to undergo training and once completed, these persons will be stationed at the various mills to ensure an appropriate grade for rice to both farmers and millers," Mr. Hassan said.
Farmers also complained about inconsistencies in the scales at mills and asked the Minister look into it.
The Minister committed to contacting officials from the Guyana National Bureau of Standards (GNBS) to have their officers conduct verification checks at the various rice mills.
Minister Mustapha also made other immediate interventions that resulted in a machine being deployed to the Region to carry out clearing of some critical drainage canals. Farmers from Mahaica area also expressed the desire to have phone lines and repairs to several sections of their roadways. Minister Mustapha told the residents he made contact with the Minister of Public Works and that he will be visiting the community tomorrow (Sunday) to listen to their concerns and put systems in place to ensure their issues are addressed.
The subject Minister also related to residents that budgetary allocations were made in the emergency budget to carry out critical works on the farm to market access road on the right bank of the Mahaicony River.
Further, the Agriculture Minister informed the farmers that other major works will be budgeted for in subsequent budgets as this year's is an emergency budget to address urgent issues.
Rice farmers from Mahaicony Creek also complained about the inadequate drainage in the area.
Ramchan Bholagosien told the Minister he lost three rice crops because of the lack of drainage.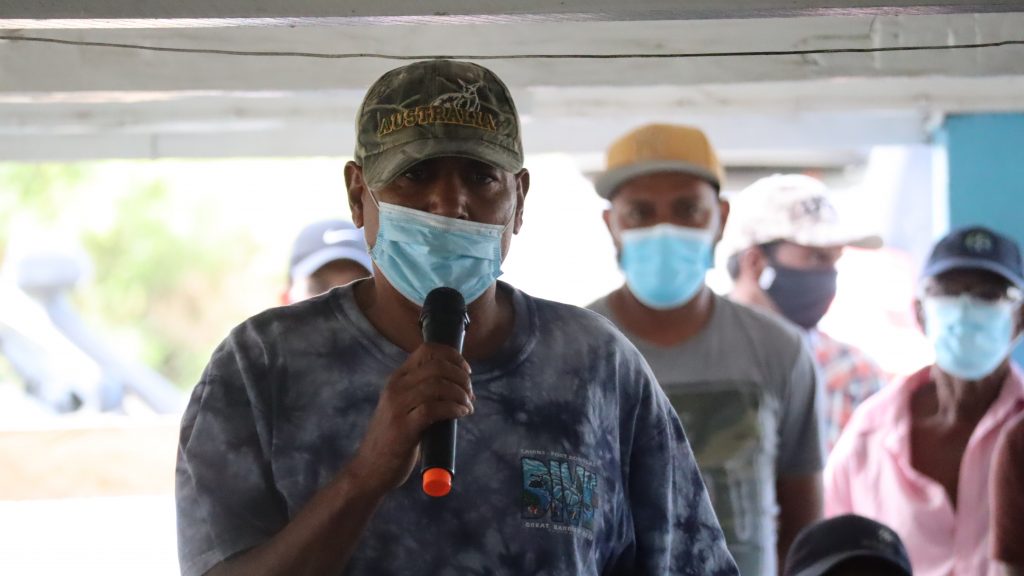 "It was very hard for me. I reached out to the Region and the NDIA and by the time they came it was too late," Mr. Bholagosien said.
The Minister, in responding to the farmer, said he regards farmers as the most important section of society.
"Comrade, I hear you and I understand. Farmers were not treated well over the last five years. You are responsible for feeding the nation and if in the past you were not seen as important, today I am here to let you know that I see you as important," Minister Mustapha said.
The subject Minister also mentioned that Government is in the process of developing a new land use policy to address the issue of regularising lands across the country.
Farmers also had queries about land rental payments. In 2017, the previous Government passed a bill that saw heavy increases to land rental fees and drainage and irrigation charges. The PPP/C Government, immediately after taking office, made good on its campaign promise to have the charges reversed to what it was before the previous Government took office.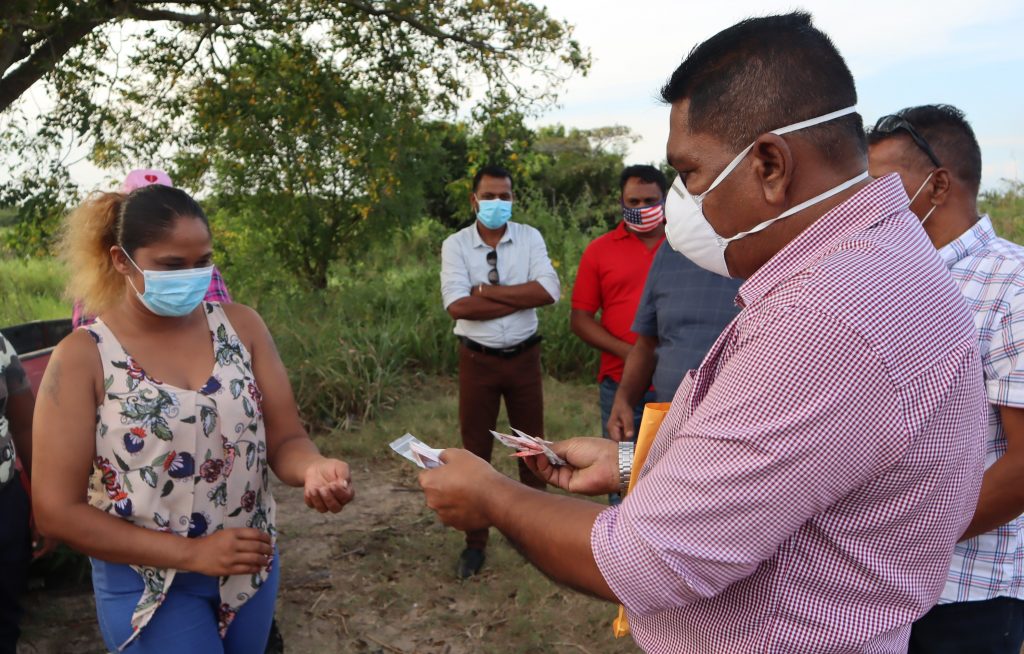 "When we were in Opposition, we advised farmers not to pay these steep increases. We have to meet and decide, at the level of Cabinet on whether we will make the reversal of payments retroactive," Minister Mustapha said.
Minister Mustapha is expected to conduct several other outreaches to various farming communities during the course of the month.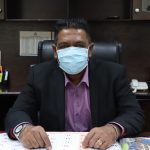 MINISTER OF AGRICULTURE congratulates the students who sat the NGSA
I would like to take this opportunity to extend heartfelt congratulations to all the students who wrote this year's National Grade Six Assessment (NGSA).
I know this year, you our children, faced many challenges, the greatest one being the global pandemic – COVID-19. However, despite those challenges, you were able to stay focused and today I join with the rest of the nation to celebrate your achievements.
You are one step closer to becoming leaders of this great nation. Your strength and commitment throughout your primary school lives, have paid off. It is now time for you to go forward and continue to strive for excellence.
There is a place in society for all of you. Do not be discouraged if you think your achievements are not as outstanding as others. Rather, see your achievement as an opportunity to enter into the next chapter of your academic life more determined than before.
I see each of you as the next generation of skilled agronomists, veterinarians, engineers, hydro-chemists and Ministers of Agriculture. I therefore encourage you to remain committed to your own advancement and to the development of Guyana.
This government stands ready to support our nation's schools and to further develop the public service structure to avert brain-drain and ensure our young people are paid favourable wages and salaries.
I also want to congratulate the parents, guardians and Teachers of all the children who wrote the NGSA. You have proven to be champions, as many of you battled to ensure resources were available to guarantee success in these troubling times. I encourage you to continue to be that beacon of strength and inspiration and the source of support they need as they enter into this new and exciting chapter of learning.
Congratulations and best wishes!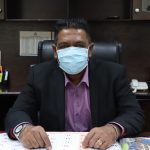 – Minister Mustapha
Almost 60 per cent of the total budget allocated to the Ministry of Agriculture will address the deficiencies in the drainage system and water service to prevent flooding and improve agriculture production.
Minister of Agriculture, Hon. Zulfikar Mustapha, on Thursday, said the government will invest $8.8 billion to expand and strengthen the operations of the National Drainage and Irrigation Authority (NDIA) and the Mahaica Mahaicony Abary – Agricultural Development Authority (MMA/ADA). This includes plans to improve the farm-to-market transportation infrastructure.
An additional $160 million have been earmarked for materials, mobile pumps, excavators and bulldozers for maintenance works, repairs of access dams, and the rehabilitation of drainage channels.
The government also intends to expand farmlands and improve support and infrastructure in the hinterland via the allotment of $22 million.
"Over 1,200 acres of farmland will in West Watooka, Linden [benefit from] the execution of drainage and irrigation works, which includes agriculture support in the form of agriculture equipment services to communities in Region 8 and 9 communities," Minister Mustapha said.
Another $45 million will also be used to enhance the drainage and irrigation system. This will include the installation of a new pump at Trafalgar, Mahaica-Berbice (Region Five) which, Minister Mustapha said, will finally operationalise the four pumps at the station, for which it was designed.
"Designs will be done for pump stations at Andrews -Region Two, Cottage- Region Five, and Black Bush- Region Six with the expectation of commencing construction in 2021. The proposed irrigation pump station for Black Bush is aimed at providing sufficient water to the front lands for rice cultivation," the Minister said."
With regard to the design of farm-to-market roads, $42 million will be spent to upgrade the existing mud dam access at 52-58 in East Berbice -Corentyne (Region Six), right bank Mahaicony and left Bank Mahaica, and Salem in Essequibo Islands -West Demerara (Region Three).
The Salem road will open access to 15,000 acres of farmland. Of this sum, $25 million will be spent for the continued extension of the Onverwagt access road and $5 million for the continuation of the Ebini farm-to-market road.
Additionally, $11 million will be spent to enhance Georgetown's drainage system.
Concrete drains will be constructed along North Road to reduce flooding in the Bourda Market area and the main drainage sluice in South Ruimveldt is to be rehabilitated.
It was also noted that 12 high-capacity drainage pumps would soon be installed in Regions 2, 3, 4, 5, and 6.
(DPI)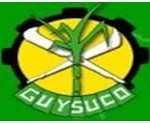 – APNU+AFC's own $100M COI showed closure of sugar estates not feasible
Minister of Agriculture, Hon. Zulfikar Mustapha says the Government intends to use the $5 billion allocated to the Guyana Sugar Corporation (GuySuCo) to revamp the sector.
In his address during the ongoing Budget debates on Thursday, the Minister said the Coalition Government displaced over 7,000 sugar workers and their families and another 80,000 persons by extension, even though its own $100M inquiry was against it.
"Optimal use has to be made of the resources, especially where poverty is no stranger to the society. That was one of the recommendations. The other recommendation says: the COI does not recommend the closure of any estate at his time […] Financial support in the short-term level is needed and this should be provided by the Government on a timely basis," Minister Mustapha said.
In 2017, the APNU+AFC Administration closed four sugar estates on the grounds that the estates were not profitable and should be downsized. The Minister said the then Government disregarded the advice of its own Commission of Inquiry and instead began its quest to "[punish] the sugar workers, their families, and their villages."
The Minister added that the Government intends to address the distribution of prime sugar lands to "kith and kin of the Coalition" and equipment "sold at peppercorn prices to their friends and cronies." A Commission is currently investigating these matters and .
"We'll have to deal with that when it comes. The Commission, the joint assessment [team] that we have put on the ground will come with recommendations and some people will have to face the law for what they have done with GuySuCo," Minister Mustapha said.
Over the next five years, GuySuCo will undergo an expansive transformation aimed at making it profitable again.
"In the next five years, starting with Budget 2020, we will implement measures to promote a diversified agriculture-based economy, create more jobs [and] increase the income of farmers,"
He added that this would be achieved by modernising and upgrading infrastructure, strengthening support services, robust marketing systems at local and international levels, and increasing Guyana's market share by tapping into the CARICOM Region's US$5B food import bill.
(DPI)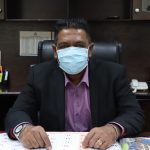 over 1800 rice and other crops' farmers set to benefit
Following a decision taken by cabinet on Thursday last, the National Drainage and Irrigation Authority (NDIA) will soon receive in excess of GY $29M to commence rehabilitation works to several access dams in Regions Two, Three, Five and Six.
This is according to Agriculture Minister, Zulfikar Mustapha, who said that the works are considered urgent, as some 91,580 acres of rice field are currently under threat due to inaccessible dams.
"Farmers have been complaining about the current state of these dams. Due to the severity of the last rainy season, the NDIA and the various Regional Administrations were unable to carry out much needed repairs and maintenance to over 227,000 rods of access dams. Farmers will suffer millions in losses if we do not carry out these works immediately for them to be able to harvest their rice for the upcoming autumn crop," Minister Mustapha said.
The funds will also facilitate repair to an additional 101,942 rods of dams that were damaged due to continuous use by farmers who made efforts to save their crops and recover expenses from what they could have harvested.
With fields yielding an average of 40 bags per acre, farmers are expected to harvest over 3,663,000 bags of paddy with an estimated value of GY $10.2B.
Rice remains one of Guyana's largest export earners, grossing over US $222M in 2019.
Government is currently in the process of preparing for a four-month budget that will see the Ministry of Agriculture carrying out additional emergency works to a number of drainage and irrigation structures and access dams across the country.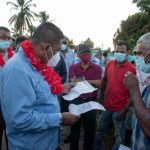 Farmers residing in the Essequibo Islands-West Demerara Region are assured that with the installation of the PPP/C Government, their livelihoods will be improved; and the current dilapidated and unsatisfactory working conditions will be a thing of past.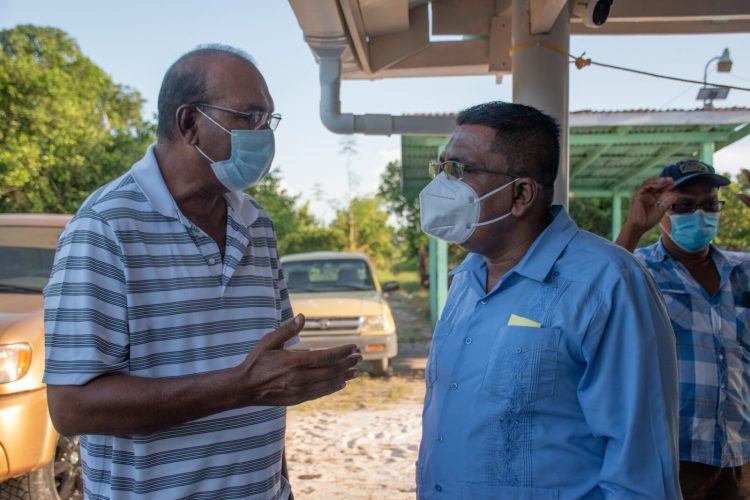 This was disclosed by Minister of Agriculture, Hon. Zulfikar Mustapha, when he led his technical team to several communities within the Region Three district, on Wednesday.
Canal Numbers One and Two were among the communities visited and inspected by the team.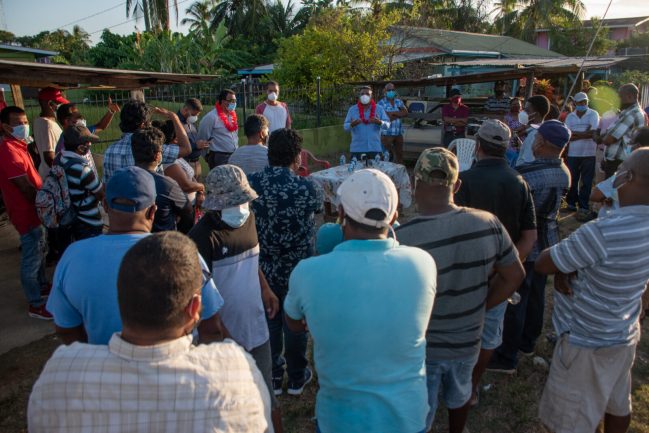 The need for proper drainage and irrigation at several canals was brought to the Minister's attention; as well as the lack of water to farmlands.
One resident spoke of the terrible infrastructure on the main thoroughfare which provides access to farms.
While some of the burning issues highlighted could not have been addressed immediately given their magnitude, there were others which received immediate intervention by the Minister.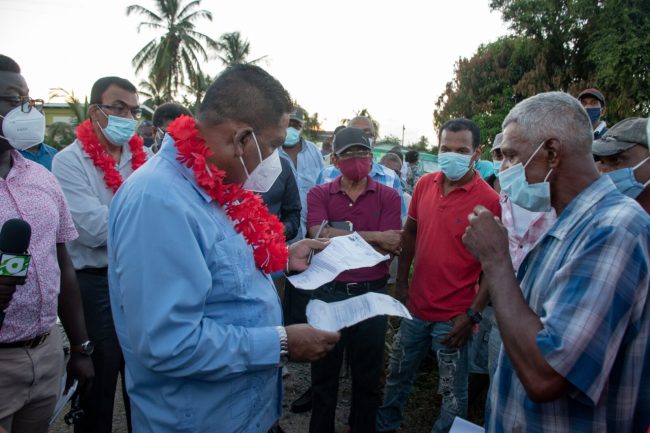 Listening to questions regarding the Guyana Sugar Corporation (GuySuCo), the Minister indicated that works have already begun on the revamping of the sector. He said with the establishment of a new board at the entity, the management will be reorganised to allow effective production.
Minister Mustapha said Government is committed to accomplishing every plan stated in its manifesto.
"In the Agriculture sector we have to ensure that our farmers get the kind of infrastructural work and support that are needed so that there will be massive production," he noted.
Pointing out that the Agriculture industry is significant to the nation, the Minister stated that he will be putting all hands-on deck to safeguard food security in Guyana. He relayed too that the extension services at the Ministry of Agriculture will see major improvement.
"When I took over the Ministry, I found that there was a lack of leadership. The Ministry had no direction. Now we have to focus our attention on certain objectives. One of those objectives is to ensure that we have maximum production."
The Minister reminded that until there is a budget in place, some issues will be addressed. He said a proposal was submitted to the Finance Ministry in preparation for an emergency budget.
"Hopefully if those projects and our estimate are granted, we will have more resources to assist our farmers," the Agri-Minister said.
Meanwhile, the Agriculture Ministry plans to stretch its resources to make life better for farmers.
(DPI)