NEWS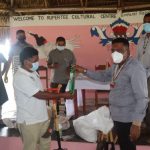 The Indigenous Village of Rupertee, located in the Annai Sub-District, Region Nine will soon benefit from a number of government incentives to boost the village's economy and agriculture output.
During an outreach to the several villages in the North Rupununi District on Tuesday, Agriculture Minister Zulfikar Mustapha met with representatives of the village to discuss government's plans for agricultural development in the Region.
As part of a packed two-day outreach exercise, Minister Mustapha visited the village's Black Giant Poultry Project site.
Senior Village Council, Surish Andries said that with the current facility in place, the project has the ability to expand and further improve the village's ability to supply poultry to other villages in the Region.
"The building is currently underutilized. We want to be able to fully utilize this facility. That is our target. We've had a few challenges with attacks from the wildlife where animals would come in the pen. This species of bird is very new to us and its serving as a learning experience for us. GLDA has an officer here who is really helping us with the records and so. We also need an incubator. A small one to assist with our production," Mr. Andries said.
After visiting the facility, Minister Mustapha also meet with several villagers to listen to some of their requests to improve agriculture.
During his engagement, Minister Mustapha disclosed that an additional three million dollars will be spent to develop agriculture in Rupertee.
"We'll construct fences to enhance your cattle rearing. We'll construct a well so that you can benefit from a potable water supply. And finally, we'll build a house, a 'kapetash'. Your community will be enhanced. We'll also be working with you to develop your livestock industry with pasture development and access to improved breeds through artificial insemination and breeding bulls. Soon, we'll be making more donations to all of the villages in Region Nine. Each village in Region Nine will experience some form of development from the Ministry of Agriculture this year because I believe the same benefits farmers on the Coast are receiving, farmers in this Region should benefit from as well," Minister Mustapha said.
The subject Minister also told the villagers that with the Ministry working to develop the non-traditional crops sector, areas like Rupertee and other villages in Region Nine will have to play a major role given the vast amounts of land available.
"Although we are investing in our traditional crops, we are also promoting the cultivation of non-traditional and high-income earning crops. Areas like Rupertee in Region Nine will be important areas for us because we recognize, over the years, we've been importing millions of dollars in corn for the poultry industry. We have the ability to satisfy the local markets and government has been putting the necessary systems in place to bring Guyana to a place where it can start producing these crops on a large scale," Minister Mustapha said.
Villagers who attended the meeting also told the Minister and his team that there were a number of projects that needed government's input to further enhance agriculture in the village.
Mr. Andries also told the Minister that the village needed a tractor fitted with a plough as many farmers need assistance with land preparation for their farms and pastures.
Another villager spoke about the need for an inland fisheries policy to develop the sector, as well as a proper management system for tractors in the Region.
"There's no inland fisheries policy in Guyana. It's in draft and I know this because I took part in that process to create the document. I would like for this Government to recommence the process to regularize this and make it a reality. We have policies for the other fishing but nothing for inland fisheries. I've been speaking with the Chief Fisheries Officer on this as well. The only document we have is the Arapaima Management Plan and it is still being breached because the law says that we should not trouble it but people still do. Another thing Mr. Minister is transportation. You heard the Senior Council say that our tractor is down. This is the case for several villages. I'm happy that you said the government will be giving tractors to several villages but there needs to be a proper management system in place," the villager said.
While responding to those comments, Minister Mustapha told the villagers that the three tractors fitted with ploughs will be procured for the Region this year by the National Drainage and Irrigation Authority (NDIA) and one of those machines will be stationed in Annai so that villagers from Rupertee will have access to it. As it relates to the need for an inland fisheries policy, the subject Minister said that the Fisheries Department is currently working to have systems in place to regularize inland fisheries. He also said that with government moving apace with its aquaculture master plan, policies regarding all areas of fisheries will be crafted and implemented in the coming months.
Minister Mustapha also told the villagers that he has instructed NDIA's Regional officer to develop a management system for machines assigned to the Region and to have persons from the villages who are operating the machines trained to carry out basic repairs should the need arise. This, he said, will cut back on downtime and ensure works are carried out promptly.
After the meeting, Minister Mustapha distributed several farm tools, Acoushi Ants bait, fertilizers, chemicals, and seeds to be used by villagers for agricultural development.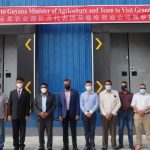 A Chinese-owned seafood processing company, Grandeast Inc., is the latest seafood processing establishment to commence operations in Guyana.
Grandeast Inc. is a wholly-owned subsidiary of Fuzhou Hongpu Aquatic Products Co., Ltd. in Fujian, China, a company specializing in processing and trading of fishery products.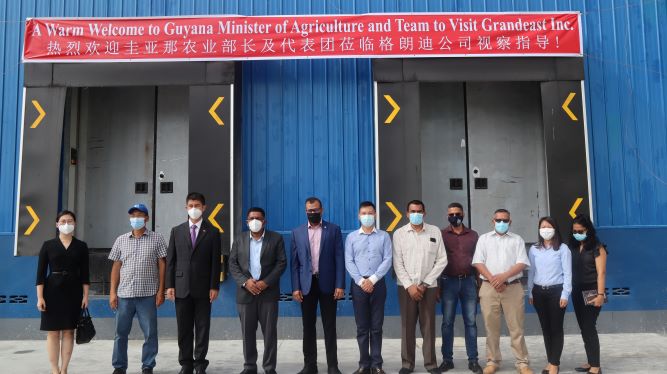 The facility was constructed at a cost of US $25 million and is outfitted with modern seafood processing equipment.
During a tour of the facility earlier today, Agriculture Minister Zulfikar Mustapha said that he welcomed the market opportunities being presented to local fishermen with the establishment of the processing facility.
"So far I am quite impressed with the facility. This was a massive investment and it provides a ready market for our fishermen. Most of this company's suppliers are fishermen from the West Coast of Demerara. Today we were able to witness the entire processing procedure for one of their products. The General Manager would've indicated that there is a ready market for this particular type of processed shrimp in China with room for expansion in the market. Our local fishermen would usually discard certain species of shrimp because there was no market for them locally. This company has provided that market and fishermen are now encouraged to work more hours weekly to satisfy the demand. As a government, we support these types of investments and we will continue to support investments that benefit the people and the development of this country," Minister Mustapha said.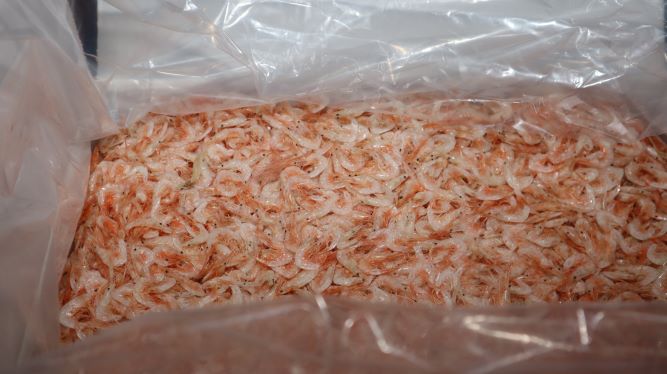 General Manager of Grandeast Inc. Wu Junyu said that the company has provided employment for up to 240 persons so far. He also said that this was the first phase of the company's local operations and that plans are being discussed for the commencement of phases two and three. Mr. Junyu also said that with the company looking to expand, it will require additional produce from local fishermen in order to supply its Asian market.
As it relates to foreign trade, Foreign Secretary Robert Persaud said that the Ministry of Foreign Affairs is working to address the issue of barriers to trade for a number of agricultural and other produce.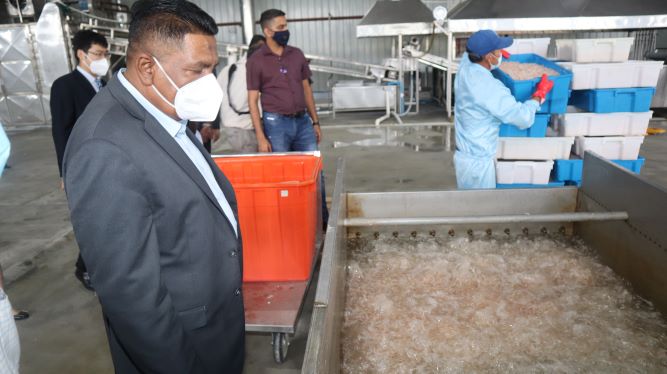 "Given the mandate of the President, we're looking to open new markets and remove any barriers or any obstacles whether it's in the Caribbean, North America, or Europe. We have over 20 trade agreements with different countries and regions and we want companies in Guyana to take full advantage of these opportunities. When there are obstacles our Ministry through our Trade Department would step in and assist. We're now working very closely with the Ministry of Agriculture to address issues of barriers to agricultural export," Mr. Persaud said.
Hong Dong Fisheries Co., Ltd., which is the holding enterprise of Fuzhou Hongpu Aquatic Products Co., Ltd is involved in ocean fishing, fishery base operations, cold chain logistics, fish processing, import and export trade, marine biology research, and aquatic product market operations management. It is the largest comprehensive fishery enterprise in China with the largest number of fishing vessels, abundant product categories, and a complete industrial chain.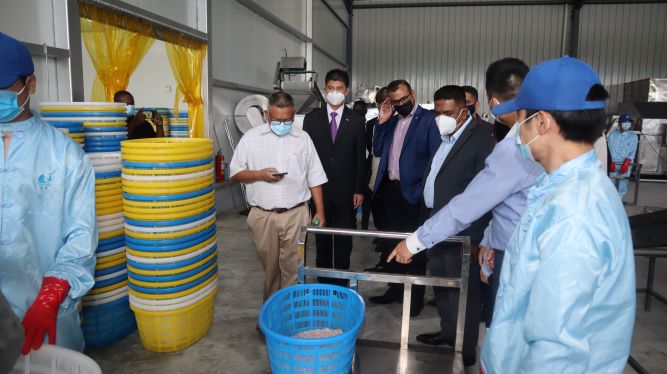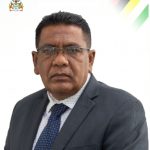 As we do every year, on this day, March 22nd, we are celebrating World Water Day. World Water Day celebrates water and raises awareness of the 2.2 billion people living without access to safe water globally. World Water Day is about taking action to tackle the global water crisis and achieving Sustainable Development Goal 6: Water and Sanitation for all by 2030. The theme of World Water Day 2021 is "Valuing Water." Beyond the issues of pricing, this topic includes the environmental, social, and cultural value people place on water.
Water means different things to different people, whether it be for cultural practices, your home and family life, your livelihood, your wellbeing or your local environment. However, we can all agree that water is essential to life, not only for humans, but also for the environment. Every living thing depends on water in some form.
The Covid-19 pandemic has elevated the need for and the value of water, while also highlighting the lack of access to clean, good quality water for health and sanitation. The pandemic brought the issue of water equity to the forefront of our imaginations, made us think of the homeless and vulnerable; and how they access water. Covid-19 caused us to think of water in a way we hadn't in a very long time. "Wash your hands when you get home, and keep scrubbing them for at least 20 seconds" – that is good advice, with or without the coronavirus. Clean water is needed to wash fruits and vegetables, which helps to make them safe for consumption. However, there is one big problem: more than 40 per cent of the world's population lives in regions where water is scarce or contaminated and is increasingly becoming more so. Guyana, although it has a wealth of water resources, is not an exception to this statistic. Today, there are many people that do not have regular access to safe water in Guyana. This is why Government is working assiduously to ensure all Guyanese have access to clean water sources and supply. This year's budget will further address issues of potable water in rural and other communities across the country.
It is for this reason that World Water Day is observed annually, to raise awareness about the vital importance of water to safeguarding human life and maintaining the health of the planet's ecosystems. This year's theme, highlights the urgent importance of strengthening water security and establishing access to sustainable water supplies.
The Hydrometeorological Service remains committed to working with all national partners to improve the management of our national water resources in an effort to combat the challenges of too little, too much or too polluted water. The Service is aware that Guyana cannot effectively manage water resources which it does not measure. To address this, steps are being taken towards improving our hydrological observational network to provide the data and support services required for sound water management. The Ministry of Agriculture will make strategic interventions to modernize and upgrade infrastructure to advance supportive water management.
While fostering sustainable access to water resources needs to be considered in our national and international policies, individuals also have the responsibility of practicing good management of our water resources in our everyday lives. We encourage farmers to adopt practices such as using drip irrigation systems to minimize the waste of water, as well as setting up rainwater harvesting systems which can help to ensure access to water. We all have a role to play to secure our water supplies and to ensure that we emphasize the value of water through responsible use. When we value water, we will secure and use it efficiently.
Happy World Water Day 2021!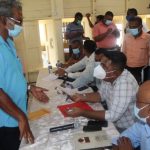 – farmers, millers offered 35% reduction on ferry cost
– farmers receive chemicals, fertilizers
Following requests by farmers, millers and Regional Officials from Region Two for government to assist with issues faced in the rice sector on the Essequibo Coast, Agriculture Minister Zulfikar Mustapha on two separate occasions today had meetings with rice farmers and millers to listen to some of their concerns.
During the meetings Minister Mustapha informed both farmers and millers that government was prepared to offer concessions that could see farmers benefiting from improved prices for their paddy.
"I came here today with the intention of working together with you because I heard farmers here were facing some issues with the industry. I know you are not pleased with the prices you are receiving for paddy in Essequibo. After this meeting, I'll be meeting with the millers. I plan to extend to them the same assistance we are giving to Leguan and Wakenaam where we'll reduce the cost of the ferry service by 35% along with providing a standard ferry to take paddy from Essequibo to Parika, but the reduction in price has to filter down to the farmers," Minister Mustapha said.
Kaydor Persaud, a rice farmer from Affiance, said that farmers were not satisfied with the prices they are currently receiving for their paddy.
"I think that the paddy price is a bit too low and Honourable Minister, I think you can do something about it. We are seeing paddy prices are better in other Regions. So what we are asking for is an intervention for you to see how something can be done. We are not satisfied with the price and we are not satisfied with the grading system. The system of grading should really be looked at. Another thing Minister, we heard, I don't know if it is correct, but there was a drop in rates for the boat to transport paddy from different areas for farmers. We are asking if you can do the same for us. There is also an issue with lands where we are getting leases for lands when we should be getting titles and we are not satisfied with it. We are asking for you to look into it and help us," Mr. Persaud said.
Other farmers raised issues with paddy bug infestation as well as a number of other personal issues that the Minister promised to address. He also committed to having a meeting with fishermen from the Region shortly, after one resident made a request for him to do so.
The subject Minister also informed the farmers that six new drying floors will be constructed in the Region and encouraged them to utilize these facilities once construction has completed.
"We have funds in the budget to construct drying floors in the Region. I've asked our officers from GRDB to meet with you and discuss where these drying floors will be. I don't want farmers to think that these facilities will be built and only one person will benefit. When we do something the entire farming community must benefit. I know there is a stigma attached to drying floors across the country. People prefer drying their paddy on the road rather than going to a drying floor facility. This is why we have to work and discuss with the farmers on the best locations for these investments," Minister Mustapha said.
"Last year when I came I said that we would be procuring boom-sprayers to assist with paddy bugs. From this year's budget we'll be purchasing five boom-sprayers for Essequibo. By June we should have them and they will be sent here so that the farmers can have some relief. Farmers that have issues with paddy bugs, I've already instructed GRDB to help the farmers with chemicals and additional extension services. Our officers will be going around to different areas to conduct assessments and we will be giving each farmer one bag of seed paddy for every acre that was damaged," Minister Mustapha said.
In addressing farmers' dissatisfaction with the grading system in the Region, Minister Mustapha said that during his last outreach to the Region, he'd offered farmers the opportunity to identify persons to undergo training by the GRDB and employed as graders. He acknowledged that there was some level of mistrust between millers and farmers and said that his Ministry was exploring options to ensure farmers and millers are both treated fairly during the grading process.
During the meeting with the millers, president of the Guyana Rice Exporters and Millers Association (GREMA), Rajindra Persaud said that millers have expressed concerns with the overall cost attached transporting their finished products to ports in the city.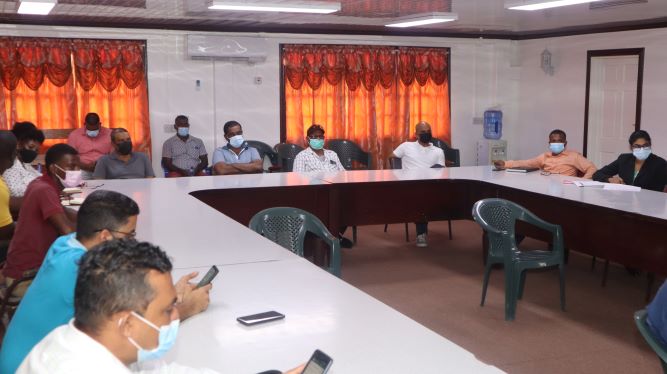 "From my experience speaking with millers in the Region, their big concern is transporting finished products to Georgetown especially with the cost of the ferry and the restriction at the Demerara Harbor Bridge. There is a weight limit at the bridge so normally when a truck leaves Essequibo they have to discharge at West Demerara, take off some of the load, cross the bridge, discharge that load, cross back over the bridge, load the remaining stuff and then proceed to the wharf. It's very tedious and expensive," Mr. Persaud said.
Mr. Persaud also said that there needs to be a cultural shift in terms of rice cultivation in the Region. He maintained that if farmers can irrigate their fields in a shorter time to facilitate block planting as is done in Region Six, within six weeks the entire area can be cultivated and the bugs would not be able to move from field to field.
Tanish Jagmohan of Caricom Rice Mill said factoring in all levels of the production chain, the price being offered to farmers is fair.
"The prices we are offering; we did a lot of calculations. Looking at cost of production at an hourly basis and it's a fair price. We are encountering issues like green and damage and so on and it affects our overall profit margin. Our prices, to me, are very competitive compared to the prices we are getting overseas. We've gone up $100 per bag yet the quality remains the same," Mr. Jagmohan said.
Minister Mustapha told the millers that he is prepared to extend concessions to farmers and millers in the Region with the expectation the benefit would be passed on to the farmers.
"As it stands now, I think the factor that determines the prices in Region Two is transportation. I have a proposal. We can look at the consideration of the ferry. In the islands, we were able to give special concessions to the farmers there and I want to extend the same concession to the farmers and millers on the Essequibo Coast. We'll reduce the cost of the ferry by 35% and we will have a special ferry to transport the cargo so you won't have to wait on the passenger ferry. If you can add the savings to what is offered to the farmers' price we would be willing to put that in place," Minister Mustapha.
While responding to the Minister's proposal, one millers said that the proposal was good but that the majority of their product transported through the ferry service was rice and not paddy. He said if farmers can deliver better quality paddy, millers would be able to offer better prices as they were prepared to offer higher prices to the farmers but the rain and high instances of paddy bug infestation had adversely affected the quality of the last crop.
They, however committed to meeting and discussing the Minister's proposal and provide a response within the next few days.
The day's proceedings also saw Minister Mustapha distributing fertilizers and other chemicals to farmers who suffered losses as a result of flooding and paddy bug infestation.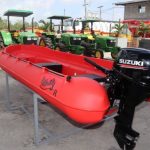 Today, General Equipment Guyana Limited (GENEQUIP) handed over a Whaly 435R polyethylene boat to Agriculture Minister Zulfikar Mustapha, to be used by the Ministry for the execution of agriculture development services.
The donation, which also included an engine was valued at GY $2.4M.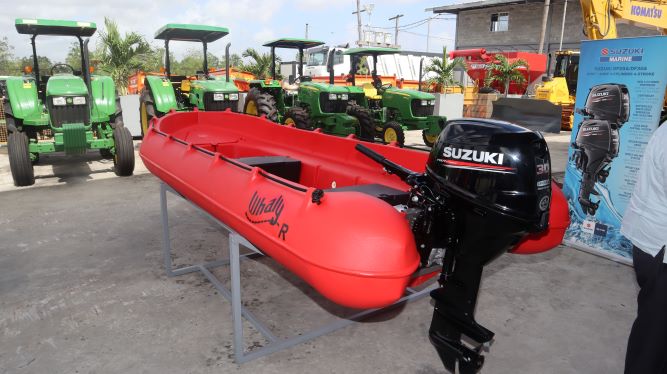 Managing Director of GENEQUIP, Renger van Dijk while noting the boat's high level of durability, said that he was happy to make the donation on behalf of the company.
Minister Mustapha said that with Guyana's agriculture sector moving ahead with ensuring sustainable development is achieved at all levels, the Ministry was grateful for the timely donation by the company. He also said that the boat will be used correctly and maintained, and all efforts will be made to ensure it is utilized for the benefit of the sector.
The Whaly brand of boats was specially designed with an emphasis on strength and stability. The 435R model is known for being extremely robust, manufactured from high-grade polyethylene.
The boat will be added to the National Drainage and Irrigation Authority's (NDIA) fleet of equipment to further assist with the agency's operations.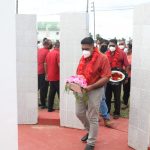 Agriculture Minister Zulfikar Mustapha, along with several officials from the Regional Executive Office in Region Six, the Guyana Sugar Corporation (GuySuCo), and the Guyana Agriculture Workers Union (GAWU) on Saturday last paid homage to the fifteen (15) sugar workers who are referred to as the Rose Hall Martyrs, after they were slain by their colonial masters on March 13, 1913, at Rose Hall Estate.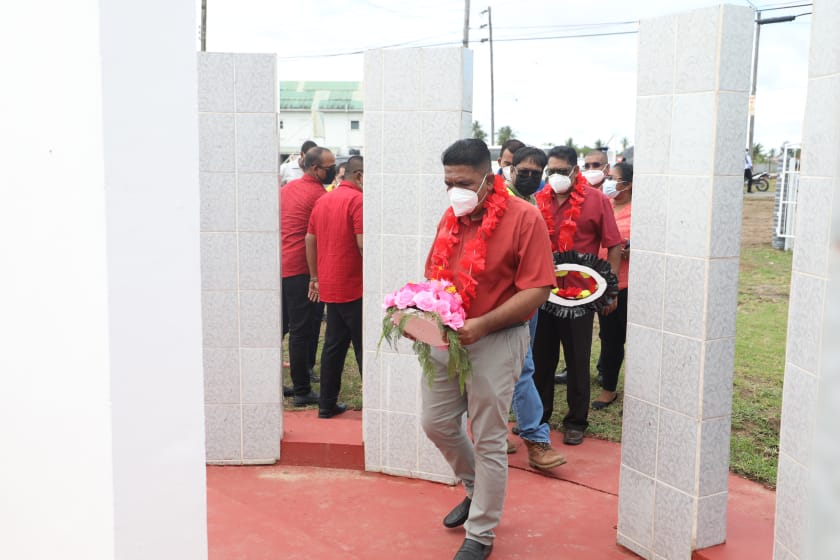 The horrific incident is said to be one of the most unpleasant reminders of British colonialism and another manifestation of the brutal conditions our forefathers had to contend with in colonial times.
While offering remarks at a simple wreath-laying exercise, Minister Mustapha said
"These workers stood up to the plantocracy at that time. Four holidays were given to them and the plantocracy wanted to take those days back. We saw what took place after they stood their ground. Today as we mark 108 years since the sacrifice of these fallen heroes, I want to encourage you to rededicate your energies to ensure that the sacrifices of those who perished in 1913 and the additional 41 workers who were injured that day were not in vain. Last year, after the General and Regional Elections, we witnessed persons trying to steal our democracy. There was fear and serious conflict in our land but like any other peace-loving people we fought to ensure that the party that won the election was there to take up its position in government and Dr. Irfaan Ali was sworn in as President," Minister Mustapha said.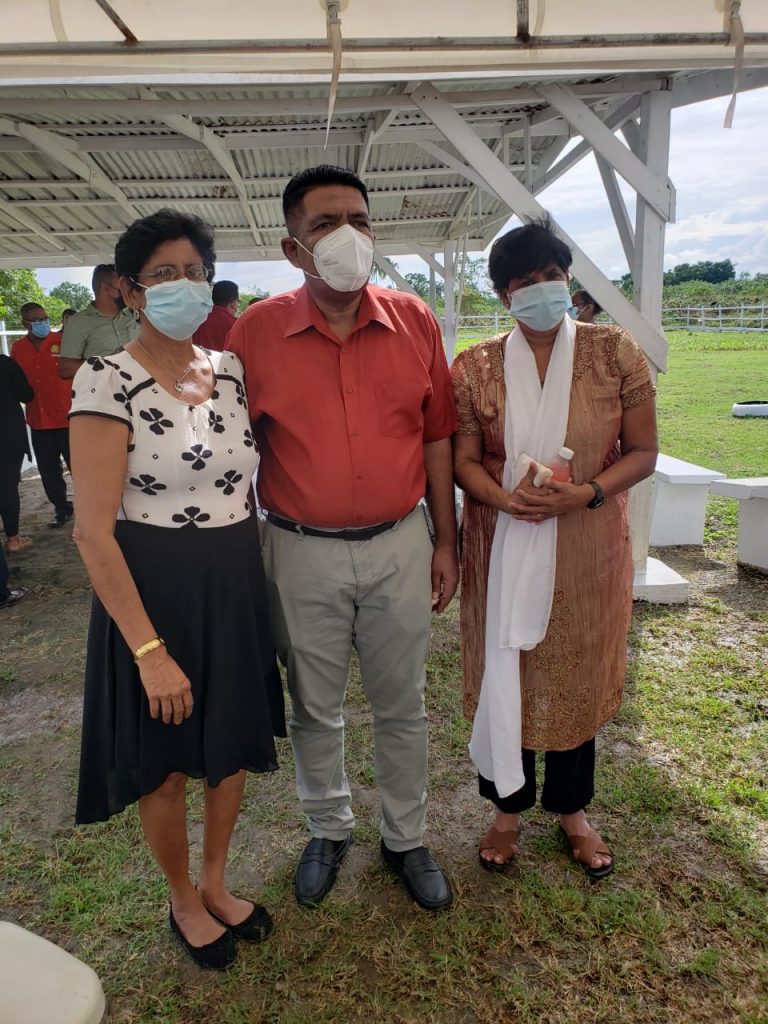 The ordeal which resulted in the death of fifteen (15) persons, including a woman, Gobindei, and a Police Corporal, notably brought to an end the hated system of indentureship.
Two remaining granddaughters of one of the sugar workers also attended the ceremony. They both expressed thanks to the Minister and those in attendance for acknowledging the sacrifices made by their relatives all those years ago.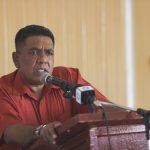 – appeals for gov't to crack down on smuggling, assistance for small farmers
His Excellency, President Dr. Irfaan Ali has announced that government will soon launch an aquaculture masterplan that will see the sector taking off soon.
The Head of State eluded to the fact that, as a result of climate change and the changing landscape of the fisheries industry, government was encouraged to think outside the box and move to transition to an aquaculture-based operation.
The Ministry of Agriculture, through the Fisheries Department, has since commenced sensitization and consultation exercises with the fisher-folk community as a means to organize the players to ensure the sector is developed in a sustainable way.
On Saturday last, Agriculture Minister Zulfikar Mustapha met with several fishermen from Region Six, the largest shrimp-producing Region in the country, to inform them of government's plans for the sector, as well as, get their input on what government can do to assist them in this regard.
"We want to launch an aquaculture master plan. Aquaculture doesn't only involve shrimp. It also includes other species of seafood. As it is now, the industry is not where it needs to be in our country so we have to develop it. This means we have to put in a lot of work and we have to ensure that we get the necessary funding and the necessary skill set," Minister Mustapha said.
The subject Minister went on to say that Guyana's geographical position puts it at an advantage in terms of offering fresh produce to large markets abroad.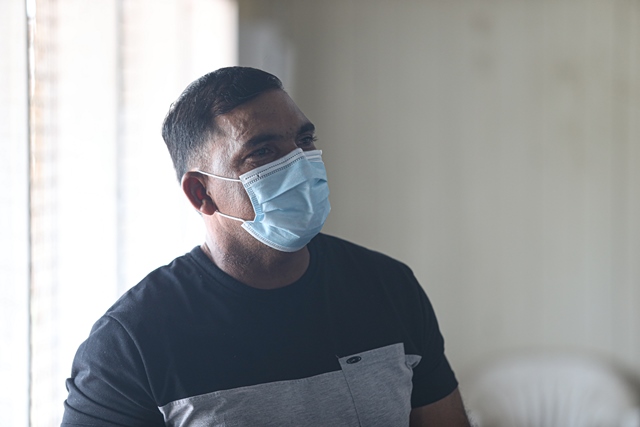 "We all know that the aquaculture industry is very lucrative. Countries like North America are getting these products from countries like China and India. Guyana is positioned in a very strategic geographic position in the Caribbean. If we can develop our aquaculture sector, within a day we can send our products to North America, whereas countries like China and India would have to freeze their products and it would take days before these products can reach their destination," Minister Mustapha added.
Ronald Arjoon, a fisherman from Region Six said that if the government intends to develop the sector, there needs to be some amount of protection for fishermen from smuggled products, which often pose a challenge to their trade.
"I must commend the Honourable Minister for being here. The only problem now is, for us to develop the industry, we have to get protection first. So I'm appealing to the Minister, we've already done it for years. Night and day we are having shrimp and fish smuggled into the country and it is affecting the aquaculture industry so badly that sometimes farmers cannot even sell their produce. Not because the products that came in smuggled will compete with us in terms of better prices but the quality is bad. The other thing to add to that is the people are being fooled. Using the farmers' names in Guyana. That the shrimp and fish coming from various Guyanese farms and people might go in the market and not know where the shrimp or fish coming from. When somebody tells you it came from a recognized farm in Guyana you will buy it and it carries our reputation down because the quality is not good. When the people taste it and they don't like it they wouldn't come back to you," Mr. Arjoon said.
Suedat Persaud, Secretary of the East Berbice Aquaculture Association also spoke about the smuggling of shrimp and fish from Suriname.
"If we are to go in this direction to develop aquaculture, we have to look at the challenges. One of the main challenges is this same shrimp from Suriname. I wrote almost 200 letters from 2015 to now. We had about 45 meetings with different people. Recently we had a meeting with Customs and the Police. We gave them information, the vehicle number, the timing, the village where they're coming and so on. Eventually, Customs catch them. A few days ago this man start to bring back this Suriname shrimp again. When I call Customs, they said that the man is coming in front now paying duty. I told the man they have to get Public Health documents from Suriname and have Public Health here to clear them. He said I have the wrong idea in my head. I'm appealing to the authorities to probably install more control over this, have more competent people because we are seeing bribery and corruption with these Public Health people. If we are pumping money into aquaculture we cannot have four or five people destroying it," Mr. Persaud said.
Harrynarine Mathura, another fisherman from Albion said that small fishermen need help with machines to prepare their ponds from time to time.
"We have some people that always get good production in their ponds because they have machines to dig their ponds. The other poor farmers they cannot afford to do that. You gotta bulldoze the 'dutty', you gotta turn it over so when you take in the next crop of water the shrimps can grow. After six months or so you have to turn the land. If you don't do that, the fresh mud that comes from the sea becomes sour and after it becomes sour the shrimps can no longer graze on the mud to grow and develop. The small farmers cannot afford a $200,000 or $300,000 to do over their ponds so we'd need help with that," Mr. Mathura said.
Minister Mustapha informed the fishermen that a committee is now in place to look at all the issues and suggestions put forward to develop plans to sustainably develop the sector. He also said that his Ministry has engaged the Government of India to have three specialists in aquaculture come and assist with the development of the sector.
"We have a committee set up by His Excellency, headed by myself that will work to develop plans and programmers to start the aquaculture activities in our country. Some very experienced persons are on the committee. We have Mr. Anthony Vieira, Mr. Tejnarine Geer who is a former Chief Fisheries Officer, and Mr. Pritipaul Singh on this committee. The Ministry has also written to the Indian Government through their High Commissioner in Guyana and they have indicated that they will assist us with technical skills through training from experts from India. So within a matter of months, three technical officers from India will be coming to work with us to develop our plan for the sector. We are currently doing the groundwork to launch this plan and looking at large acreages of land. We are also engaging the Guyana Lands and Surveys Commission (GLSC) and the MMA because areas like West Coast, Berbice are full of lands suitable for this type of development. So while government is working to develop the traditional sectors, we are pursuing new and innovative programs to take sectors like the aquaculture sector forward," Minister Mustapha said.
The subject Minister also said that while government intends to improve agriculture generally, the country's aquaculture sector is being targeted for massive development in both the long term and short term, with government aiming to increase the country's annual shrimp production from 150,000 kg and 200,000 kg to 500,000 kg. He further stated that government will be assisting farmers with feed, fingerlings, and other materials to help with their production.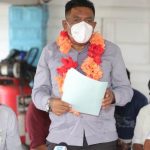 – Min. Mustapha commits to sending additional machine to carry out works next Tuesday
– residents told works on access road has commenced
Residents and farmers from along the Mahaicony River, Berbice met with Agriculture Minister Zulfikar Mustapha hoping for some form of resolution to several issues faced in the farming community.
During a farmers' meeting, which was held at Mora Point, Mahaicony, deplorable dams, dilapidated roads, drainage and irrigation and seemingly unfair grading of paddy at mills were some of the issues raised by residents.
Bhagwan Deo, a rice farmer from Yarrow Creek, pleaded with the Minister for assistance with clearing the main canal in the area.
"I have some rice presently that I have to reap soon and the canal block up. Also, this flooding that we get often, especially the farmers at the left bank, every time the May/June rainfall we getting flood and we gotta pump out the water. If we can't pump out the water all the rice gone. Although the Hope Canal tries to ease the water still we getting flood," Mr. Deo said.
Jeetendra Persaud, a rice farmer and secondary school teacher from Joanna Creek said that there needs to be better representation for the farmers at mills in the Region.
"GRDB has representatives that are supposed to be representing farmers at the mills and to my understanding, I don't think these persons are doing the right job. They are not representing the farmers. Farmers are being bullied by the millers. The people there are not looking after the interest of the farmers. Also sir, in this Mahaicony area, we are asking if we can have somebody representing us from the Ministry of Agriculture like an extension officer," Mr. Persaud said.
Krishendat Manickchand, a resident from Mahaicony spoke about the condition of the access road and the hardships farmers continue to face, especially during the rainy season.
"First I want to commend the Minister and the government for the works they are doing. I've seen a lot of improvements and I know a lot more will come but I have one concern. There's this road on the other side of the Mahaicony River. I would like to know if repairs on it will go into the budget for next year because there are a lot of lands there that are being cultivated and farmers get a hard time taking their produce out especially with the inclement weather," Mr. Manickchand said.
After listening to the complaints and issues from the farmers and residents in attendance, Agriculture Minister Zulfikar Mustapha made a commitment that will see relief being brought to the area as early as next week.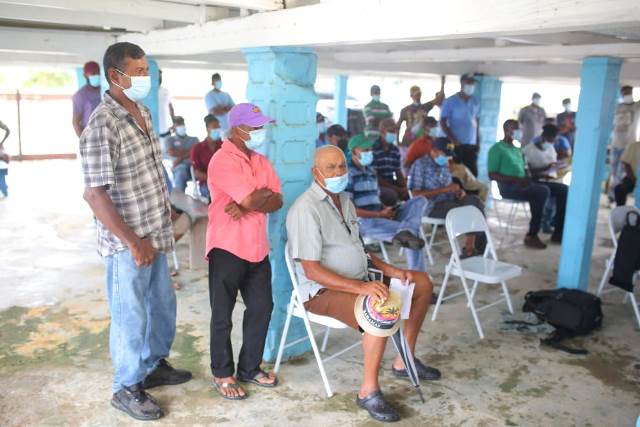 "The last time I was here, there were 12 major issues raised and I would like to inform you that 99% of those issues have been resolved. The road seems to be the burning issue. I want you to know that the project has started. The consultants are working and I've asked the CEO of the NDIA to bring that individual here to explain the works to you. The road will be from Mora Point to First Savannah. In relation to the dams, the last time I was here I said that we will concentrate on community projects. I want to reiterate that we will continue to help farmers individually, but at the same time, we have to look at the community projects first so that the majority of persons can benefit. What I will do, there are several dams here. I know that we are close to crunch time for rice harvesting. I will boost your fleet of machinery with another machine from Tuesday. So you'll now have two machines to do works in the area. We will also be installing another pump at Mora Point. As Minister, I recognize the importance of people getting proper drainage and irrigation. We are currently boosting the system with pumps because our drainage system wasn't designed to take off the amount of water we often see during the rainy season or when there is persistent rainfall. We want the drainage system to be able to facilitate 24-hour drainage. That means when the tide is high the pumps will work and when the tide is low the sluice will work," Minister Mustapha said
The subject Minister also addressed land issues that were raised by residents.
"We recognize that over the years, there have been many land disputes in the area. We are trying to regularize the land system in the MMA. There are a number of land matters in the courts and while those matters have been going on, people have been suffering. Since taking office, and with the appointment of the new MMA Board, I've asked that farmers who would've applied for small plots of land have their applications approved and that they are granted leases. So far 43 persons would've received their leases already," Minister Mustapha said.
Minister Mustapha also told the residents who raised concerns about the grading system at the mills that a directive was given to the Rice Producers' Association months ago to engage the farmers to select an individual that will be trained and paid by the GRDB to work at the mill to ensure farmers receive correct grades for their paddy. He urged the farmers to work along with the Region and have those individuals' names submitted to the GRDB so that the training can commence.
Minister Mustapha was accompanied by the Ministry's Director General, Madanlall Ramraj, and other officials from the Ministry and the Region.