NEWS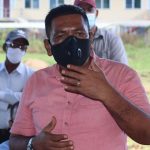 – island to benefit from a number of D&I projects after farmers complain about defects in several drainage structures
During a recent outreach to communities in the Essequibo Islands-West Demerara Region, Agriculture Minister, Zulfikar Mustapha reaffirmed Government's commitment to ensuring there is development across the country.
While addressing farmers at a meeting in Leguan, Minister Mustapha told the gathering that their community will not be exempt from Government's vision for development.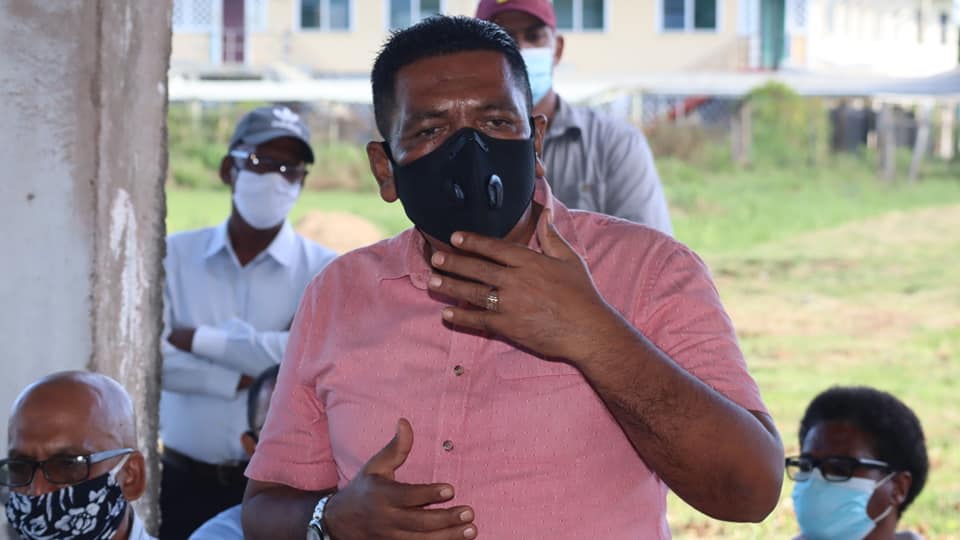 "Sometimes development takes a long time. Sometimes development might pass you and go to another area based on the priorities of the Government. I am not saying development will pass Leguan. I just want to let you know how things happen sometimes. But I want to reinforce and I want you, the residence to know that Leguan is a very important community to us, in the Government, and we will do our best to resolve your issues," Minister Mustapha said.
Farmers present indicated that the common issue on the island was the lack of proper drainage and the need for some amount of rehabilitation works to critical D&I structures.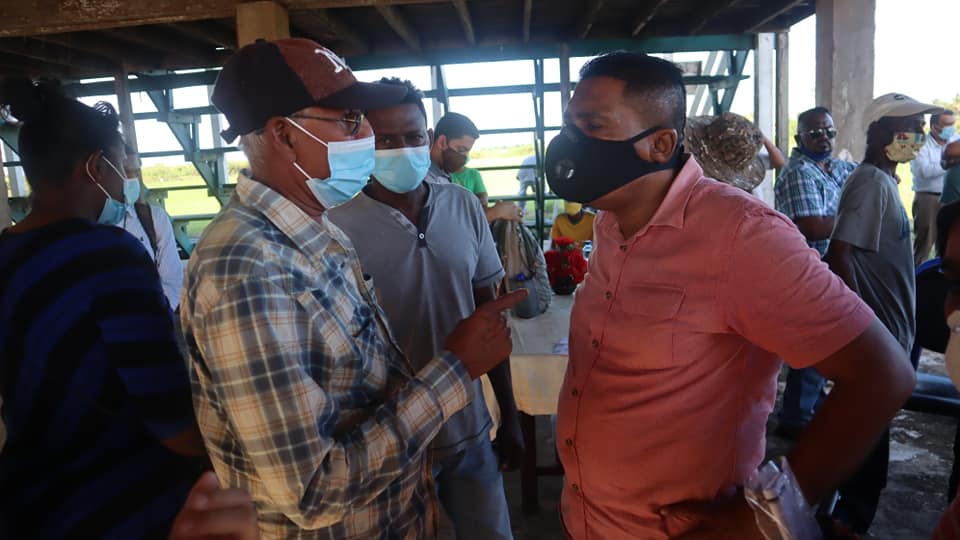 Jairam Rampersaud, a farmer from Leguan said that his farmland and home are constantly flooded due to a defective kokar close to his residence.
"At present, the kokar close to me is in a deplorable state. It is a self-acting kokar and over the years, the water would flow straight to my land and my home is often flooded. I would like for you to make some intervention to help the situation at present. The kokar is falling apart and water is seeping through the entire structure," Mr. Rampersaud said.
After listening to issues raised by several farmers present, Minister Mustapha noted that his Ministry will be working with the Regional Office to develop a work programme to remedy their issues.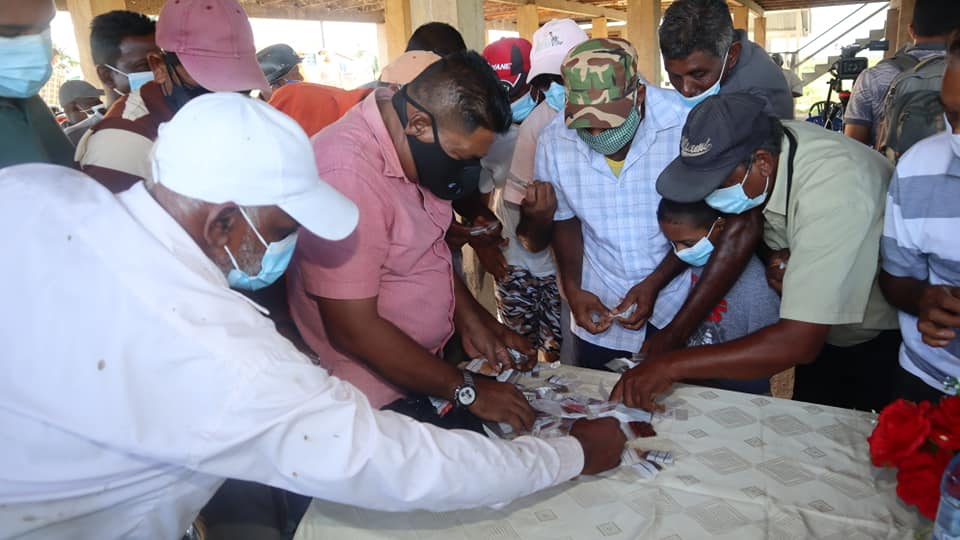 "Since taking office as Minister, there has been one common issue faced by persons in the farming communities across the country. It is clear that the previous administration has failed to provide basic drainage and irrigation services to citizens. There has also been a clear neglect to critical D&I structures across the country and clearly the structures in Leguan were no exception. I had meetings with farmers from Hogg Island and Wakenaam earlier today and they too have similar issues. I've committed to having an engineer go to those communities to carry out a needs assessment that will be factored into a work programme to ascertain what works are needed to ensure residents benefit from proper drainage. You will also benefit from that exercise. We cannot do extensive works now with this emergency budget, but rest assured, we will work to have some of the critical issues resolved. Other major works will be budgeted for in 2021 and other budgets to come," Minister Mustapha said.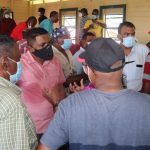 MoA to work with Regional Officials to construct drying floor for rice farmers
Extension officers to assist farmers with coconut cockle
Farmers from the island of Wakenaam will soon benefit from the services of a new excavator to assist with drainage and irrigation works. This was disclosed by Agriculture Minister, Zulfikar Mustapha during a recent outreach to the island, where he met with farmers to listen to their issues.
During the meeting Essequibo Islands-West Demerara Regional Chairman, Ishan Ayube said that there is need for a new excavator on the island to assist with the digging and maintenance of the canals.
"We have an excavator that is 11 years old. It has worked successfully in the past but it has reached a stage where maintenance is becoming a problem, its work hours is a problem and we are getting less rodage because of its age. I'm asking, on behalf of the residents and the farmers of Wakenaam, for a new excavator," Mr. Ayube said.
In responding to the request, Agriculture Minister Zulfikar Mustapha committed to having a new excavator stationed on the island before the end of the year.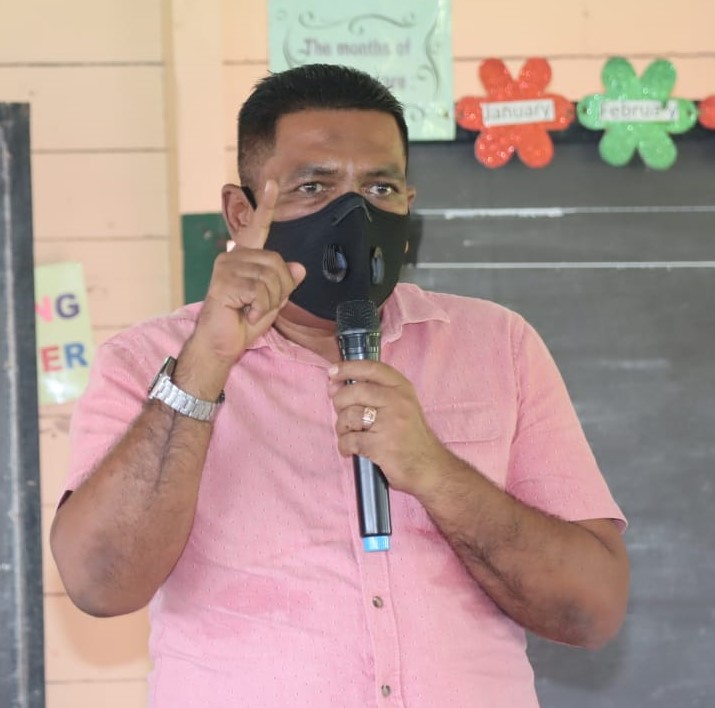 "I know that the excavator you have here is not working effectively. I've just consulted with my technical officers. We'll be purchasing some new excavators and I'll assign one to the island. So before the end of this year, you will have a brand new long boom excavator on the island to help with the digging and clearing of the canals. I've also instructed the NDIA to send a bulldozer to the island to complete all the work before it returns to Georgetown," Minister Mustapha said.
The subject Minister also committed to having his Ministry conduct a needs assessment in order to develop a work programme for works needed on the island.
The Regional Chairman also said that there is need for assistance with their current maintenance programme.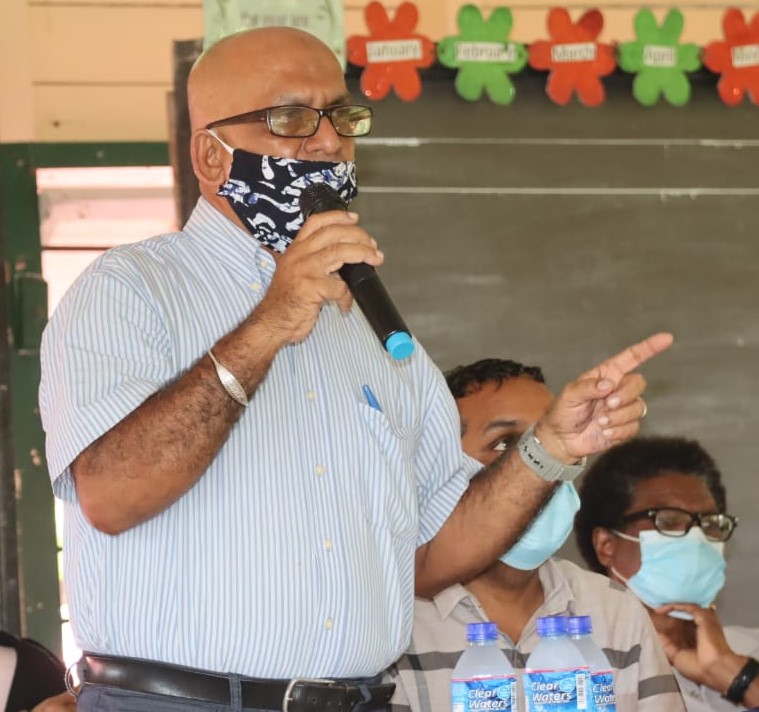 "There were several complains to the NDIA by farmers on the way the programme was kept. Complains that we were doing mainly spraying, weeding and, to some extent, using an excavator. We were written by NDIA last year and in August of this year we were told to only prepare trenches that were done by weeding or excavation. It will cost $3.5 million to do a maintenance programme with only weeding. The NDC cannot afford to do weeding maintenance programme or excavation programme with the current tax valuation and the current NDIA grant. If we were able to continue with the spraying and the other maintenance which was successful to about 90%, one month's maintenance would cost about $1.7 million and we would have been able to manage that," the Chairman said.
However, Minister Mustapha said that the Ministry will not encourage the spraying of chemicals as a means of weed control, noting the negative effects these chemicals have on the eco-system.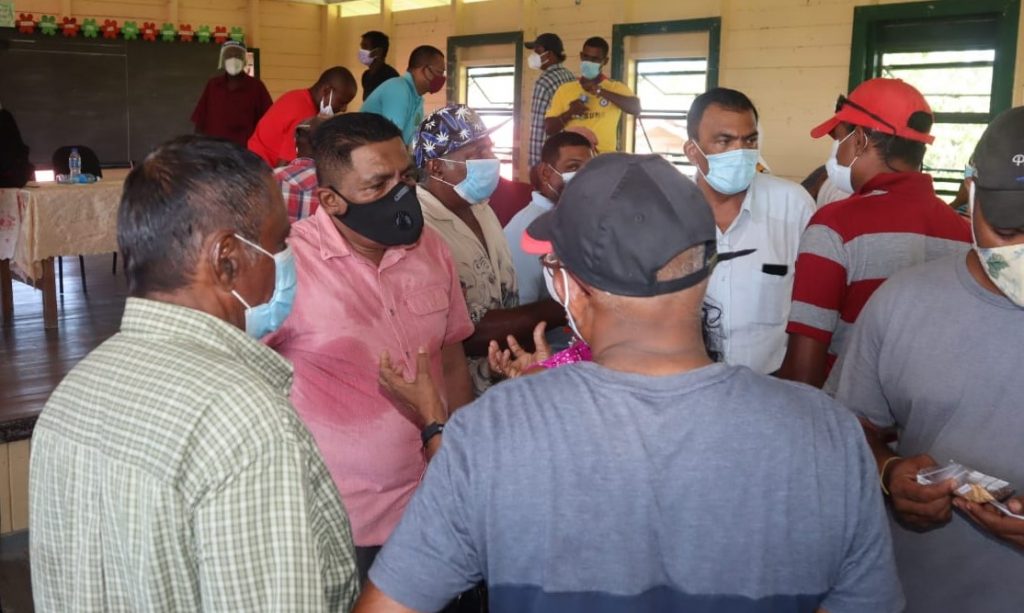 "I will not encourage contractors or persons who are working to clean the canals to spray chemicals as a means of weed control. While you are spraying the surface, the weeds would grow or end up at the bottom, and as the seasons progress, you will find that the canals becoming shallow," Minister Mustapha said.
Joseph Juman, a farmer, said that there is an issue with coconut cockle affecting farmers on the island.
Minister Mustapha informed the farmers that this Government is placing a lot of emphasis on coconut production and as such, will ensure extension officers from NAREI work with farmers to assist with this issue.
"Coconuts have the potential to bring in a large amount of foreign currency for our economy. This multipurpose commodity is now taking the world by storm and we will be putting a lot of effort and emphasis to ensure we develop our coconut industry. Government will be making resources available to increase research in order to strengthen the sector. We will also be constructing two new coconut nurseries so that planting material can be readily available and farmers can have better guidance in order to expand their cultivation. NAREI's extension officers will also be coming to your farms to assist you with the coconut cockle infestation within the coming days. Extension services will also be increased tremendously," Minister Mustapha said.
Requests were also made for a drying floor for paddy to be constructed on the island and additional markets for farmers' crops. Minister Mustapha told the farmers that, if the Region can identify the land, the Ministry, through the Guyana Rice Development Board, will work with officials to construct a drying floor. He also told the farmers that Government is in the process of revamping the mandate of the Guyana Marketing Corporation. This agency, the Minister said, will now be responsible for securing continuous markets for farmers' produce.
Minister Mustapha also took the opportunity to encourage farmers to cultivate value added crops and practice more economical methods of planting like intercropping. Farmers also benefited from the Ministry's seed distribution programme.
Accompanying the Minister on the outreach was Ministry of Agriculture Director General, Madanlall Ramraj and other Heads of Agencies.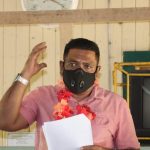 Agri. Minister commits to carrying out needs assessment of works to be done
fertilizers, access to seeds and other planting material to be made more accessible to farmers
Farmers from Hogg Island, Essequibo Islands-West Demerara, will soon benefit from a number of drainage and irrigation works after years of neglect to critical drainage and irrigation structures across the island.
This was disclosed by Agriculture Minister, Zulfikar Mustapha during a recent outreach to the island, where he met with a number of farmers who raised their concerns about the need for urgent rehabilitation work to critical drainage and irrigation structures.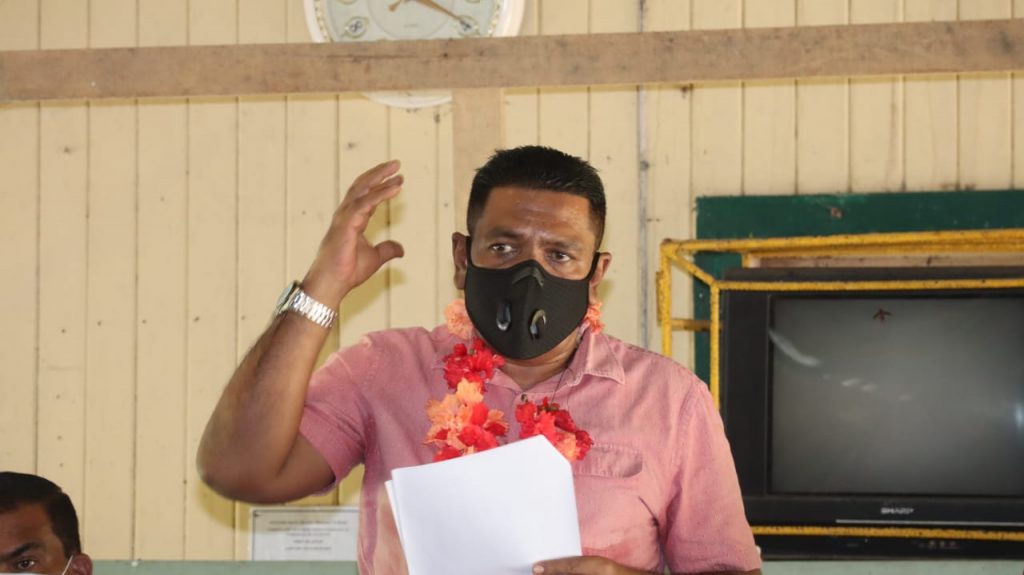 Nazim Mohammed, a Region Three Regional Democratic Councilor, said that there is need for repairs to be carried out on several structures.
"NDIA did a kokar on the western end of the island but we need another kokar because going to the southern part of the island, the kokar cannot take off the water. On the North, we don't have a problem with flooding but when the rain falls heavy it takes a longer time to discharge. We also need a bigger kokar on the western end. Minister, we also have a number kokar doors in need of urgent repairs. We would also be grateful for a speedy rehabilitation of the 11 miles of canal. Six miles have already been completed and we need the additional five miles to be done. On the eastern side of Hogg Island, we need to rehabilitate those canals as well," Mr. Mohammed said.
The Councilor also complained about the exorbitant costs farmers have to pay for seeds and fertilizers on the island.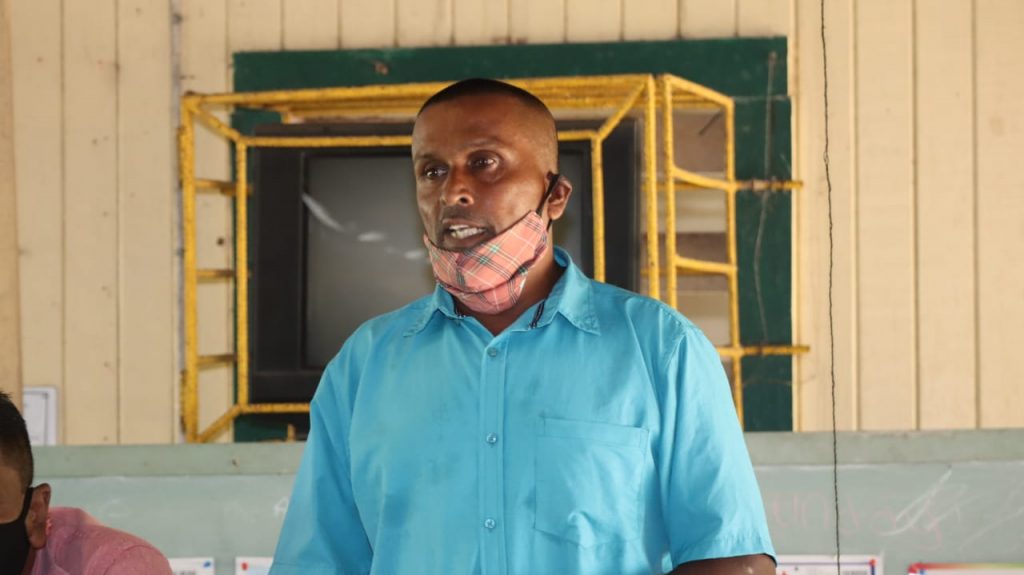 "We know that Government has taken off the VAT from fertilizers and other agriculture inputs but by the time it gets to us, the cost of these fertilizers are still high. We have to pay $200 per bag to bring it down. If you can put some system in place to assist us it will help tremendously. We also need markets and some seeds. We are exporting some watermelon from one part of the island but the cost of the seeds is heavy on the farmers. We are paying as much as $6,400 for a pack of watermelon seeds.," Mr. Mohammed said.
Farmers also said that there is need for an additional machine to assist with desilting the canals and for rehabilitation works to commence on the river defense dam. One farmer added that there is need for surveys to be done so that persons can acquire land leases.
In responding to the issues raised, Minister Mustapha said that his Ministry is prepared to work with residents to have their issues resolved.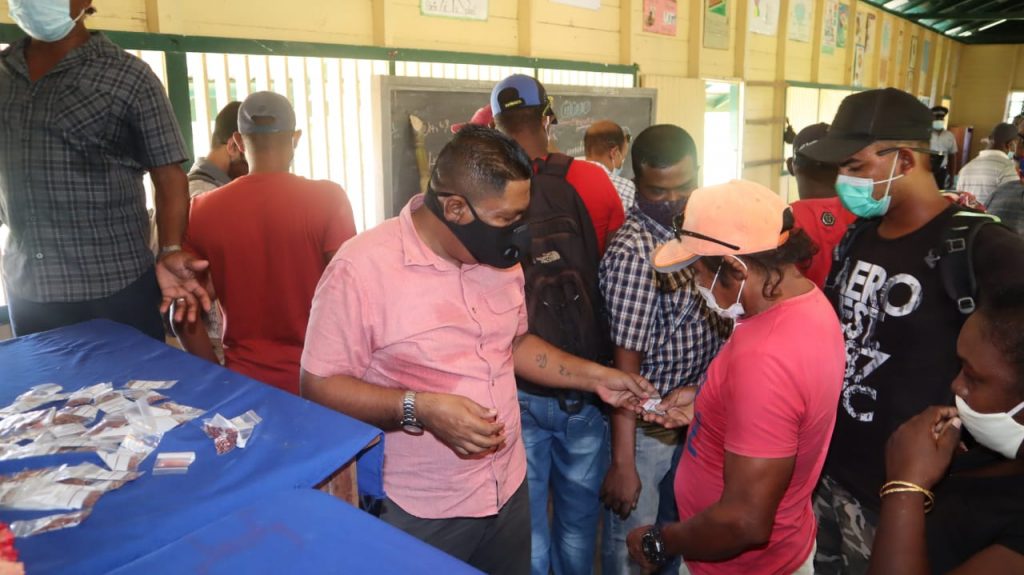 "After listening to all of your issues, I want to assure you that I am committed to working with you to have your issues resolved. I have my officers here from the agencies taking notes so that we can work with you. In relation to your drainage issues, an engineer from NDIA will return to the island to meet with you to carry out a needs assessment and provide me with a report in one week. I know that NDIA has a machine here that needs some amount of repairs. I will ask the engineer send another machine to the island until the works have been completed. We will also work with you to get the machine you have here fixed properly and procure the parts needed to ensure the repairs are done correctly. From there we will be able to execute projects based on their urgency. The comrade raised the issue about land leases. My office will consult with the Guyana Lands and Surveys so that their officers can meet with you to have these issues resolved," Minister Mustapha said.
Minister Mustapha also committed to working with the farmers to set up a system so that they can access seeds and other agriculture inputs like fertilizers on the island at a more affordable cost.
Addressing the issue of markets for farmers' crops, Minister Mustapha informed the farmers that Government is currently in the process of revamping the Guyana Marketing Corporation (GMC).
"We are looking at new markets for our farmers. I am having discussions right now with other agencies within Government and soon the New GMC will be tasked with the responsibility of providing markets for the farmers. When farmers don't have regular markets for their produce, many times their produce is being dumped or it spoils. We will work with the prisons, schools, the army, the police force and the hospitals so that our farmers can benefit from the markets within these governmental agencies," Minister Mustapha said.
Minister Mustapha also said that the Regional Democratic Council will have to play a role in these developmental works. He added that his Ministry will work with Regional Officials to develop a work programme for the Region to determine the order in which projects are done.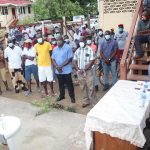 MoA extension to carry out needs assessment
works to commence within a week
Following a meeting earlier today with farmers from Nabaclis, Victoria and Golden Grover on the East Coast of Demerara, Agriculture Minister, Zulfikar Mustapha has committed to ensuring critical works are carried out in the communities.
After listening to concerns raised by a number of farmers at the meeting, Minister Mustapha said that a team from the Ministry will return to the village soon to carry out a needs assessment of works to be done in order to determine the way forward.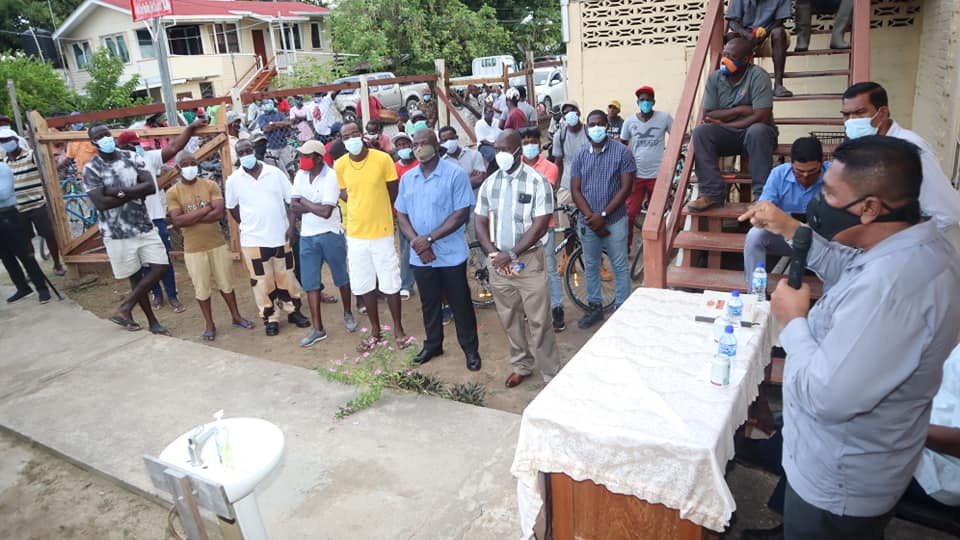 "I've instructed our engineers from NDIA and our extension officers from NAREI, GLDA and GRDB, because I heard someone mention that rice is planted in this area, to conduct a needs assessment in the backdams and other parts of the communities so that we can develop a programme to start works in the areas. A team will be here tomorrow at 4 pm to meet with you and they will provide me with a report of what is needed and so that I can put systems in place to have these issues addressed. When these works are complete, I will come to do a follow up visit so that we can work to ensure developmental works continue," Minister Mustapha said.
Godfrey Simpson, a farmer form Nabaclis, said that farmers are in great need of planting material to expand their production.
"We need some seeds to plant and plants that we can put in our farms. We also need a market so that our produce can be sold. We don't want to have these perishables put down to spoil," Mr. Simpson said.
Offering a response to Mr. Simpson's concerns, Minister Mustapha said that since taking office, he has recommenced the seed distribution programme and that farmers will be given seeds after the meeting. The Minister also informed the gathering that Government is in the process of revamping the operations of the New Guyana Marketing Corporation in order to cater to the marketing needs of farmers.
Kenrick Wickham, Chairman of the Nabaclis Water Users Association said that there is need for a portable pump and subventions for fuel to assist with farming activities in the village.
"We have a farming area that was developed through the intervention of the NDIA but we are having excess water when it rains because we cannot drain the water into the sideline because it is always high. We need a portable pump so that whenever the sideline is high, we can still discharge water. We are also asking for a supplement to the Association with a 45 gallon drum of diesel every month to assist with our tractor. The dams need slashing so we are asking for the supplement to slash and maintain the dams," Mr. Wickam said.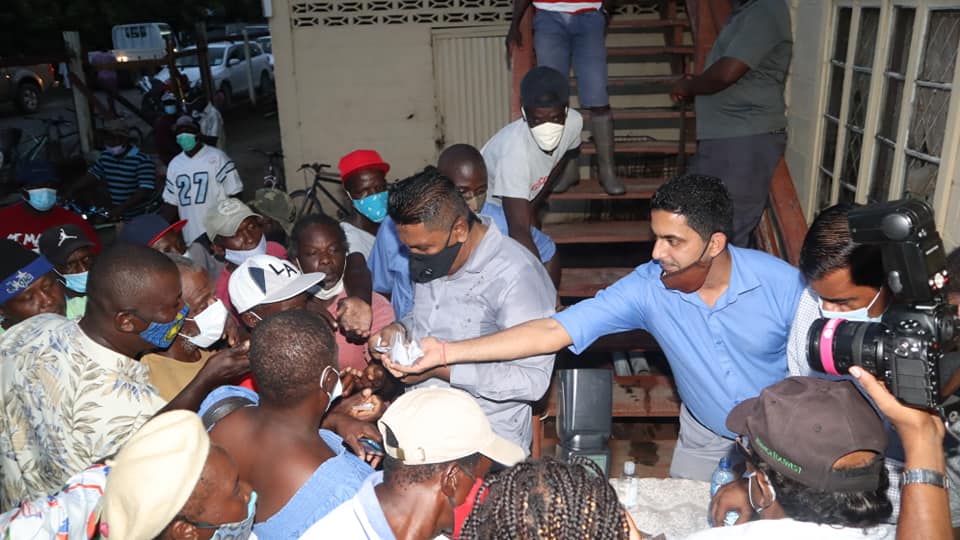 Minister informed him that with the increase in the subvention Government is giving to the Water Users Association, that body will be able to assist with the supply of fuel for the machine. He further stated that, within a week, the Ministry will be setting up a committee comprising of representatives from the Ministry and three persons from each village to develop a work programme to carry out works in the villages.
During the meeting, most of the farmers expressed the need for urgent drainage works in the backlands. It was reported that there needs to be some amount of repairs to the Crown Dam kokar. One farmer said that even when the kokar doors are closed there are still breeched and water seeps into the lands
Minister Mustapha informed the farmers that while he is committed to undertaking critical works in the farmlands, major works cannot be completed with the emergency budget. Minister further stated that major works will be budgeted for in the 2021 and other subsequent budgets.
"Some of the urgent works will be undertaken this year. After the needs assessment is completed, I am hoping that within a week the NDIA can have a machine in here to commence clearing of some of these drainage canals. The major works that require large amounts of funds, we will be putting into the next budget. Things like farm to market access roads, dams and projects of that nature we will do next year," Minister Mustapha said.
Minister also informed the farmers that the Ministry's focus is to make Guyana food secure and to increase production in order to tap into other Regional markets.
"We are now focused on ensuring Guyana remains food secure. That means we have to develop all the farming areas. We have to revive areas that were once known for their great productive capacities. Farmers are talking about the backdams and we will clear these areas for farmers to plant," Minister Mustapha said.
The subject Minister also committed to increasing the extension services within these villages, adding that the agencies have to be more responsive to the needs of the farmers.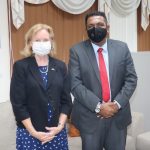 Several areas for collaborations discussed
Earlier today, United States Ambassador to Guyana, Sarah-Ann Lynch paid a courtesy call to Agriculture Minister Zulfikar Mustapha at his Regent Street office.
During the meeting, the two discussed a number of areas for collaboration within the agriculture sector.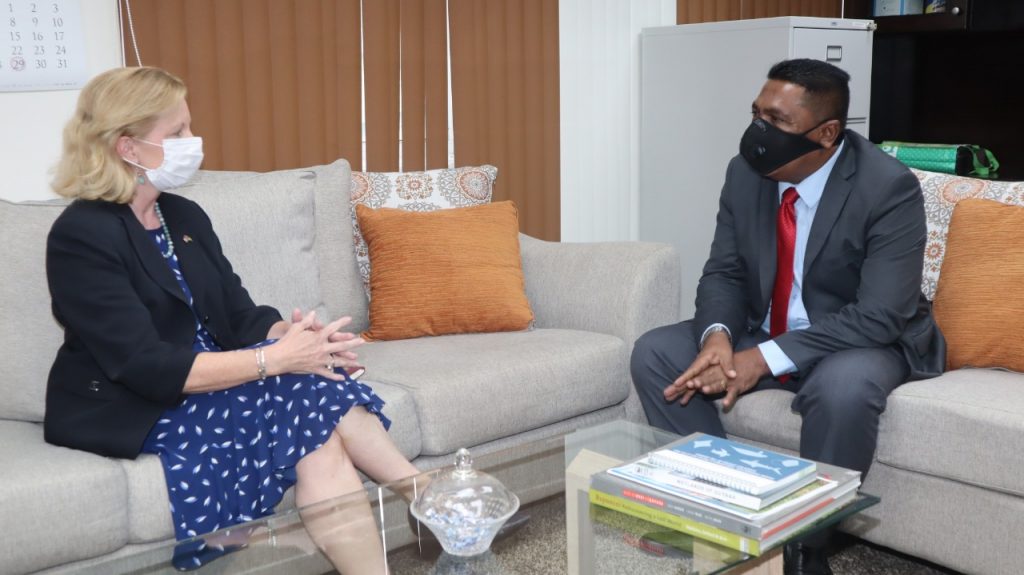 Minister Mustapha told Ambassador Lynch that, since taking office, there has been a renewed interest in the agriculture sector across the country.
"With oil and gas coming on stream, there was a view that there would be a migration of labor to that sector and that agriculture would suffer. People are once again becoming excited about agriculture, especially with the many outreaches to several farming communities and the quick results we are delivering to issues they have been experiencing for years. Even with some of the programmes that we have restarted, theres a renewed hope that the agriculture sector can play an important role in Guyana's economy. We've also reversed all the harsh measures implemented by the previous Government. With farmers having these incentives, they are being encouraged to return to the fields," Minister Mustapha said.
Minister also discussed Government's plans for the livestock and other sectors.
"We are working with farmers to make better breeding animals available. We've also increased our extension services and extended our Black Giant poultry programme to other Regions. We are also looking to extend our artificial insemination services. In the other crops sector, we are now promoting smart agriculture. In this 2020 emergency budget, we've allocated $15.8 million to purchase shadehouse materials that will be sold to farmers at a cost price. The funds from this initiative will be placed in a revolving fund so that materials will always be available. I've also restarted seed and Acoushi ant bait distribution programme in all the farming communities," Minister Mustapha said.
Ambassador Lynch said that countries getting involved in the oil and gas sector must work to sustain and develop their other industries.
"Its very important to maintain the diversity of the economy. Oil and gas is great but it is somewhat temporary so it is important for Government to focus on these other sectors," Ambassador Lynch said.
Meeting International standards
In responding to queries about the Ministry's efforts to satisfy international standards, Minister Mustapha said that focus will be placed on improving the existing facilities as well as strengthening existing policies in that regard.
"We will be injecting a lot of resources to ensure our current packaging facilities satisfy international best practices and standards. I hope that your Government will be willing to guide us as we work to develop policies, especially in areas where we are lacking, so that we can have markets in the US for other products. We are also working closely with US officials to see how soon we can have the ban on catfish lifted," Minister Mustapha said.
In addressing the current status of the ban on catfish imports to the US, Ambassador Lynch said that the US Mission in Guyana is working with Guyanese authorities on a way forward as it relates to having the ban lifted.
"We know that it is an area that is very important to all of you and we are looking into it. The Food and Drug Administration in Guyana has to produce a self-survey tool and we can't do anything until that's produced. In addition, theres a pretty intense lobby in the US relating to catfish and protecting the US fishermen as well. In fact, next week we have a phone (conference) call with USDA, USTR and your folks here to go over some of the technical issues and some of the things that you will encounter going forward. A couple of years ago we drew the line on importing catfish and Guyana didn't object to that. Back then, I know it was a different administration. We are doing our best and we will continue to work with your technical persons," Ambassador Lynch said.
Areas for technological transfer and training to advance the sector were also discussed. Minister Mustapha said technology will play a big part in the way agriculture is done in Guyana going forward, however, technology will not replace human capital.
"We have to use technology but we cannot allow it to take over the workers' roles. We are working to mechanize and modernize the sector, but at the same time, we have to take people into consideration. We cannot displace people or put them on the breadline. We have to ensure when we develop any of the industries in Guyana we take into consideration how the people will be affected. This Government sees our human capital as one of our greatest resources. People are also buying into technological advances so there will be a balance in how Government integrates technology into the sectors that depend heavily on human capital," Minister Mustapha said.
In addition to training and capacity building, Minister Mustapha also said that the Ministry hopes to collaborate with the US Government to develop programmes to assist community farming groups across the country.
"I would also like to work with you to develop programmes to assist community farming groups across the country with skills training, technological integration in their operations, as well as providing key farming equipment to these groups. We have a lot of small farming groups with potential to produce huge amounts of produce but they need assistance with infrastructure and other farming equipment and tools. While Government is committed to working with all of these groups, resources are limited and I would like to see a project being birthed so that we can assist these farmers," Minister Mustapha said.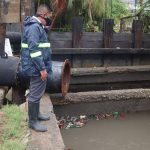 Indian nationals to commence instillation of pumps tomorrow
pandemic resulted in delay of upgrading to Drainage system
With several areas in Georgetown experiencing flooding due to high instances of rainfall over the last 48 hours, the National Drainage and Irrigation Authority (NDIA) has intensified its operations to ensure flood waters recede within the shortest possible time.
Earlier today, Agriculture Minister, Zulfikar Mustapha visited several of the city's drainage structures to assess their operations to reduce flooding in the capital city.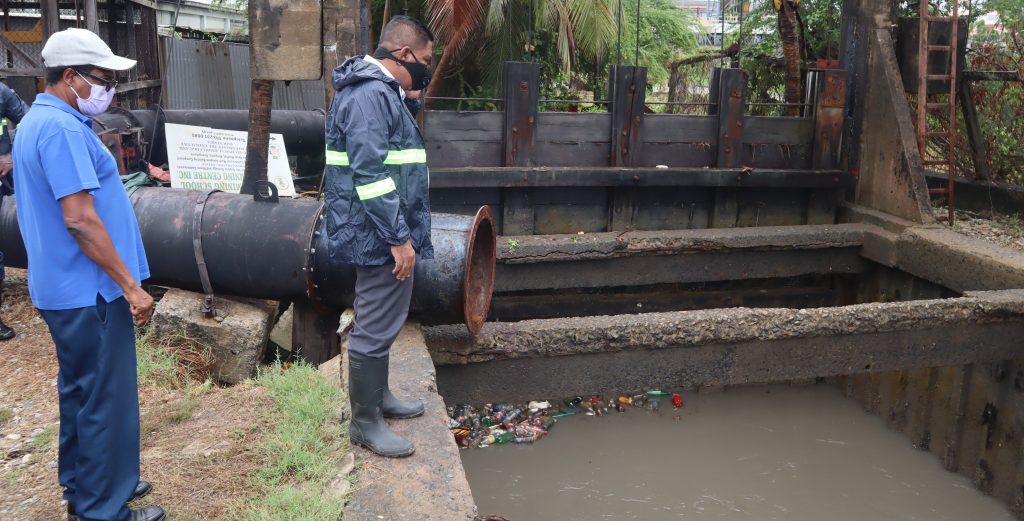 While offering comments on the current state of affairs, Minister Mustapha said that most of the structures are operable and that systems are being put in place to reduce flooding in the city soon.
"Our engineers have been working around the clock to ensure these pump stations are functioning effectively. We know for a fact that the entire Coast is below sea level and with climate change contributing to higher water levels and unpredictable weather conditions, the Coastal Regions have become even more vulnerable. Our current drainage system is only capable of draining just about 2 to 2.5 inches of water within a 24hr period. Given the fact that Georgetown experienced almost 5 inches of rainfall, you can understand the amount of pressure it placed on the drainage system," Minister Mustapha said.
Minister Mustapha further stated that the Ministry is putting a number of other systems in place to assist with the flooding. He also signaled a call to residents to desist from dumping garbage in the waterways.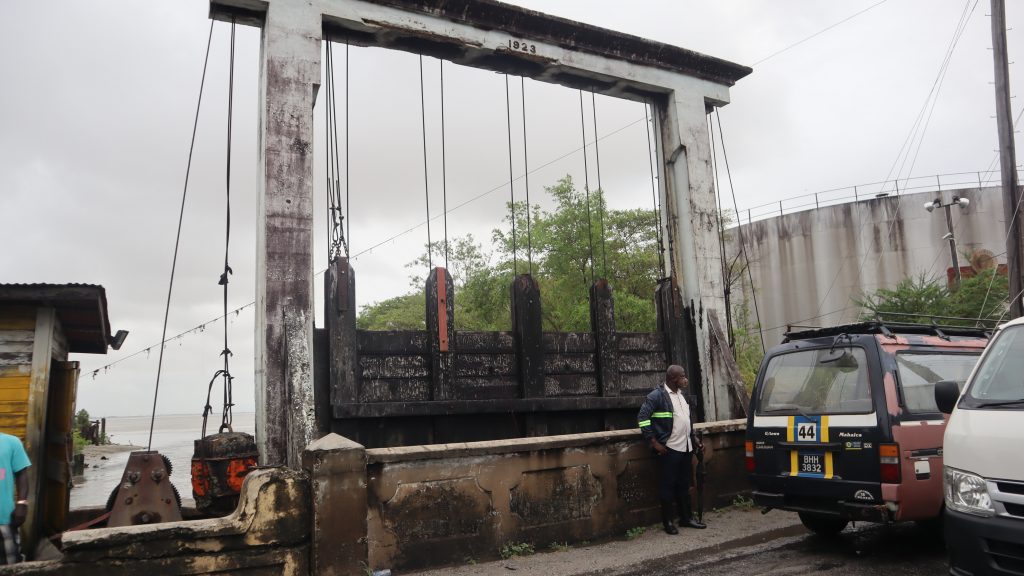 "In addition to having our fixed pumps working, we have placed a number of mobile pumps at specific areas that need additional drainage. We are also desilting the main drainage canals in these communities. I am pleading with residents to desist from littering. We spend a lot of money to install these structures and often times they are damaged when garbage gets into the pipes and other parts of the structures. We need to develop a partnership. Government will play its part but we need the citizens to play their part and be more responsible with their garbage disposal," Minister Mustapha said.
The Hydromet Department reported that, as at 08:00 hours this morning, Georgetown recorded the highest level of rainfall in the country, with approximately 120.3mm of rain within the last 24 hours.
Further, Minister Mustapha called on the Georgetown Mayor and City Council (GMCC) to be more proactive and responsive in addressing the issues of several deplorable drainage structures in the city.
"Most of the pumps around the city were left in a deplorable state and non-functional for a number of years. The Council collects billions of dollars in taxes annually and yet they continue to fail the people of Georgetown with their inability to provide basic services such as the cleaning of drains and other waterways. I'm calling on the GMCC to take maintaining these drains and structures seriously. For instance, when we were in Opposition, we spoke about the state of the of the drains on Sheriff Street. These drains are in desperate need of clearing and that has also contributed to the flooding in areas like Bel Air Park and its environs," Minister Mustapha said.
Additional Pumps to be installed
Following the visits, Minister Mustapha met with a team of engineers from India, who are here to install nine new pumps in flood prone areas along the Coast. The team indicated that it will take a minimum of two weeks to install each pump, and instillation will occur concurrently with other stations.
The pumps will be placed at strategic areas in Den Amstel, Hope, Mora Point, Rose Hall. Pumps will also be placed at Princess Street, Sussex Street and Cowan Street in Georgetown.
During the meeting, Minister Mustapha stressed the urgency of having the pumps in place.
"We need these pumps installed urgently. You see the current weather conditions and how the rains and flooding affect the daily operations of our citizens. We are depending on you to work swiftly
Minister Mustapha pointed out that NDIA was working to have the installed ahead of this year's rainy season, but given the travel and other restrictions enforced due to COVID-19, there was a delay in the arrival of the team from India.
The team is expected to commence instillation of the pumps on Thursday.
Update on flooding in Georgetown
As at 16:00hrs today, flood waters in parts of South Georgetown, Bel Air, Alberttown Queenstown, Avenue of the Republic, Bourda, and Kitty/Campbellville have started to receded to some extent. NDIA engineers have reported that within the next 24 to 48 hours all areas should be completely drained if there are no further instances of heavy rainfall.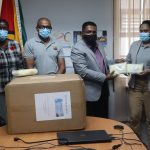 Earlier today, representatives from N&S Algoo Licensed Customs Brokerage Services Inc. visited Agriculture Minister, Zulfikar Mustapha at his Regent Street office and donated 21,000 face masks to be used in the agriculture sector as part of their COVID-19 assistance initiative.
Minister Mustapha, while thanking the team from the donation, said that the masks will be distributed during outreaches to farmers and other stakeholders in the various farming communities across the country. He also said that the masks will assist Government in their fight against the dreaded COVID-19 while executing its functions.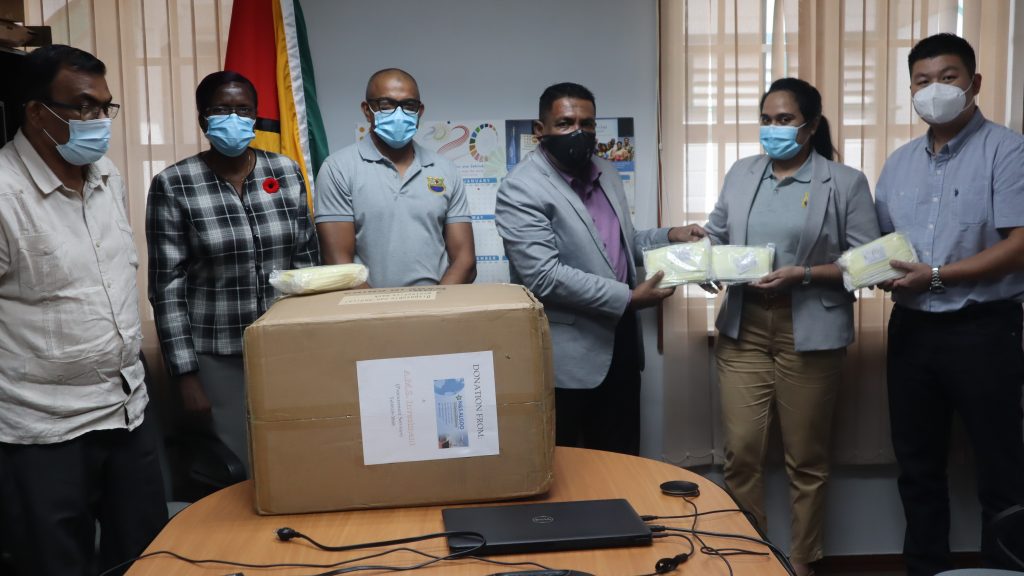 "The productive sectors have suffered due to the restrictions placed on the economy as a result of the Coronavirus pandemic. Government is working to put systems in place to keep persons safe while getting the economy up and running again. We have to get the work done but, as a Government, we take the health and safety of the citizens of this country very seriously. These masks will help our farmers to stay safe," Minister Mustapha said.
The company's Finance Director, Sabrina Algoo said that donations were made to the Ministry of Health to assist with their COVID-19 Relief school packages. Ms. Algoo urged Guyanese to take the necessary precautions to help in the fight against COVID-19. She added that wearing a mask is protecting yourself and your loved ones from contracting the virus.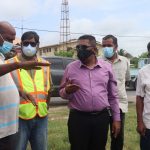 Mobile pumps deployed to flooded affected areas along the Coast
Agri. Minister urges farmers to desist from littering
With Guyana transitioning into the secondary or short rainy season which typically lasts from mid- November to January, the National Drainage and Irrigation Authority (NDIA) is in the process of intensifying its drainage capabilities in low-lying and other areas prone to flooding.
On Monday last, several areas along the Coast experiences instances of flooding due to heavy rainfall. This resulted in an accumulation of about four inches of water in many areas. NDIA has since put systems in place and flood waters have receded significantly in most of the affected communities.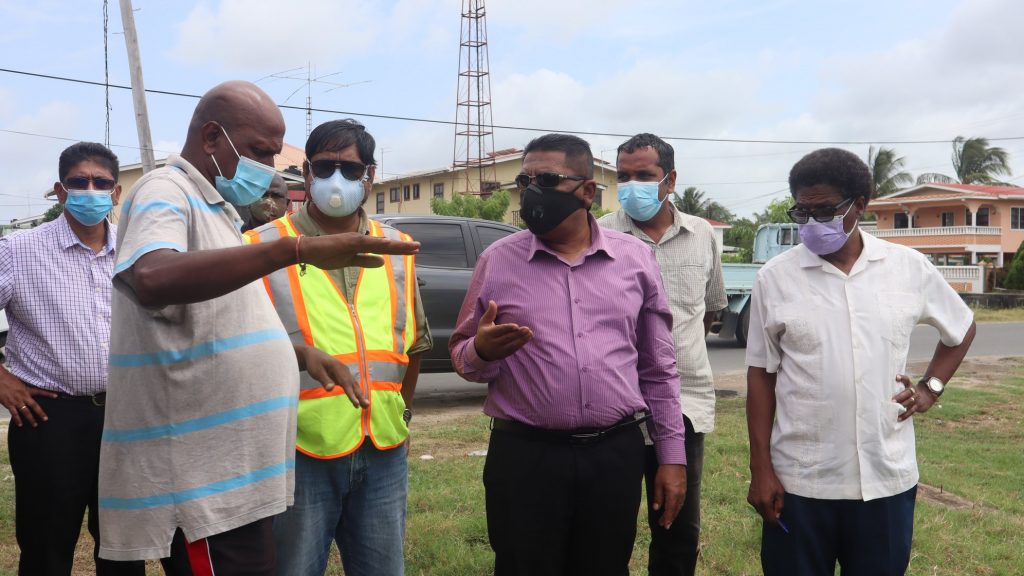 During a visit to several flood affected communities along the East Coast of Demerara, Agriculture Minister, Zulfikar Mustapha said that the NDIA will be carrying out a number of drainage works in several residential and farming communities along the Coast.
"Over the past 24 hours or so, we've experienced almost four inches of rainfall that resulted in some areas being flooded. Because of the high intensity of rainfall, our drainage systems were unable to drain that amount water immediately. As a result of that, we've seen water accumulating in Success, La Bonne Intention, Triumph, Mon Repos and other low-lying areas. Also, some of the pumps at Triumph were not functional. NDIA was able to deploy additional mobile pumps to assist with draining the lands. There are three pumps at Montrose currently, two fixed and one mobile, with a second mobile pump expected to be deployed to the area no later than Wednesday afternoon. We've also activated another mobile pump at Triumph. The pumps at Good Hope have been operating around the clock for the past 24 hours," Minister Mustapha said.
Minister Mustapha further stated that, as a result of these interventions, flood waters have receded from the homes of those who were affected.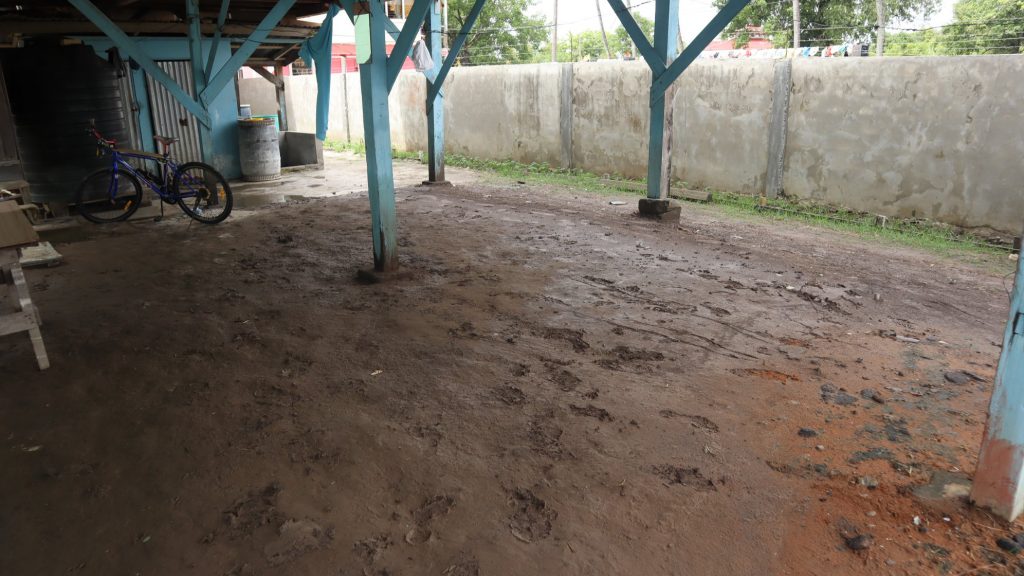 "I was able to visit several of the affected areas and most of the lands seem to be dry. However, I've noticed that there are still high levels of water in the drains and we are working to have those levels dropped so that we can prevent instances of flooding during the current rainy season. I've also instructed NDIA to do some emergency works to have the main drainage canals in the areas cleared. A machine will be sent sometime during the week to clear these canals," Minister Mustapha said.
Mahendra Nagan, a resident of Mon Repos, said that flood waters were in his yard but have since receded. He also asked for assistance with having the drains cleared.
Minister Mustapha also urged residents of these communities to desist from littering, as this contributes to instances of flooding.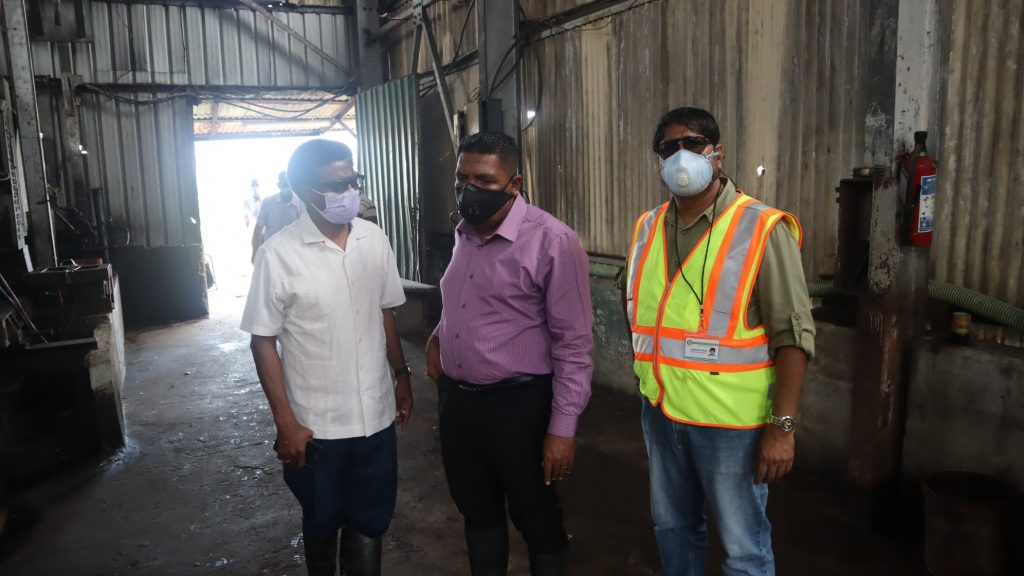 "I am pleading with residents to desist from throwing garbage in these drainage canals. Last light at Good Hope, the engineers cleared a lot of garbage from the canal that was blocking the flow of water that contributed to flooding in the area. The residents have to help us in these efforts. We are putting the systems in place and we need the corporation of the residents to ensure the systems function effectively. Residents have to ensure that they don't dump garbage in the system, they don't tamper with the structures or construct structures that will impede the flow of water," Minister Mustapha said.
Residents in Rosignol, Region Five also suffered from flooding due to the heavy rainfall. As a result, NDIA carried out a number of emergency works to clear the outfall channel and the Bennet sluice, which resulted in flood waters receding in the Blairmont/Rose Hall area.