– status of EOI and PPP for sugar industry also discussed
– delegation from Coconut Board of India expected to visit Guyana
His Excellency, President Dr. Irfaan Ali recently announced that government is in the process of formulating an aquaculture masterplan which will form part of the country's agriculture diversification programme.
The Head of State also stated that his government is placing all emphasis on sustainability in the industry, and that the move to aquaculture will cushion some of the challenges being experienced due to climate change. Additionally, President Ali maintained that Guyana must join the bandwagon in transforming the sector.
During a recent meeting with Indian High Commissioner to Guyana, Dr. K. J. Srinivasa, Agriculture Minister, Zulfikar Mustapha discussed areas for collaboration to develop the sector in keeping with government's plans to positively transform the sector.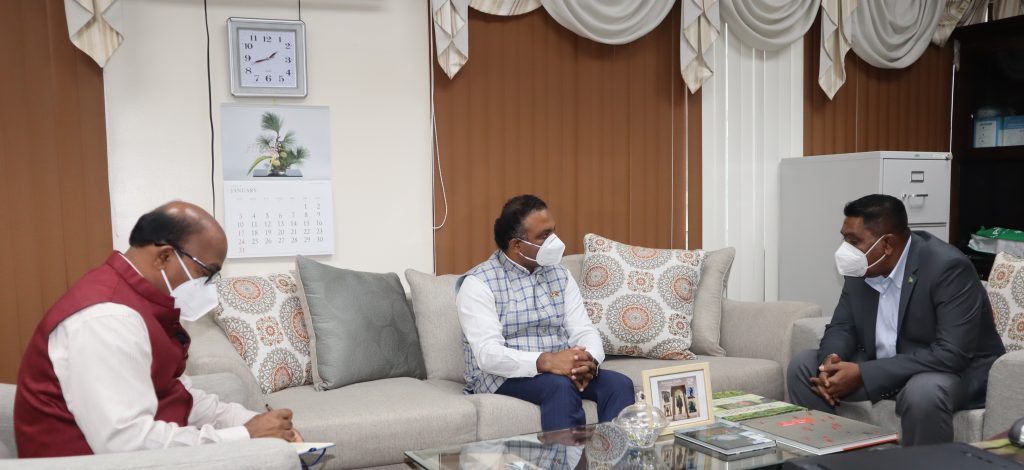 "The President recently announced government's plan to develop an aquaculture 'masterplan', which we will launch soon. We'll have an aquaculture conference, bringing the aquaculture farmers together in an organized manner while concentrating our resources to ensure we develop the aquaculture sector in Guyana. There are a lot of people in the diaspora who've expressed interest in coming to invest in aquaculture. We are currently looking at lands and other things to be able to properly develop this masterplan," Minister Mustapha said.
Minister Mustapha requested the assistance of the High Commissioner with having specialists in aquaculture development come to Guyana to work with officials in the sector to build capacity and give technical support.
The subject Minister also referenced Kerala, a state on India's tropical Malabar Coast, where the aquaculture sector thrives as the state is well known for its large numbers of estuaries and backwaters.
It is said that estuaries are known to provide a suitable ecosystem for plant and animal species to thrive as the calm waters provide a safe area for small fish, shellfish, migrating birds and shore animals. The waters are said to be rich in nutrients such as plankton and bacteria which provide food for many species which make up the booming aquaculture sector.
The Sugar Industry
During the meeting, Minister Mustapha stated that the Guyana Sugar Corporation (GuySuCo) is currently executing critical rehabilitation works to its operating estates.
"What we are doing right now is looking at critical works that we have to do in these operating estates. A lot of funds will be expended to ensure that we bring the estates to a standard where they can operate better than they are now. As it stands now, these three estates that are operating right now, are operating at just between 50% to 60% capacity. We have to build them up because over the last five years there hasn't been any critical capital works done on them. During this out of crop period, there are a lot of works being done on the factories. The boilers are being looked at, the chains are being looked at, we are also looking to put in a new punt dump at Albion, among other things, so that we can have more efficiency," Minister Mustapha said.
Minister Mustapha also sought an update on government's request for the assistance of the High Commissioner to facilitate bringing specialists to Guyana to assist with this process.
While responding to that request, H.E. Srinivasa said that steps have already been taken to facilitate the request.
"That request is already in the advance stage of decision making. Because of this COVID situation we've had some setbacks. Everybody is working in silos. Once the pandemic has somewhat stabilized, we'll be able to advance with these plans. I'm keenly following up with it," H.E. Srinivasa said.
Minister Mustapha also gave the High Commissioner an update on the Expression of Interests by the Indian companies looking to partner with government to revitalize the sugar industry.
"We are working on reopening, as it stands now, in a phased stage with Rose Hall being first. There has also been a lot of Expression Of Interest (EOI) in Skeldon. We are looking at all the Expressions and we'll make a decision shortly. We'll have interviews and things like that. We are going all out to reopen Rose Hall so by the first crop of 2022, hopefully we can produce sugar. We'll also be ensuring that we concentrate on the three operating estates to bring them back on par and back to capacity," Minister Mustapha said
Minister Mustapha further states that the revitalization of the Skeldon Estate, most likely, will be done through a Public/Private Partnership investments with companies overseas. He added that the GuySuCo Board is currently developing a business plan that will soon be presented to himself, His Excellency, President Dr. Irfaan Ali, Vice President, Dr. Bharrat Jagdeo and the Minister with responsibility for Finance, Dr. Ashni Singh.
Developing the Coconut Industry
The two officials also discussed plans for collaborations to develop Guyana's coconut Industry. H.E. Srinivasa said that his mission had organized a visit for a delegation from the Coconut Board of India to come to Guyana in 2020 but due to the pandemic, that trip was postponed until further notice. He said once things normalize, the delegation will travel to Guyana to assist Government with its efforts to develop the industry.
In 2020, the Ministry established two new coconut nurseries in an effort to decentralize the supply of quality planting material. This year, the Ministry hopes to establish an additional seven coconut nurseries across the country.