Ministry looking to develop Public/Private partnership with to develop sector
In an effort to ensure farmers receive value for their money when purchasing fertilizers, chemicals and other agriculture inputs, Agriculture Minister, Zulfikar Mustapha is sounding a call to importers to ensure they supply quality products.
Earlier today, Minister Mustapha met with officials from Caribbean Chemicals Guyana Limited, to discuss a number of important issues.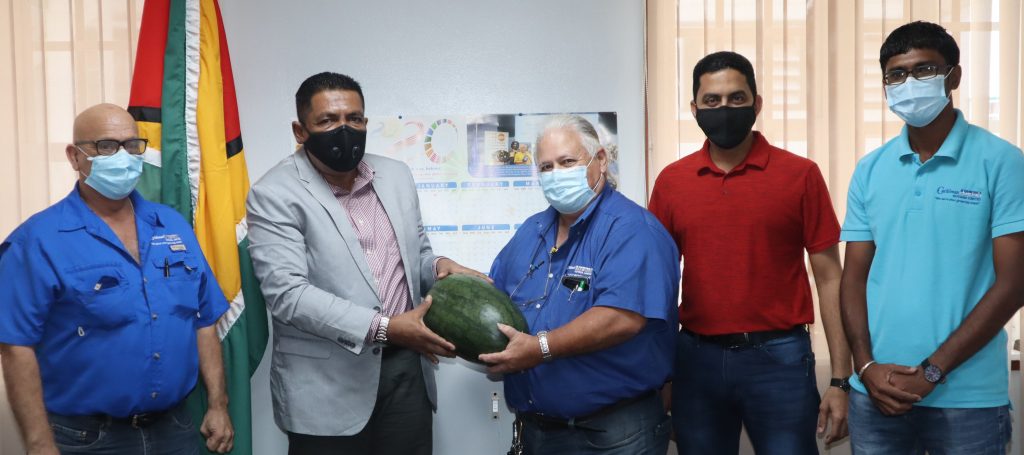 During the meeting, Minister raised the issue of poor quality of chemicals and fertilizers currently on the market.
"When I was in Essequibo a few weeks ago, farmers raised the issue of inferior fertilizers and chemicals. This was not an isolated incident. Other farmers have complained about the quality of chemicals coming into Guyana. I raised the issue with official from the Guyana Bureau of Standards (GBS) and asked that they improve their monitoring and evaluation systems when testing these products. Now that we are officially meeting since I've take up the portfolio as Minister of Agriculture, I think it's a good opportunity for us to discuss it," Minister Mustapha said.
Caribbean Chemicals Managing Director, Victor Pires, told Minister that his products go through a series of testing and that they come with a certificate of analysis.
"By law, these chemicals are supposed to be coming with a certificate of analysis and our products have all the necessary paper work to certify their quality. What I can say Minister, is that over the past few years, we've seen an increase in the number of fertilizers and other chemicals on the market without any form of traceability. The problem is that we have too many 'fly by night' operations and this has resulted in a lot of inferior products flooding the market," Mr. Pires said.
Minister Mustapha said that Government is working to enforce systems against smuggling of chemicals and other inputs. He also said that when the new Board of Directors is in place at the Pesticide and Toxic Chemicals Control Board (PTCCB), there will be a lot more work done as it relates to monitoring these products.
With the National Agriculture Research and Extension Institute (NAREI) preparing to launch their Smart Agriculture Initiative, Minister Mustapha said that the Ministry will be engaging private sector during the procurement process.
"We've budgeted just about $18 million to purchase shadehouse materials that will be sold to farmers at a cost price. We have already advertised for persons to submit proposals to supply these materials. The tenders are currently being reviewed at the National Procurement and Tender Administration Board (NPTAB)," Minister Mustapha said.
Mr. Martin Brock informed the Minister that the company has expanded their range of services in order to cater to the needs of their clients.
"With the Government's support for the advancement of the agriculture sector in short a short period, we've decided to extend our product line. We are no longer only dealing with supplying agro-chemicals. We have moved into equipment supplies and we are now looking to get involved in drip irrigation. As you would know, drip irrigation is not something that is generally practiced. Farmers usually use a sprinkler system but with climate change and the shift towards things like shade houses, we are now seeing a movement towards things like drip irrigation and all the other things that come along with it," Mr. Martin said.
Mr. Pires also took the opportunity to speak about working with farmers to tap into new markets by cultivating different varieties of fruits and vegetables.
"I've been following your engagements wih farmers and I like that you've been encouraging them to expand their cultivation with new commodities in order to tap into new markets. I think corporate businesses can also play a role in this. I brought a few samples of the yellow watermelon here for you. It is a new variety that is sweeter. We don't want to limit our farmers to one variety. The common pink or red variety can be used to supply the wider market while this variety can be used to target a specialized market both locally and regionally," Mr. Pires said.
Minister told the team that his Ministry has a lot of progressive plans on stream that will be rolled out over the next five years, and that private sector will be able to play a part in the development.
"We have a lot of people who have indicated their interest to invest in agriculture so Government will be giving the kind of support to ensure there are no unnecessary systems in place to discourage investments. Over the last five years there were a lot of missed opportunities because previous administration implemented a lot of unfavorable systems that caused investors to back out from projects that would've benefited our farmers. Now that we are back in Government and we understand the importance of investments as a developing nation, we will make it easier for persons to come and invest. My aim is to facilitate production and job creation within the sector," Minister Mustapha said.