Agri. Minister pledges support for farming groups
Critical drainage works to commence shortly
Farmers and residents from Belladrum, Mahaica-Berbice will soon benefit from a number of developmental initiatives, as Government works to implement critical programmes targeting all classes of Guyanese.
During a follow up visit by His Excellency, President Irfan Ali to the community, Agriculture Minister, Zulfikar Mustapha met with a number of residents and farmers to listen to some of their concerns. The most prominent issue was that of a lack of proper drainage and irrigation.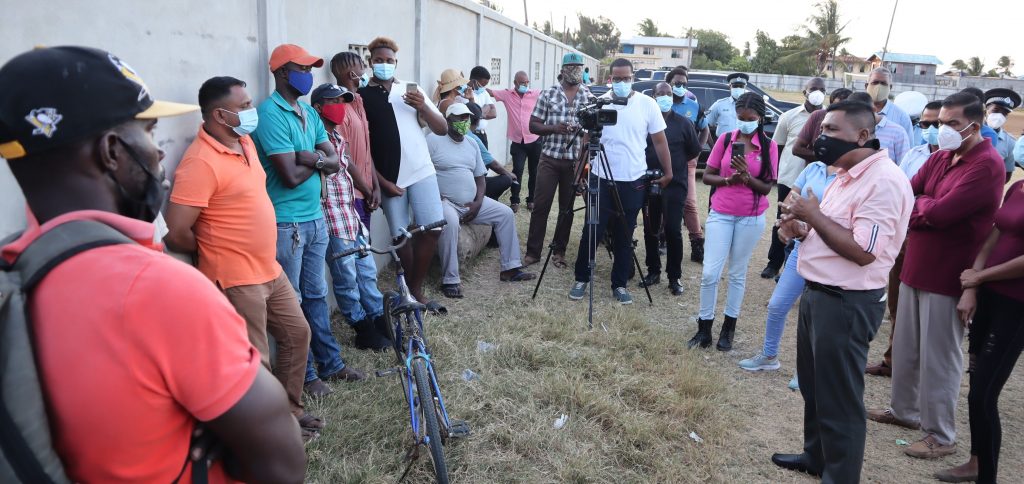 Trevor MacDonald, a resident of the Belladrum area said that for a number of years, the small internal drains in the community have been stagnant, and that it has become a health threat to the residents.
"We are having some water lodging that has now become stagnant. The drains need to be cleared. Right now there is a big back up of water and we are asking if something can be done urgently. If you can dig the drain and maybe, put a pipe leading out to the main canal so that the water can flow, it will bring instant relief to this issue. There are a lot of small children playing there and if you pass through there now you will see how green the water is, the smell and the amount of flies around those drains. Please, we are pleading with you to do something. We've been suffering for too long," Mr. MacDonald said.
Minister Mustapha informed the residents that he has instructed officials from the National Drainage and Irrigation Authority (NDIA) to have their Regional engineer work with the Neighborhood Democratic Council (NDC) to do an assessment of the drainage works that need to be carried out in the village.
"I've asked them to have the assessment completed within a week and I will send a machine to have the drains cleared," Minister added.
Resident of Plantation/Foulis also took the opportunity to highlight some of the issues affecting them. Sivraj Bachah, a cattle farmer from the Plantation/Foulis area informed said that the farmers, themselves are tasked with digging and maintaining the drains in their area. He also said that there needs to be better security in the villages.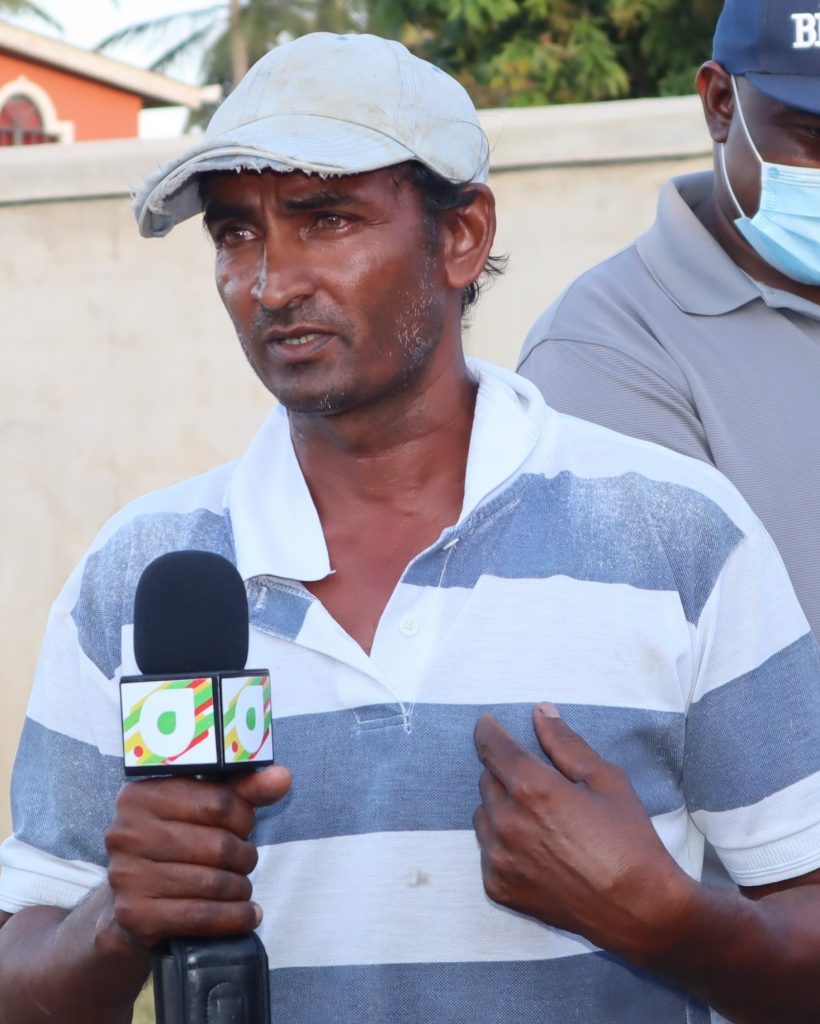 "I am one of the farmers who suffer from the lack of proper drainage here. When we dig it we still have to maintain it. Another issue is that of the need for street lights. We need some street lights. People are robbing and thieving in the village. There is also a lot of coconut and cattle thieving and I believe if we have the street lights and more police patrols, we wouldn't have these issues. We never had anyone to help us or to listen to our plight, so Minister I am happy that you are here today to restore hope," Mr. Bachah said.
In responding to the issues raised, Minister Mustapha said that he will engage his colleague Ministers so that some street lights can be installed in the village, as well as having an increased police prescience in the communities.
The subject Minister further stated that he plans to implement a number of developmental works in communities like Belladrum.
"I am happy to be here. Since I've taken over as Minister of Agriculture, I've embarked on a number of outreaches across the country to visit with farmers from various communities to see how I can assist persons to get into farming and develop their current level of production. Over the years the farming community and the agriculture sector have not been given the amount of resources needed. I intend to work with all classes of farmers to alleviate poverty and, over time, create wealth. The West Berbice area has a lot of potential when it comes to agriculture. As Minister, I will ensure every person who wants to get into agriculture has the necessary resources to do so," Minister Mustapha said.
Minister Mustapha also said that the Ministry has set aside funds to help farmers improve their production, taking into account the effects of climate change.
"In this year's budget, we have allocated $15.8 M to purchase materials for shade-houses. Farmers from this village will benefit from that initiative. We know that the effects of climate change continue to impact our production. If we intend to restore or resuscitate agriculture in this community then you the farmers have to come on board with projects like this," Minister Mustapha said.
Belladrum NDC Chairman, Emile Wilson also spoke about the lack of proper drainage, and how it is affecting rice cultivation in the area. Further, he addressed the need for a pasture in the area.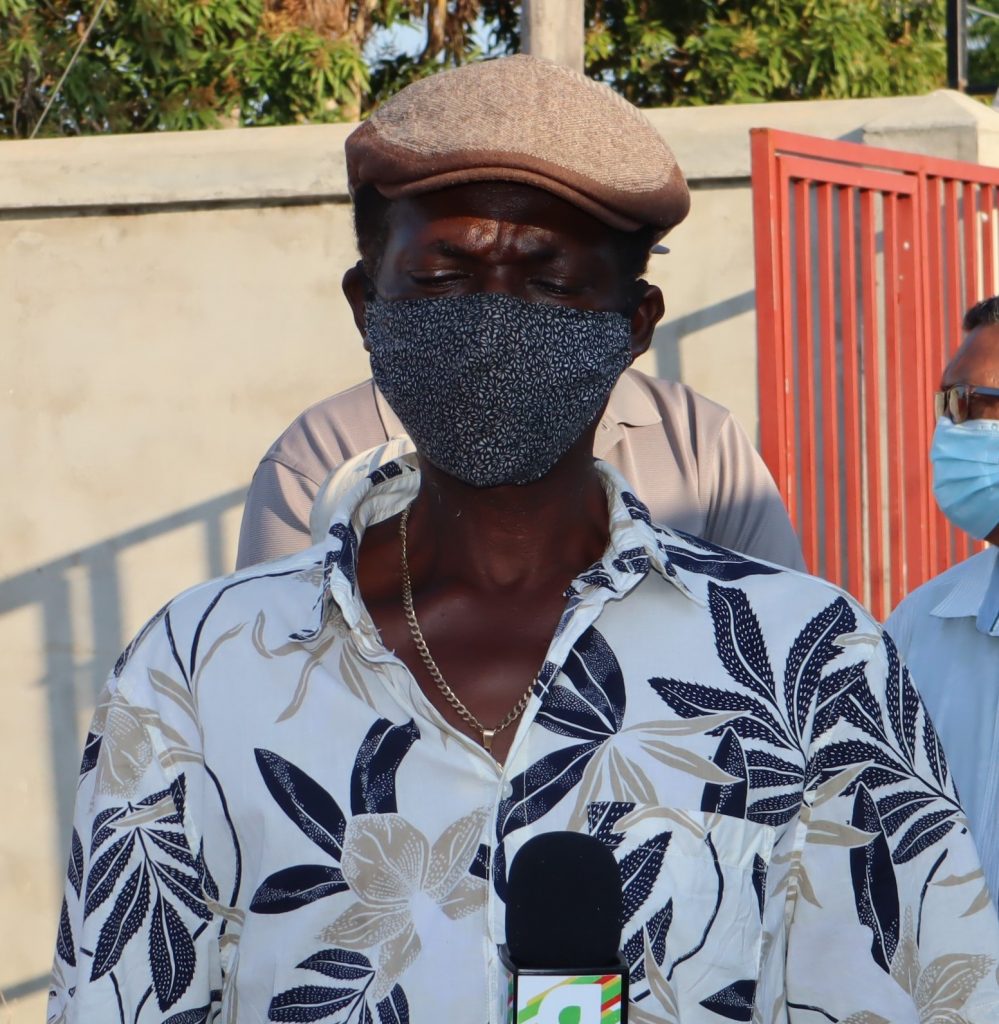 "The drains have not been maintained for a number of years. I am asking for a system to be put in place so that when the drains are cleaned, the necessary maintenance works can be carried out. Minister, rice and cattle are also a big issue in this area. We have a lot of cattle but no pasture. The officials can tell you how often they have to come and deal with breaches caused by cattle crossing these canals. I am asking for you to use your office to bring some sort of resolution to this. We, the rice farmers are in constant conflict with the cattle farmers because their cattle are always damaging our rice," Mr. Wilson said.
Minister Mustapha committed to having the Guyana Livestock Development Authority (GLDA) work with residents to identify an area suitable for the development of a pasture so that the cattle owners in the area can have a suitable place to graze their cattle.
He also encouraged residents to form themselves into groups so that they can work along with the Ministry's agencies and other Regional officials to identify and come up with solutions to other issues faced. Minister Mustapha committed to returning to the village to assess the works that will be carried out within the coming weeks.