– MP Seeraj pleased Gov't has given tax breaks to farmers
Member of Parliament and General Secretary of the Guyana Rice Producers Association, Dharamkumar Seeraj, lauded the proposed $18.4 billion budgetary allocation for the agriculture sector, noting that it will create an enabling environment for farmers to increase production. MP Seeraj, in an interview on the National Communications Network's (NCN's) television programme 'Insight', said post 2014, a number of burdensome taxes were placed on the agricultural sector making it harder for farmers to produce.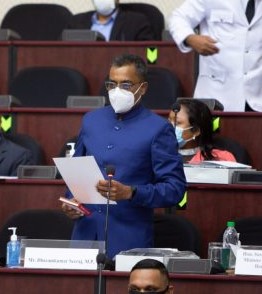 "I am happy that the Government has seen the wisdom of giving this ease to farmers," MP Seeraj said, adding that the proposed agricultural allocations in Budget 2020, which also saw the announcement of the reversal of several taxes, will allow the sector to bloom.
The proposed Budget will also see the removal of Value-Added Tax (VAT) on agriculture machinery, fertilisers, agrochemicals, pesticides, along with key inputs in the poultry industry and zero-rating of the poultry industry. There are also provisions for tax concessions on investments in agro-processing facilities, cold storage and packaging. Further, special incentives are will be made available for the planting of corn and soybean.
Importantly, the reversal of land lease fees across all sectors and water charges back to 2014 rates, the reversal of land taxes and drainage and irrigation charges back to 2014 were also proposed.
Seeraj observed that subsequent to 2014, the former administration, in the Mahaica Mahaicony Abary -Agricultural Development Authority (MMA-ADA) Mahaica-Berbice (Region Five), increased land rental with drainage and irrigation services from $3,500 to $15,000 per acre. Further, the charges for pasture land, without the benefit of drainage and irrigation services or access road moved from $322 to $1,500 per acre.
The MP noted that this increased land rate was insensitive and put unnecessary pressure on farmers who were already contending with VAT on other utility services such as on water and electricity.
Seeraj noted that Budget 2020 has corrected these wrongs. He noted that most times when the burden of taxes are removed, the end user does not always benefit, but committed that the Government will be working to ensure the tax measures announced in the 2020 budgetary measures benefits the ordinary Guyanese.
"In the case of export and export of agricultural products and also livestock, with the removal of VAT, we will be paying keen attention to that to ensure that our exporters pass on the benefit of the removal of the VAT on the services provided," Mr. Seeraj said.