IN supporting CARICOM countries' access to climate and environmental financing, Agriculture Minister, Zulfikar Mustapha, met recently with the AMEXCID-FAO technical teams from the Food and Agriculture Organisation (FAO) Sub-Regional offices in the Caribbean.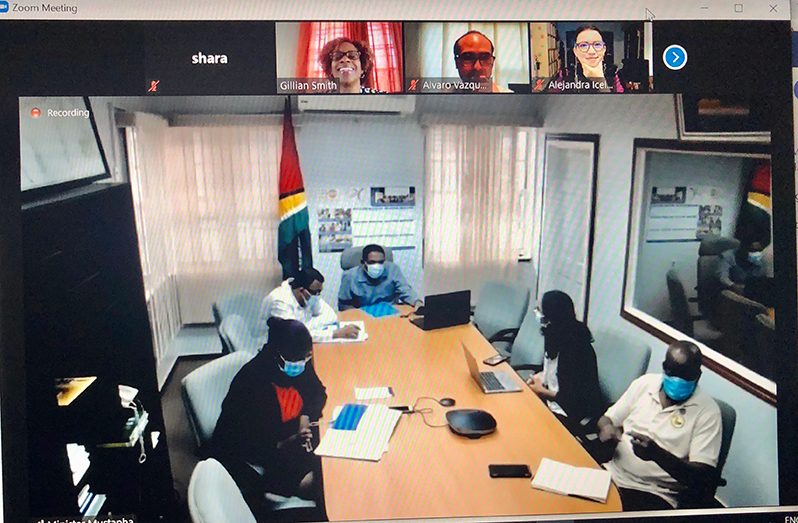 At the online meeting also was the minister's technical team, along with Ambassador Jose Omar Hurtado Contreras, Ambassador of Mexico in Guyana.
The objective of the meeting was to reformulate the Mexican Agency for International Development Cooperation (AMEXCID)-FAO partnership project for the Caribbean, which was initiated in 2018 and supported by Mexico and FAO to help CARICOM countries, especially Guyana, to fight climate change.
The participants reviewed the main achievements for the period of September 2018 to February 2020 and discussed the project implementation going forward, in light of the devastating impact of the COVID-19 pandemic.
The project achievements over the last two years were – supporting countries to access climate financing and environmental finance, and design and submission of project proposals.
Dr. Gillian Smith, FAO Representative in Guyana noted, "In going forward with this project, COVID-19 has forced us to relook at the objectives and see how the project could meet the needs of Guyana."
The post-COVID-19 reformulation will focus on supporting countries to recover from the impact of COVID-19 with emphasis on activities that can deliver concrete support for economic recovery and job creation, through agriculture and safeguard food security.
Nationally, we could see the implementation of a school-feeding programme, expanding opportunities for livelihood in aquaculture, and the water-energy nexus to support sustainable and productive small-scale farming.
Minister Mustapha stated that his ministry is fully committed to this climate change initiative and thanked Ambassador Contreras and his government and the FAO for their support to build climate resilience and improve the livelihood of farmers and everyone in Guyana.
Similar sentiments were echoed by the director-general of the Ministry of Agriculture.
Minister Mustapha promised to remain engaged in the implementation of the project since climate change is of great concern for the Government of Guyana.
The technical representative of Mexico, Alexandra Icela Martinez, stated that her country wished to improve cooperation and friendship, and would like to see a transparent and accountable process in areas of natural resource use, and support given to the vulnerable population.
Ambassador Contreras noted that the project can benefit the people of Guyana by reducing the effects of the COVID-19 disease.
The timeline for the project completion is 2023.
(Guyana Chronicle)