Head for the Caribbean Agricultural Research and Development Institute (CARDI), Mr. Jhaman Kundun today paid a courtesy call to Agriculture Minister Zulfikar Mustapha at his Regent Street office.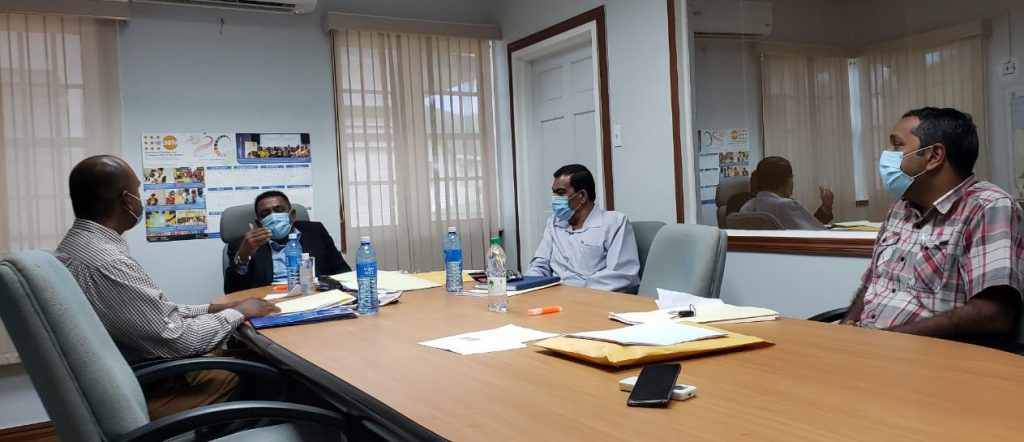 During their dialogue, Mr. Kundun was briefed on a number of plans for development in the agriculture sector.
Sighting CARDI's continued support for agricultural development in Guyana, Minister Mustapha said he looks forward to future collaborations between the Ministry and CARDI to further develop the sector.
The CARDI head said the institute plans to continue to offer technical support to the relevant authorities within the agriculture sector, especially with dealing with COVID 19.
Minister Mustapha welcomed all areas for collaborations, noting the negative impact the current global pandemic can have on Guyana's agriculture sector.
"The COVID-19 pandemic has disrupted the agriculture value chains across the Caribbean, threatening food security and upending livelihoods of millions of people around the globe. We plan to continue working with CARDI and all our International partners to ensure Guyana remains food secure and our citizens have continued access to healthy fruits and vegetables," Minister Mustapha said.
While food supplies in Guyana are presently stable, an extended period of this crisis, coupled with climate change, can put Guyana's food supply chains on a precarious footing. With this in mind, the Agriculture Ministry, in exercising its mandate, will continue to promote healthy food consumption, more responsible agricultural systems and improve capacity building among farmers.
Guyana's agriculture base, which is located on the coast, is constantly under threat given the fact that it is below sea level. Minister Mustapha said he intends to work towards strengthening the sector, while collaborating with other Government Ministries and agencies to improve agricultural systems across the country.
Also present at the meeting were Minister Mustapha's ministerial advisors Lionel Wordsworth and Madanlall Ramraj.