Amidst the growing efforts being place on ecological and biological conservation worldwide, Guyana has once again position itself to be the lead role in advocating its sustainable development agenda by implementing a rigorous "Green Development Plan".
In this light, construction for first international laboratory for biodiversity will soon commence in the compound of the Iwokrama International Center for Rainforest Conservation Development. This announcement was made by H.E President David Granger while officially declaring opening the 2nd Annual National Tree Day event today at Iwokrama, Region Eight.
The National Tree Day event forms part of the Ministry of Agriculture's calendar of activities in observance of its month long celebration where the sector's performance and the contribution farmers play towards Guyana's development is celebrated.
 "As we continue to advocate the importance of sustaining our environment, importance must be given to the repercussions that the effects of climate change may have on our developmental path. Therefore, it is vital that we enforce measures which can withstand whatever negative effects climate change can have on our environment," President Granger said.
 Government has been working tirelessly to ensure that efforts are being made at not only protecting the environment against the effects of climate change, but has been advocating for change especially in the way agriculture is heading. This has seen efforts being intensified at moving Guyana's agricultural productivity from the coast which presently sits below sea level to the Hinterland and Rupununi Savannahs. During the 2015 National Budget debate Agriculture Minister, Noel Holder presented a holistic approach his Ministry will be taking during this transformative process.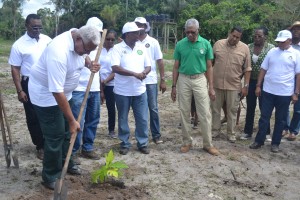 Agri. Minister, Noel Holder plants a Breadfruit Tree at Fairview, Region 8
" Guyana is richly endowed with key natural resources – land, fertile soils, water, forests and fisheries – for agricultural development and our Government will be working to ensure Iwokrama takes its place as the lead role in the "green pathway".
The President also made mention to several present and future developmental projects which have been leading the way in Guyana's sustainable development trajectory. Among those, mention was made of the LCDS through the Guyana REDD+ Investment Fund (GRIFF) initiatives which fosters partnership between Guyana and Norway on issues of climate change, biodiversity and sustainable low carbon development.
As such, President Granger announced that an additional two Million hectare will be set aside for conservation, while protected areas will be developed in the Ten Administrative region, as part of Government's plan to conserve its environment in keeping with its "green development" plan.
Agriculture Minister Noel Holder in delivering remarks pointed to that fact that while risk factors of climate change differ by country, Government has taken an holistic approach by embracing various risks and accounting for synergies and trade-offs.
"Indeed, one of the most effective ways for agriculture to adapt to climate change could be to increase its resilience. What we would focus on is the various risk management strategies to deal with such changes such as the Flood Risk Management project, and the more recent recommendations of the Kingdom of Netherlands Dutch Risk Reduction (DRR) Team," he said.
National Tree Day 2016 is being held under the theme, "Sustaining Biodiversity: Plant a Tree". It is the hope of the Ministry of Agriculture, to use the annual event to create more awareness on the importance of trees for food, medicine, fiber for clothing and woods for shelter.
Guyana is richly endowed with key natural resources – land, fertile soils, water, forests and fisheries – for agricultural development. However, the agriculture sector continues to be prone to climate risks.
According to Minister Holder, this year's theme reflects on building a resilient agriculture as a means of adapting to the effects of climate change.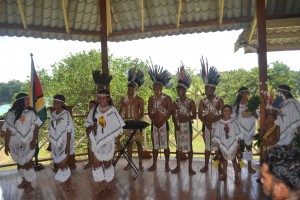 " Over the years, the Ministry of Agriculture has been involved in small shifts in the farming model to promote climate resilience. These have been replicated in a number of coastal communities. They include developing water-saving irrigation systems; resistant varieties of crops and breeds of livestock to drought, flood, pests and diseases; the creation of high spots and the empoldering of pastures to minimize livestock mortality among others," the Minister said.
Meanwhile, the importance of sustaining the environment in light of climate change were also elaborated upon by Minister of Indigenous People's Affairs and Minister Within the Minister of Communities, Hon. Sydney Allicock and Hon Dawn Hasting- Williams respectively.
According to Minister Allicock Guyana's recognition for its forest conservation has been enormous, and efforts must be made not only during Agriculture Month but year round, in championing the important role plants play in the country's sustainable development agenda.
"The gains to be derived remains enormous, however,  for this to be fully realized, there must be a strong collaboration from both Government and the Private sector….Initiatives such as the soon to be constructed Lab, which was announced by the President, will aid in bridging the gap between the coast and hinterland," the Minister said.
Government has made the development of the hinterland a priority with the implementation of polices for development of the Rupununi and Intermediate Savannahs- positioning the hinterland as the next frontier for the nation's agricultural development.
Works are apace to have re-established agricultural stations in each of the main Eco-zones of Guyana. This is being done to nurture integration between the coast and hinterland and to increase access to the bountiful resources which the hinterland pose.
Also present during the event were, Country Representative, Food and Agriculture Organization (FAO), Mr. Ruben Robertson, Mayor of Linden, His Worship Mr. Carwyn Holland, Permanent Secretary, Ministry of Agriculture Mr. George Jervis and Head of Department and staff of the various Sub-Agencies within the Ministry of Agriculture.
Agriculture Month 2016 is being held under the theme, "Exploring new production frontiers: in Pursuit of Climate Resilience."